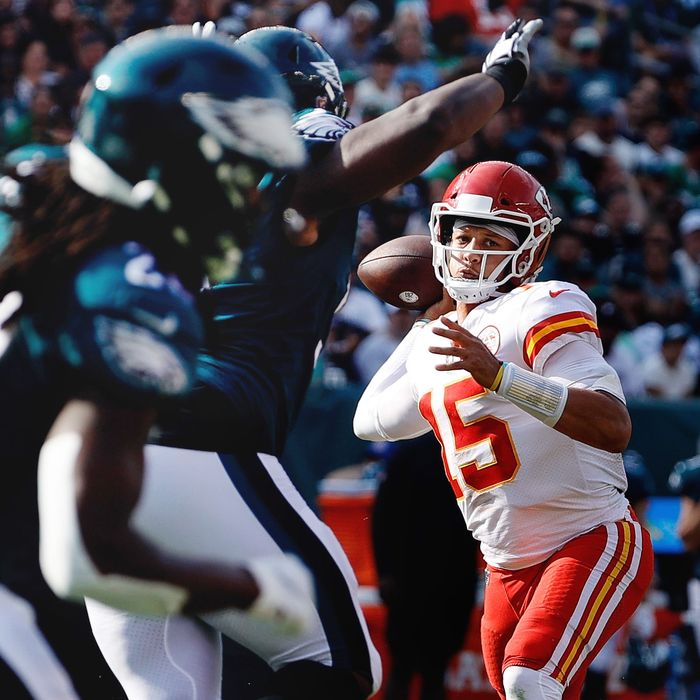 When the Eagles and Chiefs last met, in 2021.
Photo: Tim Nwachukwu/Getty Images
Even in an age of cord-cutting, streaming services, and a polarized, splintered American culture, more people will watch the Super Bowl this year than the combined populations of California, Texas, Florida, and New York. (And even that might be a serious underestimate.) Thirty of the 31 most-watched television shows of all time are Super Bowls, including the top eight (and soon to be top nine); only the final episode of M*A*S*H* prevents the list from being a clean sweep. The Super Bowl is as close to a monocultural moment as it gets.
Yet the stars of this particular show aren't always household names, and that's particularly true this year. Kansas City Chiefs quarterback Patrick Mahomes is ubiquitous, mostly because of his State Farm ads, but he's one of only two players in this game whose jersey ranks among the ten best-selling in the NFL. The other is Philadelphia Eagles quarterback Jalen Hurts, whom I bet a lot of viewers at your average Super Bowl party haven't heard of. Probably half the people watching on Sunday will ask at some point, "Where's Gronk?"
But that's fine. Football is popular because of the casual normies who watch it, not in spite of them. If you happen to be one of those casual normies — because there's a helluva lot more of you than there are of me — and have no existing allegiance to either of the teams playing, you might be wondering where you should direct your rooting affections. Allow me to be of service. Here's the case for both teams playing in Super Bowl LVII on Sunday. (It's the Chiefs and Eagles, by the way. And the game is in Arizona.)
The Case for the Chiefs
Patrick Mahomes is the guy we're going to remember in a few decades.
Now that Tom Brady has retired — Right? Right? — and Aaron Rodgers has made his permanent detour to Joe Roganville (and is missing the playoffs entirely anyway), Mahomes is the undeniable face of the NFL. He's the sort of transcendent talent who will be judged by how many Super Bowls he wins. (He's got one already, and this is his third title-game appearance in four seasons.) Mahomes gets extra sympathy points this year for overcoming a serious ankle injury to win a (fantastic) AFC Championship Game. But he is also a quarterback who — unlike Brady and Rodgers, and Brett Favre and Ben Roethlisberger before them — you don't have to feel guilty cheering for. Beyond his on-field wizardry, Mahomes was one of the loudest NFL voices in the wake of George Floyd's murder; he's widely credited with pushing the NFL to commit $250 million toward a program to "combat systemic racism." (It was Mahomes who called NFL commissioner Roger Goodell and got him to say "Black Lives Matter" in the first place.) You can certainly argue about the NFL's long-term commitment to the cause, but the fact that it did anything at all is largely thanks to Kansas City's franchise player.
They're a legitimate dynasty in a league that's looking for the next one.
Now that Brady is gone and Bill Belichick and the Patriots don't even make the playoffs anymore, the NFL is looking for its next top dog. We're all conditioned to hate dynasties, to cheer for the underdog, but consistent winners are manna for sports leagues: They're firmly established brands, they're instantly recognizable, they're easy to sell, and they're often more fun to cheer against than for. The Chiefs are the clear next in line. A victory here gives them two Super Bowl wins in three years and clearly sets them up as the sport's team to beat. And there's a raft of young quarterbacks and exciting teams lining up to take them down, most notably Joe Burrow and the Bengals and Josh Allen and the Bills. If the Chiefs win, they'll probably transform into villains, at least to some extent. (Remember, most of us rooted for Brady and the Patriots back in 2002, even if few of us will admit it 20 years later.) Enjoy this uncomplicated moment while you can.
The Chiefs have more likable celebrity fans, though it's close.
In the battle of the famous superfans, KC's got Paul Rudd, Jason Sudeikis, Rob Riggle, Melissa Etheridge (who actually wrote a song about the Chiefs), Henry Cavill (for weird reasons), and Brad Pitt. The Eagles? Will Smith, Kevin Hart, Mike Trout, Questlove, the cast of It's Always Sunny in Philadelphia, and Tina Fey — not a bad list either. But there's also Bill Cosby, Jim Cramer, and Bradley Cooper, who seems like a perfectly nice guy but is way, way too thirsty about his fandom.
The Case for the Eagles
They're the best team in football and could stake their place as all-timers if they win.
When you look back through NFL history, the teams we remember aren't the scrappy underdogs but the dominant ones: The 1972 Dolphins, the 1975 Steelers, the 1985 Bears, the 1989 49ers, the 1999 Rams, the 2007 Patriots (other than that inconvenient Super Bowl loss). The Eagles aren't the kind of dynasty the Chiefs have a chance to become, but they've unquestionably been the best team in football this year. With their historically suffocating defense and physically overwhelming offensive line, the Eagles went 14-3 during the regular season, cruised through the NFC playoffs en route to this game, and haven't lost a game that mattered since November. If they crush Mahomes and the Chiefs the way they've crushed everyone else in recent weeks, they could absolutely cement their place as one of the best NFL teams of all time. And it helps that there's an undeniably Philly vibe coming from this Eagles team. They're tough, rowdy, unstoppable — a physical representation of how the city sees itself.
Jalen Hurts is a fantastic story.
Mahomes is the star of this Super Bowl, but he's hardly an underdog: He's the son of a professional athlete — a former New York Met, no less! — and was the tenth pick in the NFL draft. The Chiefs were built around him. Jalen Hurts has a much more inspiring tale. A star quarterback for the Alabama Crimson Tide in college, he was benched in the national championship game for Tua Tagovailoa and spent the entire next season on the bench. After transferring to Oklahoma, where he shined again, he was drafted 53rd overall by the Eagles and was fortunate to stay as relevant as he could as their third-string quarterback. He worked his way back up and has been the offensive star of this team, scoring 35 touchdowns (including 13 on the ground) while going 14-1 as a starter. Like Brady at the beginning of his career, Hurts has gone from being underestimated to becoming one of the best players in football. Also of note: His support team is staffed entirely by women, and he's an outspoken advocate for women's sports.
Philly fans.
Part of me included this because I don't want them to murder me. But all told: If you're telling me I'm going to spend the hours after the Super Bowl watching videos like this one …
… I'm going to have a pretty fun night. And you will too. In the end, I have to say, I am persuaded: Go Eagles. Just don't freak out about the Empire State Building this time, okay?