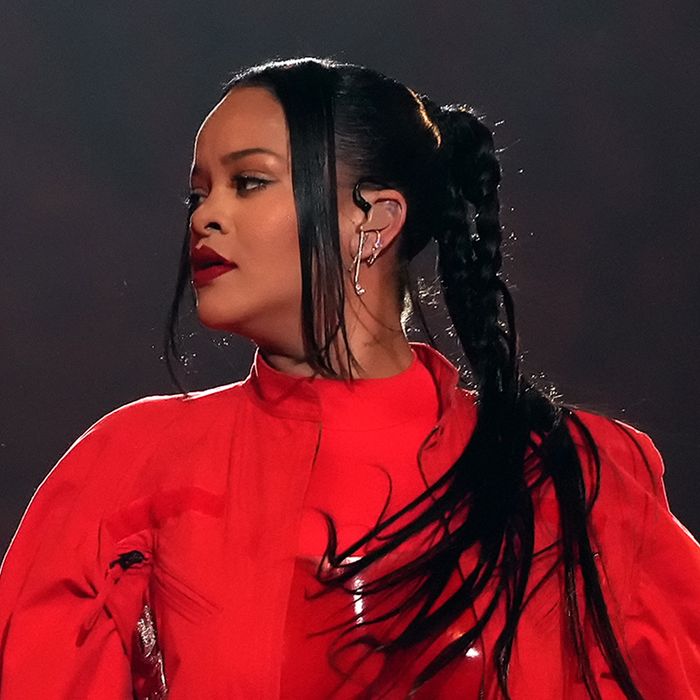 Photo: Getty Images for Roc Nation
After performing a Super Bowl halftime show and pregnancy announcement so momentous that it briefly took down Twitter, Rihanna was probably feeling pretty good. But in a devastating turn of events for the singer, Donald Trump announced to the nearly 5 million people following him on Truth Social, his struggling social-media site, that her show was an "EPIC FAIL."
Her performance being named the "single worst Halftime Show in Super Bowl history" by the former president probably came as a shock, as most other reviewers described it as "soaring," "memorable," "stunning," and "AWESOME." But well before she took the stage at Arizona's State Farm Stadium on Sunday night, Rihanna knew Trump would be one of her harshest critics. On Thursday, Trump declared that the nine-time Grammy Award winner and current Academy Award nominee actually has "NO TALENT" in response to a "truth" from that guy who had to withdraw his nomination as Veterans Affairs secretary after he was accused of being drunk on duty and handing out prescription pills like candy.
It seems Ronny Jackson, the disgraced White House physician turned U.S. representative, objected to Rihanna being selected to perform at Super Bowl LVII for purely political reasons. He referenced a series of photos Rihanna shared on Instagram in 2020 that appeared to show her spray-painting "FUCK TRUMP" on a truck.
The musician and billionaire businesswoman criticized Trump throughout his administration, and in 2018 her performing-rights company blocked Trump's campaign from using her music at his rallies. But Trump's remarks suggest he wasn't just sore about Rihanna's many burns or jealous because she has far more Twitter followers than he does (107.9 million) and was never banned for fomenting insurrection. He has a long history of sharing unsolicited opinions about fellow entertainers on social media, and he seemed more focused on Rihanna's artistry, or lack thereof.
Rihanna will surely be crushed by the knowledge that the man she once called the "most mentally ill human being in America" didn't like her performance. We can only hope that she hasn't heard the news yet, as it often takes a while for screenshots of Trump's Truth Social posts to reach the general public.