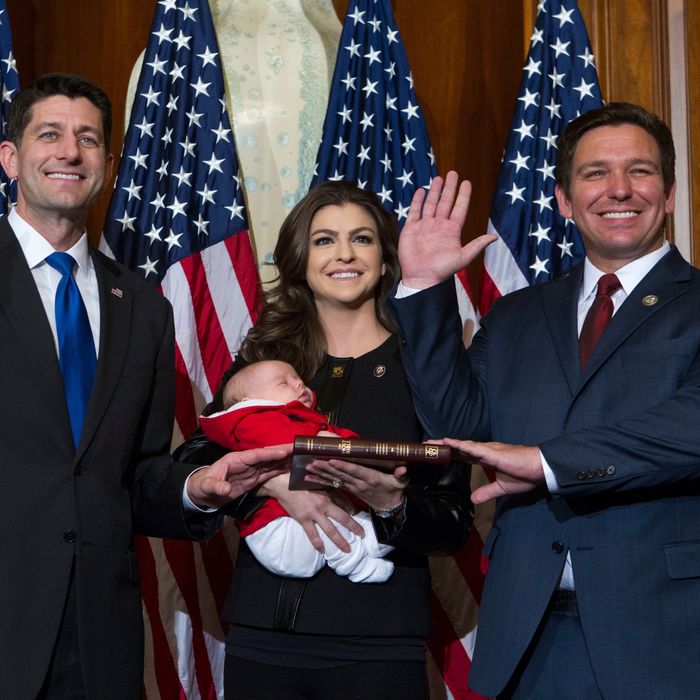 House Speaker Paul Ryan administers the oath of office to one of his Republican troops, Ron DeSantis, in 2017.
Photo: Jose Luis Magana/AP/Shutterstock
Earlier this year as Republican and conservative-media excitement over a prospective Ron DeSantis 2024 presidential bid was growing daily, there were reports that Donald Trump and his advisers were plotting to go medieval on the Florida governor for his past support of benefit and eligibility cuts to Social Security and Medicare. Sure enough, last week Trump exploded on this subject in a Truth Social post:
Incoherent and rage-y as it sounded, Trump was clearly building a portrait of DeSantis as an old-school Establishment Republican linked to figures like George Bush, Paul Ryan, and Karl Rove. While serving as a back-bench House member from 2013 to 2018, DeSantis was indeed a loyal supporter of all the standard-brand Republican budget, trade, and defense policies that Trump attacked during his semi-hostile takeover of the GOP. As a preemptive attack on his most dangerous 2024 rival, Trump wants to convince his voting base that DeSantis is still a "RINO" globalist granny starver, not the savage anti-woke "populist" who is currently thrilling audiences on Fox News.
And unlike the nickname Meatball Ron, this line of attack clearly isn't a one-off. On Truth Social, Trump is continuing and sharpening his barrage against DeSantis:
Repetitively linking DeSantis to both members of the failed 2012 Republican presidential ticket (who had uniform GOP support when DeSantis was running for his first House term) is not only an effective reminder of unhappy GOP history, it's also an implicit reminder that anyone with DeSantis's background will be torn limb from limb by President Joe Biden, who is already depicting Republicans as "wheelchair off the cliff" kind of people. The not-so-subtle message is that only the 45th president can protect Republicans from those kind of Democratic assaults, which helped both Bill Clinton and Barack Obama win second terms after much worse midterm elections than Biden endured in 2022.
The tricky part of this line of attack, however, is that a lot of Trump's friends are as vulnerable to it as DeSantis, who was, after all, a founding member of that MAGA hotbed the House Freedom Caucus. Forget about the pre-Trump past; some Freedom Caucus types still seem interested in using their leverage over a necessary debt-limit measure to force the very kind of cuts in retirement programs that the former president is accusing "RINOs" of pursuing.
Trump needs to get on the same page as his troops. But running to the left of DeSantis could prove to be an effective strategy for Trump. It not only makes the Florida governor look "DeSantimonious," as Trump likes to call him, but perhaps even DeFraudulent in posturing as the new populist warrior-king of the GOP.