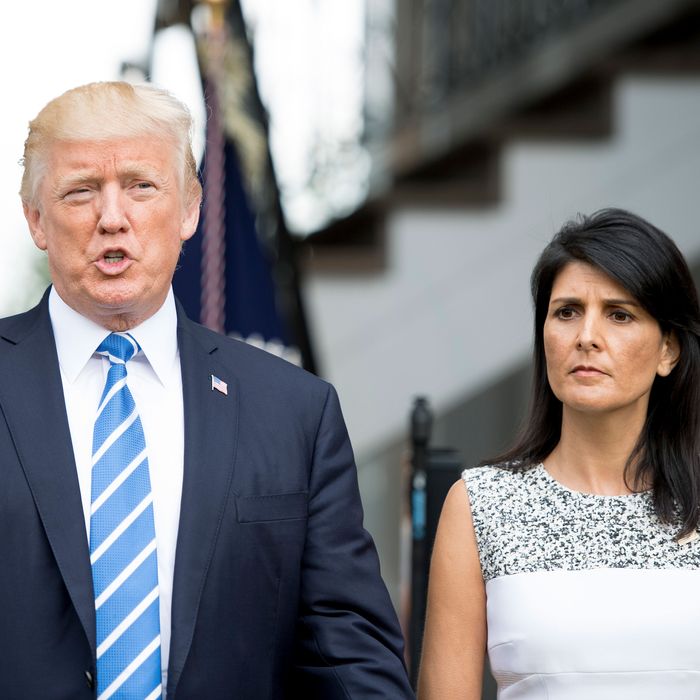 Photo: JIM WATSON/AFP via Getty Images
Nikki Haley announced she's running for president last week, and so far, one of the most notable things about her campaign is that she seems hesitant to even say Donald Trump's name, let alone criticize him directly. But she did lob one attack that was probably aimed at her 76-year-old former boss, along with 80-year-old Joe Biden and every other officeholder in their generation.
"In the America I see, the permanent politician will finally retire," Haley said in a speech announcing her candidacy. "We'll have term limits for Congress. And mandatory mental-competency tests for politicians over 75 years old."
Haley, 51, has yet to offer any specifics on what tests she thinks older politicians should submit to or how they'd report their results. And now Trump has neutralized his rival's boldest idea by presenting it as his own in a Tuesday morning Truth Social post. He even one-upped Haley by throwing in a physical-fitness test.
What exactly constitutes a "full & complete Mental Competency Test"? How do candidates show, to a "somewhat lesser extent," that they are physically up to the job? How many points will be awarded for the sit and reach? Could Arnold Schwarzenegger administer the tests?
I'm sure that Trump doesn't have the answers to these questions. I'm also confident that his parenthetical "(or before!)" means that if asked to present his own results, Trump will cite the cognitive-impairment test he took in 2018. Though he kept proclaiming himself a "very stable genius" and bragging about how he "aced the test" when he was still in office, the exam he took was actually a simple ten-minute screening for dementia that required him to complete tasks like identifying a camel and drawing a clock. And the only corroborating source for reports that Trump got a perfect score was Ronny Jackson, the former White House physician who had to withdraw his nomination to lead the Department of Veterans Affairs amid a fog of scandal (and still managed to get elected to Congress, with Trump's endorsement).
During the 2020 campaign, Trump publicly dared Biden to take the mental-fitness test he'd allegedly "aced" years earlier. Earlier this month, 38 Republican lawmakers, led by Jackson, sent Biden a letter urging him to "follow the example set by former President Trump." It's full of faux concern and lists dubious signs that Biden is experiencing mental decline, like the time he called a Fox News reporter a "stupid son of a bitch."
Political posturing aside, Biden probably does need to undergo some mental-screening tests: Dr. Thomas Wisniewski, the director of cognitive neurology at NYU–Langone Medical Center, told the New York Times that they should be routine for 80-year-olds. But the latest report on Biden's physical health, which was released last week, says nothing about him completing such tests.
Ensuring members of our gerontocracy are still mentally fit to serve is certainly an important concern. But it won't be solved by Haley and Trump issuing vague, unserious calls to make our leaders prove they can still identify zoo animals.