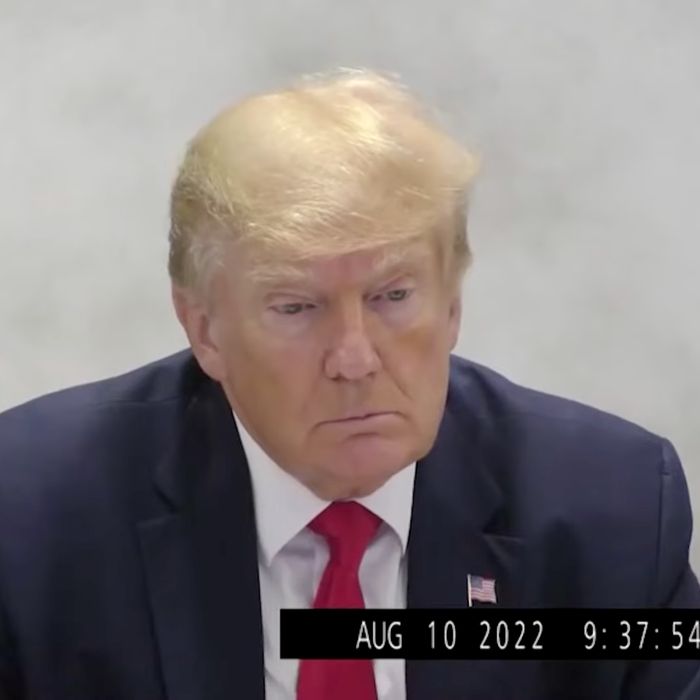 Donald Trump has suggested many times that people who invoke their Fifth Amendment right against self-incrimination are guilty. During the 2016 presidential campaign, he famously lobbed this attack against Hillary Clinton, whose aides had exercised their constitutional right in a congressional investigation. "You see, the mob takes the Fifth," Trump said at a rally in Iowa. "If you're innocent, why are you taking the Fifth Amendment?"
So it was pretty embarrassing when America learned last summer that Trump himself had repeatedly invoked the Fifth while he was questioned by New York State Attorney General Letitia James's office as part of a civil fraud investigation. But it gets worse: Now CBS News has obtained video of the August deposition, in which Trump demonstrated that, in his view, he's no better than a mobster.
Of course, Trump now sees things differently. After answering a few preliminary questions from James, Trump read a rambling seven-minute statement in which he explained he's learned a thing or two about the Bill of Rights.
"I once asked, 'If you're innocent, why are you taking the Fifth Amendment?'" Trump recalled. "Now I know the answer to that question. When your family, your company, and all the people in your orbit have become the targets of an unfounded politically motivated witch hunt supported by lawyers, prosecutors, and even the fake news media, you really have no choice."
He added, "Anyone in my position not taking the Fifth Amendment would be a fool. An absolute fool." One misstatement, he said, would be "met by law enforcement at a level seldom seen in this country."
Despite his realization that there's nothing wrong with exercising your constitutional rights, Trump avoided actually uttering the words "I plead the Fifth." Instead, he used this line: "Under the advice of my counsel and for all of the above reasons, I respectfully decline to answer the questions under the rights afforded to every citizen under the United States Constitution."
When Kevin Wallace, senior enforcement counsel in the attorney general's office, asked if that included the Fifth, Trump replied, "Yes."
Trump said the line would be his "answer to any further questions," but after he read it in full several times, Wallace suggested he could just say "same answer."
During nearly four hours of questioning, Trump said "same answer" more than 400 times.
The video released Tuesday covers only 37 minutes of Trump's deposition, not the full session.
James's office filed a $250 million lawsuit against Trump, his business, two company executives, and Trump's children Ivanka, Don Jr., and Eric in September, accusing them of committing "staggering" financial fraud. It seems Trump had good reason to worry that his own words could be used against him. On Tuesday, attorneys with James's office asked the judge overseeing the case to put sanctions on Trump, his children, and their attorneys for "falsely" denying facts and making "frivolous" arguments in their written responses to the suit, per the Washington Post.
"A cursory review of the [filings] reveals that a number of the denials are demonstrably false and actually contradict sworn statements by the Defendants in other proceedings," Wallace wrote.
Trump and his attorneys were already ordered to pay $1 million in sanctions last month for filing an unrelated lawsuit that a federal judge deemed frivolous.