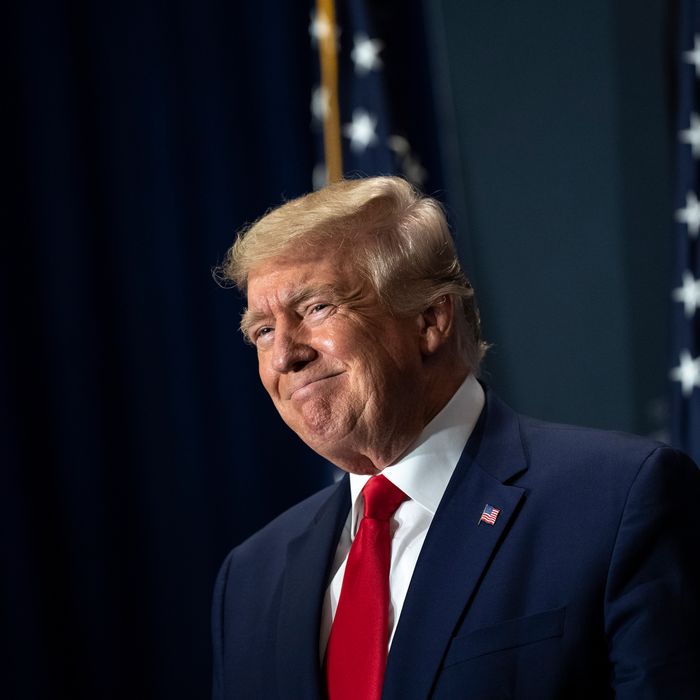 Photo: Drew Angerer/Getty Images
Liberals, it's time to pretend you're going to delete your Facebook and Instagram accounts in protest once again: Donald Trump is officially back on the two social- media platforms. Or rather, he officially could be back, if he felt like posting again — though he has yet to do so.
On Thursday, Facebook and Instagram parent company Meta restored Trump's accounts, which were suspended shortly after the January 6, 2021, attack on the Capitol. This move came weeks after Trump apologized profusely for violating the sites' guidelines and politely requested that Meta take him back. Just kidding! The Trump 2024 campaign did formally petition Meta to unblock him last month, but Trump was pretty rude about it, saying, "They need us more than we need them."
Nevertheless, Meta's head of global affairs, Nick Clegg, announced on January 25 that Trump would be unbanned because the risk to public safety that sparked his suspensions "has sufficiently receded." Clegg's statement suggested that things would be different this time, since Facebook now has "new guardrails in place to deter repeat offenses":
Like any other Facebook or Instagram user, Mr. Trump is subject to our Community Standards. In light of his violations, he now also faces heightened penalties for repeat offenses — penalties which will apply to other public figures whose accounts are reinstated from suspensions related to civil unrest under our updated protocol. In the event that Mr. Trump posts further violating content, the content will be removed and he will be suspended for between one month and two years, depending on the severity of the violation.
Are these guardrails actually strong enough to prevent Trump from using Facebook and Instagram to stir civil unrest? As New York's John Herrman remarked, "We're going to find out."
It may be some time before we do, though. More than three months after Elon Musk lifted Trump's Twitter ban, he still hasn't returned to his first social-media love. As of Thursday afternoon, Trump hasn't said anything on his Facebook and Instagram accounts either, though he's been active on Truth Social, sharing dubious poll findings and trashing Rihanna. He has yet to address the Meta news directly, but he did say on Truth in response to an unrelated story, "'TRUTH' IS THE BEST, BY FAR!"