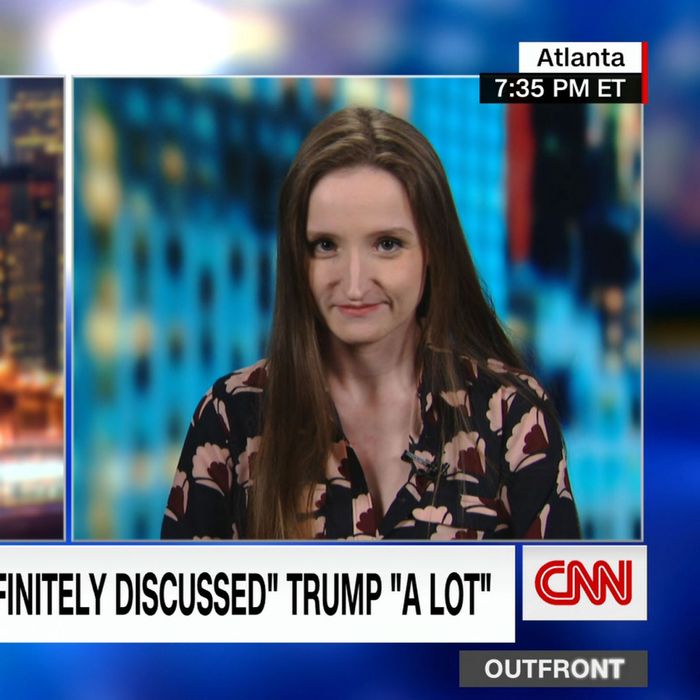 After an eight-month investigation into Donald Trump and his allies' efforts to overturn the 2020 election in Georgia, a grand jury earlier this month recommended that Fani Willis, the Fulton County district attorney, seek indictments. While the targets are not publicly known, the report increases the likelihood that the former president will be criminally charged, and Willis said last week she that her decision on how to proceed was "imminent." But this week, the foreperson on the grand jury has been having some fun, and it could complicate any such potential prosecution.
Grand juries are bound by tight rules of secrecy, so when a judge dissolved the panel last week, he told its 23 members that they could not share certain details of their work. But he did not bar them from speaking with the press. Since then, foreperson Emily Kohrs has provided color to the New York Times, the Atlanta Journal-Constitution, the Associated Press, CNN, and MSNBC about the last eight months. She called Georgia Secretary of State Brad Raffensperger a "geeky kind of funny," said Rudy Giuliani seemed thoughtful, and revealed that Mark Meadows was not psyched to testify before the panel. On television, Kohrs laughed and smiled as she told anchors that she "loved" the grand jury process and her peek into the world of politics.
Kohrs also walked right up to the line of secrecy. When the Times asked about the indictments they recommended, she said it is "not a short list" and that "you're not going to be shocked. It's not rocket science." She added: "It is not going to be some giant plot twist. You probably have a fair idea of what may be in there. I'm trying very hard to say that delicately." (As she already indicated, the grand jury was investigating Giuliani and Meadows, at the very least.) On CNN, she was asked about details on the indictments that she could share and replied that "the big name that everyone keeps asking me about — I don't think you will be shocked." (In case you forgot, Trump infamously called Raffensperger in 2020 asking him to "find" enough votes to overcome Joe Biden's margin of victory.)
Thanks to the gag order on grand juries, it's extremely unusual for any member to speak to the press — let alone speak in such a casual manner about a case with such major political stakes.
"This was a horrible idea and I guarantee you prosecutors are wincing watching her go on this," Elie Honig, a former federal prosecutor, said on CNN, calling Kohr's media tour a "prosecutor's nightmare."
Sure enough, CBS News reports, lawyers connected to several high-profile witnesses in the investigation are already gearing up to use Kohr's public comments to quash indictments, "arguing that they would influence any future developments." That said, it may be a stretch: According to CBS News legal analyst Rikki Klieman, Kohr didn't share any information the judge barred her from releasing. Ultimately, it will probably be up to a judge to decide, with consequences for the entire country.