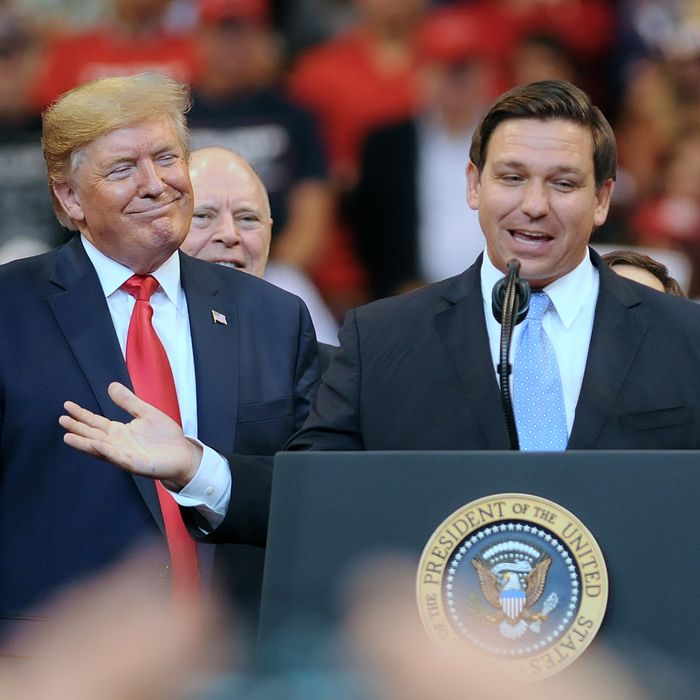 Photo: Paul Hennessy/SOPA Images/LightRocket via Getty Images
Part of the magic of Donald Trump's nicknames for his 2016 opponents was that they seemed totally effortless. The classics "Low-Energy Jeb," "Lyin' Ted," and "Liddle Marco" are the work of a man with the sixth sense of a middle-school bully; Trump could spot his opponents' deepest vulnerabilities and instantly turn them into punchy schoolyard taunts. But his recent work, from "Sleepy Joe" Biden to Mitch "Broken Old Crow" McConnell, feels either lazy or overwrought. And it seems Trump is a bit sensitive about it.
Monday on Truth Social, Trump took a break from trying to start a war with the Rihanna Navy to insist that he actually isn't spending "large amounts of [his] time coming up with a good 'nickname' for Ron DeSanctimonious."
But this post actually reveals that Trump has been stewing on reports about his weak nickname game for months. It appears he was responding to this tidbit from a Sunday New York Times report on Florida governor Ron DeSantis's strategy for answering Trump's attacks:
Since November, despite the criticism he faced at the time, Mr. Trump has periodically hit out at his potential rival, albeit to a relatively small audience. He posted his most recent innuendo about the governor on Truth Social, where he has just under five million followers. And he has insulted Mr. DeSantis in casual conversations, describing him as "Meatball Ron," an apparent dig at his appearance, or "Shutdown Ron," a reference to restrictions the governor put in place at the beginning of the coronavirus pandemic.
The piece doesn't say anything about how long it took Trump to come up with "Ron DeSanctimonious" or suggest that he's workshopping nicknames for his possible 2024 rival — he's just insulting the governor in "casual conversations." Trump is probably thinking of this paragraph from a Times story by the same reporters that ran in November:
Mr. Trump has been privately testing derisive nicknames for Mr. DeSantis with his friends and advisers, including the put-down he used on Saturday. Roger Stone, a longtime Trump adviser, appeared to test-drive the nickname for the former president on Oct. 27 when he used it in a post on Mr. Trump's social media website, Truth Social.
So now we know another one of Trump's big vulnerabilities: He doesn't want to look like a try-hard. But I don't want to bully Trump; I just want to encourage him to stop overthinking this. "Ron DeSanctimonious" is a low-energy nickname; as I said back in November, there are so many better options:
If Trump can't do better than "Ron DeSanctimonious," he really needs to get out of the nickname game. Ron (as Don should know) rhymes with both con and moron. DeSantis could go in so many directions: DeSperate, DeSpised, DeSpicable, DeSerter, DeSpoiler, DeSpotic. Maybe DeSandwich — if Trump wants to keep mocking the governor's weight? And Trump shouldn't feel restrained by the easy adaptability of "Ron DeSantis." Past nickname hits like "Lyin,'" "Liddle," "Crooked," and "Rocket Man" had nothing to do with the subject's actual name.
"Meatball Ron" has everything a great Trumpian nickname needs. It's funny, it doesn't rely on wordplay, and it's naughty yet vague. Is it an attack on the Florida governor's intelligence or his ethnicity or his weight or just nonsense? Trump should stop dithering and let us start arguing about it.