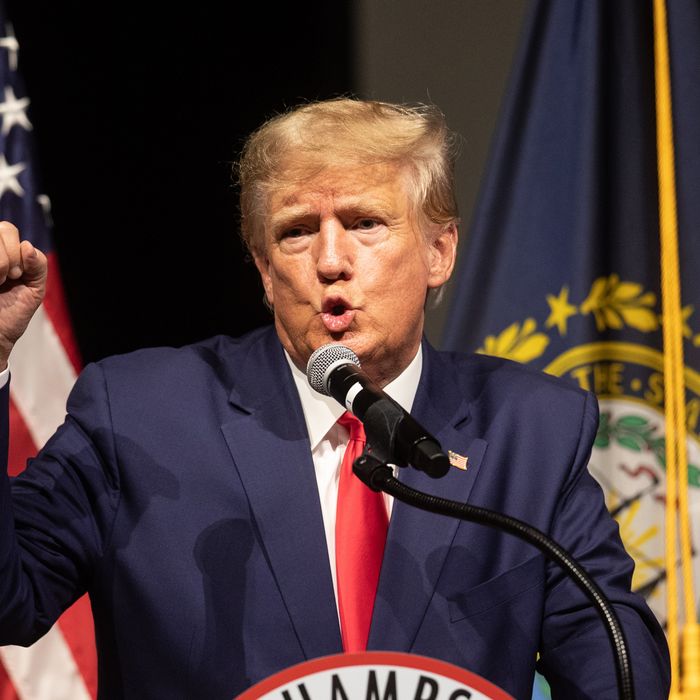 He won't go away quietly.
Photo: Scott Eisen/Getty Images
Amid a lot of speculation that Donald Trump has lost his mojo as he goes into a third presidential campaign, he reminded the world (and more pointedly, the Republican elites who allegedly want him to go away) that he's got more than one trick up his sleeve. As The Hill reports, Trump refused to commit to supporting the 2024 Republican presidential nominee in a conversation with conservative radio host and columnist Hugh Hewitt. "It would depend," Trump told Hewitt. "I would give you the same answer I gave in 2016 during the debates."
Despite signing a "loyalty pledge" going into the 2016 campaign, Trump periodically threatened to take his supporters right out of the Republican Party by launching a third-party or independent bid. As late as March 2016, he was repeating that threat, as Politico reported at the time:
Donald Trump said Thursday he is being treated unfairly by the Republican establishment and may run as an independent.




"I am watching television — and I am seeing ad, after ad, after ad put in by the establishment, knocking the hell out of me, and it's really unfair," Trump said on MSNBC's "Morning Joe." "But if I leave, if I go, regardless of independent, which I may do — I mean, may or may not. But if I go, I will tell you, these millions of people that joined, they're all coming with me."
Of course, Trump ultimately didn't have to seriously contemplate a defection from the GOP. And perhaps he was bluffing when he first toyed with an independent bid in 2016. But the Republicans now plotting to retire Trump once and for all can't simply dismiss it as an empty threat.
If Republican leaders turn on Trump — say, to back Ron DeSantis — he will almost certainly complain that he's being treated unfairly and look to retaliate. And he won't necessarily have to go as far as formally launching a third-party bid (though a recent poll from the Bulwark found 28 percent of Republican primary voters would vote for him if he ran as an independent). A defeated Trump could upend the GOP's 2024 nominee simply by forcing the candidate to choose between publicly dissing him and alienating MAGA voters or sucking up to him in a way that would undermine any talk of a fresh start for the party. Anyone who thinks Trump wouldn't put his own pride ahead of the good of the Republican Party hasn't been paying attention.