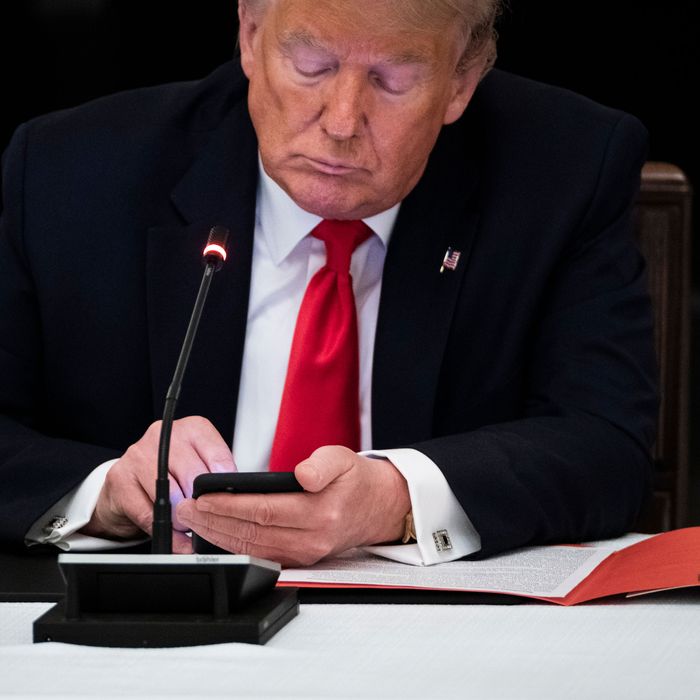 Photo: Jabin Botsford/The Washington Post via Getty Images
In a sign that Republicans are definitely in charge of the House now, former Twitter executives were hauled before the House Oversight Committee on Wednesday morning to explain why the platform temporarily stopped users from tweeting a New York Post story about Hunter Biden's laptop back in 2020. But Democratic representative Gerry Connolly wasn't really interested in the GOP's line of questioning toward witness Anika Collier Navaroli, the former senior expert on Twitter's U.S. safety-policy team.
Instead, Connolly wanted information on a late-night exchange between Donald Trump and celebrities who were making fun of him — a constant dynamic of his presidency. Connolly noted that in September 2019, Trump "heckled two celebrities on Twitter, John Legend and his wife, Chrissy Teigen, and referred to them as musician John Legend and his filthy-mouthed wife." An hour later, Teigen escalated the name-calling, referring to Trump as a "pussy ass bitch."
Connolly then asked Navaroli to refer to her notes on the matter, which stated that the White House immediately reached out to Twitter, demanding the tweet be taken down. Navaroli said she recalled hearing that "we had received a request from the White House to make sure that we evaluated this tweet and that they wanted it to come down because it was a derogatory statement directed toward the president."
"I thought that was an inappropriate action by a government official, let alone the White House," Connolly said. "But it wasn't Joe Biden, about his son's laptop. It was Donald Trump, because he didn't like what Chrissy Teigen had to say about him."
Aside from proving Connolly's point about the hypocrisy of Republican allegations that conservative issues are being censored on social media, the tweet is further evidence that Trump can dish out insults with the best of them but can't handle the jabs when they're hurled his way. Thankfully for him, Teigen deleted the tweet and his new social network is less friendly to Trump slander.