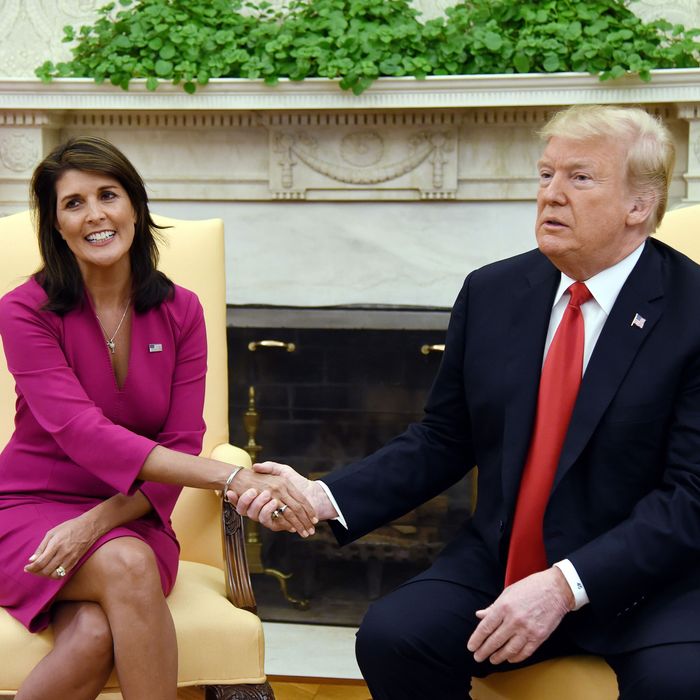 Enemies, frenemies, or running mates?
Photo: Olivier Douliery/AFP via Getty Images
Nikki Haley is, according to every report, about to become the first challenger to Donald Trump for the 2024 Republican presidential nomination. This step was either brave or dumb, the conventional wisdom suggests, since he is sure to go after his first (and subsequent) rivals with a claw hammer and a nasty nickname. Indeed, that's why other potential contenders appear to be holding back.
So how will Trump deal with Haley, a favorite of non-Republican gabbers who are overimpressed with her occasional independence of extremism?
According to the Daily Beast, Trump is basically happy to see her in the field:
In Haley, Trump has a weak opponent he can easily dispense with. Polls have shown Haley polling around 3 percent, compared to Trump's 48 percent. A rival that Trump can crush early — like Alabama football going against Austin Peay in September — could allow Trump to show voters that he's still a force in the GOP. 
More importantly, Trump needs weaker rivals to soak up some of the votes of Republicans who aren't that enthused about his own comeback bid. As he did in 2016, Trump will likely do best against a divided field of opponents who fight with each other for the opportunity to take down the former president:
"Anything over five is a crowded field," one of the sources close to Trump said. "If it's a crowded field, all Trump has to do is hold onto his base. And you know the Republican Party; we love a primary."
So Team Trump is telling the ex-president he should treat Haley, the former governor of South Carolina and U.S. ambassador to the United Nations, with kid gloves. And maybe he will, though he has a lot of reasons to give her a derisive nickname and then beat her politically into submission. They begin with her endorsement of Marco Rubio in 2016 and continue with her harsh criticism of him after January 6 and now her betrayal of a promise to back him in 2024 if he ran.
Trump can also keep Haley under control by dropping hints that he is considering her as a 2024 running mate; a lot of observers think that the veephood is her goal for 2024.
In any event, Trump has been amazingly positive toward Haley given her many acts of perfidy. Perhaps he is storing up the vitriol for a mighty anathema, or, as some of his associates suggested to the Daily Beast, Trump will ultimately dismiss her with a series of slurs:
Recurring themes — among four Trump operatives that spoke with The Daily Beast — included depicting Haley as "disloyal," "a flip-flopper," a war "hawk," and backed by Wall Street. Another one that Trump himself has been briefed on is the allegation that Haley's donors "have ties to China."




One GOP strategist described Haley as "the Carly Fiorina of 2024."
For the moment, Trump is probably going to leave Haley alone and save his fire for the real 2024 threat, Ron DeSantis. Maybe he can at least neutralize any Haley endorsement of the Florida governor or some Anybody But Trump coalition. For the time being, he's not taking her that seriously, and unlike DeSantis, Nikki Haley has no obvious path to the presidential nomination.