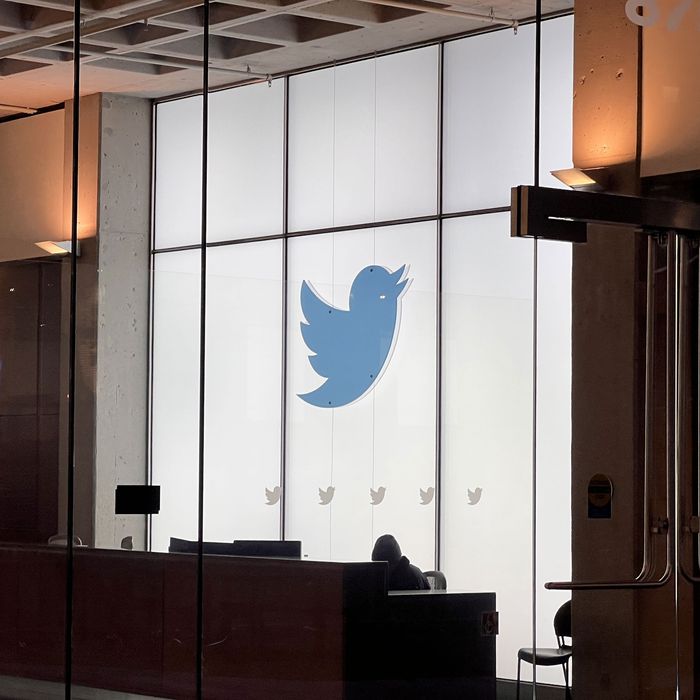 Photo: Tayfun Coskun/Anadolu Agency via Getty Images
In yet another round of culling under its new CEO, Elon Musk, Twitter laid off 200 more employees on Saturday night, a number that represented 10 percent of its workforce.
This isn't the biggest round of cuts Musk has instituted over the past four months, but the layoffs show that he's still trying to trim costs while loading up the remaining skeleton crew — about 1,800 people, compared with 7,500 before he took over — with a grueling amount of work. The new layoffs also reaffirm the fact that Musk isn't a warm and cuddly boss. The announcement came down on a Saturday night, and the New York Times reports that the company disabled the internal-messaging service Slack so employees couldn't easily speak with one another.
There are some big names (and salaries) among the newly unemployed. These include Haraldur Thorleifsson, the founder of a design studio acquired by Twitter in 2021. Also gone is Esther Crawford, a start-up founder and product manager who was in charge of Twitter's push to make users pay for verified accounts. For those paying attention to Musk's retooling, Crawford's ouster was a surprise: When the Teslsa CEO finally bought Twitter after months of uncertainty, Crawford was visibly dedicated to rising up in the ranks, defending Musk's disruptive moves and posting pictures of herself sleeping at the office. But the rollout of the verified service known as Twitter Blue has been rocky. After the company allowed anyone to get verified for $8 per month, a wave of fake accounts began posturing as major companies — like the guy who pretended to be Eli Lily and announced that insulin was "free now," resulting in a 4 percent stock dip for the pharma company. And advertisers cut their Twitter spending just when the company needed ad revenue to prop up Musk's leveraged buyout.
As Musk tightens the belt even further at Twitter, he remains very loose with his posting. Early on Sunday morning, just as hundreds of employees learned they had lost their jobs, Musk was tweeting that the media was "racist against whites" while trying to argue in support of the guy who created the comic strip "Dilbert."