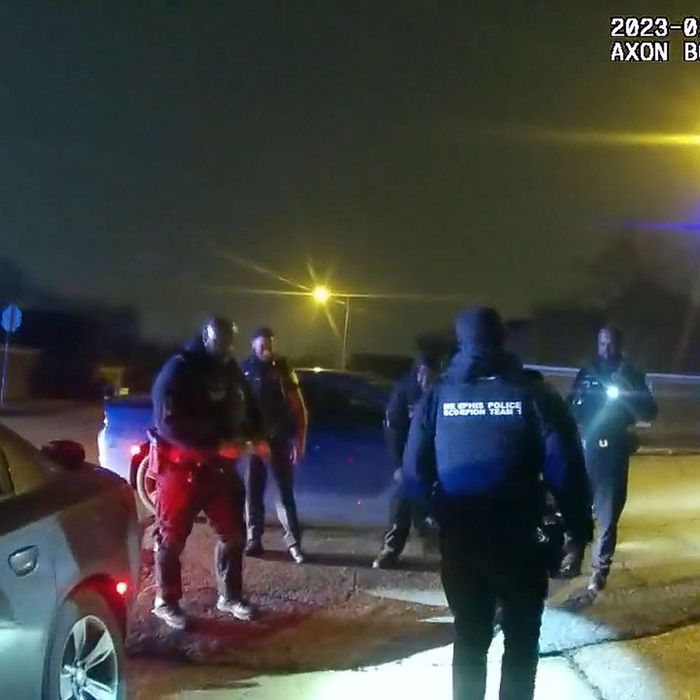 Photo: City of Memphis via AP
With the nation's attention focused on the Memphis Police Department after five of its officers were charged with murdering Tyre Nichols, Police Chief Cerelyn Davis admitted that the department has had trouble keeping officers and bringing in qualified cadets. But a new report from the Associated Press shows just how bad things have gotten under her leadership: With hundreds of positions to fill, the department severely lowered its standards for hiring, even filing waivers with the state to allow some applicants with criminal records to get a badge.
What's more, two of the officers who allegedly killed Nichols were found to have had previous brushes with the law.
Davis took over in 2021, after she was fired from the Atlanta Police Department in 2008 for allegedly telling officers not to investigate the husband of a sergeant accused of a sex crime. Over the past two years, the Memphis Police Department has gotten rid of its requirements for applicants to have college credits, military service, or previous police work; the bare minimum is now just two years of work experience in any field. At the police academy, there are no longer time requirements for physical-fitness drills, and running has been dropped entirely from the test because there were so many failures.
"They would allow just pretty much anybody to be a police officer because they just want these numbers," former lieutenant and recruiting head Alvin Davis told the AP. He retired last year, citing frustrations with the recruiting policy. New recruits, often coming from jobs in fast food, would receive $15,000 signing bonuses; he claims applicants kept asking about the minimum time needed on the force to keep the bonus. "I asked them what made you want to be the police and they'll be honest — they'll tell you it's strictly about the money," he said.
Some of these officers, according to the AP, were assigned to the SCORPION unit that used intimidation and violence throughout Black neighborhoods of Memphis. It's the same unit whose officers brutally beat Nichols last month, and two of them apparently had their own sordid histories. Files from a state agency reviewed by the AP showed that Emmitt Martin III had one arrest prior to joining the force, but the details of the case were blacked out. Even more mysterious is the file on Demetrius Haley, which was also redacted. Haley previously worked as a corrections officer in a local facility and was sued for allegedly beating an inmate there, but the case was dismissed because papers had not been properly served.
Martin and Haley as well as two other officers charged in Nichols's death, Desmond Mills and Justin Smith, also had infractions on their police records before they allegedly killed Nichols. Two Memphis residents told NBC News that Martin pulled a gun on them three years ago with one saying the gun was held to his head as Martin told him, "I'll blow your face off." Haley was reprimanded for failing to write up a report for the use of force when another officer violently ripped a woman from her car, dislocating her shoulder. Mills did not file a necessary form after tackling a woman to the ground during an arrest, and Smith crashed his squad car into another car with two people in it.
Davis told the AP that the department is investigating why a supervisor failed to respond to the scene. (Policy requires a ranking officer to be on site after pepper spray or a stun gun has been used.) On February 3, Memphis mayor Jim Strickland announced that the Justice Department will investigate the police department's use-of-force policy and its special units including SCORPION.