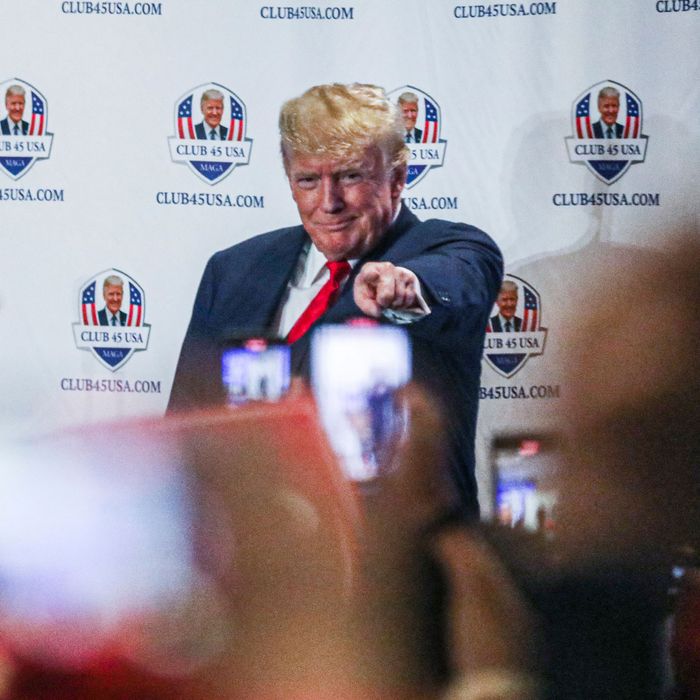 Photo: GIORGIO VIERA/AFP via Getty Images
Though Florida governor Ron DeSantis has yet to confirm that he's running for the presidency in 2024, some pollsters and pundits are already predicting that he's the candidate who can finally wrest the Republican Party from Donald Trump's control. But veterans of the 2016 race know there's only one way to accurately predict how an election will swing: talking to random voters at casual eateries in "real America." And in a crushing blow to DeSantis's nascent campaign, it turns out Trump still has 100 percent support among diner patrons — even in Florida.
Fox & Friends inadvertently made this discovery while broadcasting from Metro Diner in Ponte Vedra. Before going to break, anchor Brian Kilmeade did a quick poll on everyone's favorite 2024 presidential candidate.
All six people polled responded "Trump," with a few adding that they also like South Dakota governor Kristi Noem and former South Carolina governor Nikki Haley (possibly because Kilmeade phrased the question as, "Who's your man, who's your woman?", suggesting they were supposed to pick one of each).
This probably wasn't the response Kilmeade was looking for. Fox News, like other Rupert Murdoch–owned media properties, has been heavily promoting DeSantis as the future of the GOP. Plus, everyone giving the same answer is just bad TV.
So Kilmeade continued his quest. He spotted a woman wearing a "DeSantis" shirt. Surely, she's ready for the governor to take his anti-woke crusade nationwide!
"I see 'Governor DeSantis.' What about President DeSantis?" Kilmeade asked.
"I like it, I like it," the woman said.
So is he her presidential candidate?
"Oh, gosh, I don't know," she said. "Trump or DeSantis. I'm either/or … I'm right in the middle."
Within hours, Trump's website released a statement highlighting the Fox & Friends clip. It read, "Fox is working overtime for DeSanctus, but they are failing — Look at the Polls. We are MAGA!"
Yes, just look at the polls! As seven Florida diner patrons go, so goes the nation.