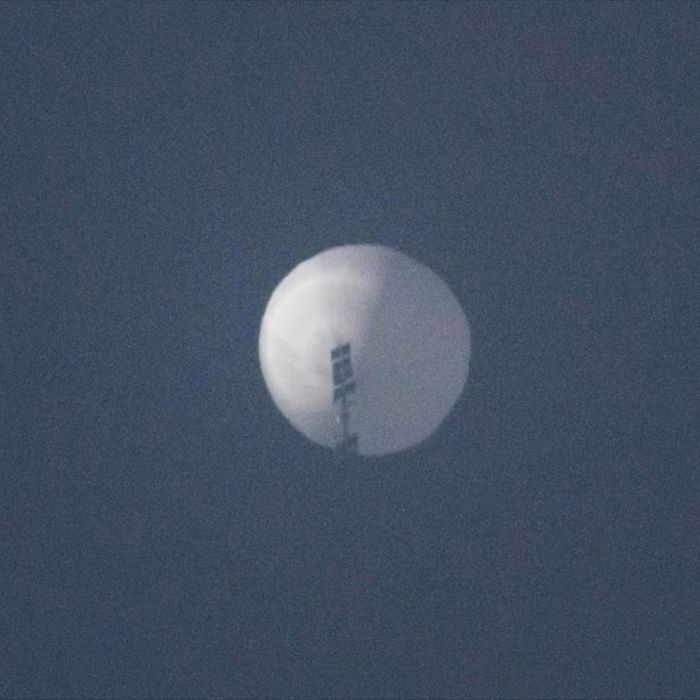 Eyewitness image taken on February 1 that captures what is suspected to be a Chinese spy balloon as it flew over Billings, Montana.
Photo: EyePress News/Shutterstock
The U.S. tour of an alleged Chinese surveillance balloon ended off the coast of South Carolina on Saturday afternoon when an F-22 shot it down. Not since 2009's "balloon boy" saga has there been a more captivating national balloon news story, and the fallout continued Sunday. Below is what we know about this developing story, with updates appearing in reverse-chronological order.
Picking up the pieces of China's very big balloon
U.S. Northern Command General Glen David VanHerck told reporters on Monday that the alleged spy balloon was up to 200 feet tall and carried a jetliner-size payload weighing more than few thousand pounds.
He also said that NORTHCOM did not detect the previous alleged Chinese spy-balloon incursions into U.S. airspace, but rather the U.S. intelligence community did so after the fact.
The U.S. operation to recover the debris from the downed balloon from the Atlantic Ocean is continuing, the general said, involving both a dock-landing ship and an oceanographic survey ship.
China acknowledges second balloon, which flew over Latin America
On Monday, the Chinese Foreign Ministry confirmed the balloon, which looked to be similar to its U.S. counterpart, had also originated in China. But the Foreign Ministry claimed it too was a wayward civilian aircraft, as it had regarding the U.S. one.
Will the whole saga end up being a U.S. intelligence win?
In a Washington Post op-ed, David Ignatius passes along some more inside information regarding the balloon incident, per "an authoritative Pentagon official with detailed, firsthand knowledge of the event':
The Chinese have been dispatching intelligence-collection balloons for years. The Pentagon official said Saturday night that five Chinese balloons have circumnavigated the globe, and China has conducted 20 to 30 balloon missions globally over the past decade.
Ignatius says the official believes any intelligence the balloon gathered would have been of limited value, including the possibility that "the mission was an attempt to trigger U.S. radar or electronic-warfare signatures, which would be valuable in a future conflict." And the episode may end up being an overall win for the U.S., particularly if the balloon's intelligence pod can be recovered:
The pod apparently fell into the Atlantic largely intact, the official said, and it should provide a useful opportunity to examine and reverse-engineer Chinese intelligence and communications systems.




Thus, from an intelligence standpoint, Pentagon officials believe that the strange week-long balloon voyage was ultimately of more benefit to the United States than to China. By waiting until the balloon was over U.S. territorial waters, the Biden administration was able to maximize the likelihood that the pod could be recovered while minimizing the risk that Americans would be injured by falling debris.
Some expert observers have opined in recent days that the incident was most likely an unintentional mistake on China's part, considering the high diplomatic cost at a time when China appeared interested in repairing relations with the West.
Welcome to Cold War II?
On his Substack, Noah Smith argues that the spy balloon incident may be the death knell for any potential U.S. reengagement with China — let alone a taste of the conflict to come:
It's probably not militarily significant, but it looks like a clear provocation. It's not the kind of thing you do if you're trying to ratchet down increasing tensions. Of course, China's policymaking apparatus isn't a monolith, and it's possible that doves are trying to reach out even as hawks are pressing for more confrontation. But if even half of China's leaders are committed to Cold War 2, the U.S. will have little choice but to accept the challenge. …




So Cold War 2 is a reality, and we're all living in it right now. If history is any guide, expect at least the next three decades to be defined by mutual U.S.-China distrust and tensions rather than re-engagement or cooperation against shared challenges. China's leaders may wish they could take a mulligan and reset things to the trajectory of 2015 or 2017, but eventually they will realize that they can't, and their tone will likely turn frosty again. Meanwhile, Americans will likely continue to see events like the Spy Balloon in a more negative, threatening light than they would have in earlier decades.
The balloon spent seven days in U.S. airspace
The New York Times reports that, according to Pentagon officials, the partially maneuverable balloon "began a controlled drift" in U.S. airspace on January 28 over Alaska's Aleutian Islands. It then moved over Canada before entering the continental U.S. on Tuesday over Idaho — which U.S. defense officials hasn't expected:
By Wednesday, when the balloon had made its way to the skies above Billings, Mont., Pentagon officials were alarmed because the state is home to the 341st Missile Wing at Malmstrom Air Force Base, one of three U.S. Air Force bases that operate and maintain intercontinental ballistic missiles. One Pentagon official described shock at what officials viewed as a blatant, and poorly concealed, effort at spying. A senior Biden administration official called the move audacious.
State Department officials told a top Chinese diplomat in Washington, D.C. on Wednesday that China needed to remove the balloon, that the incident threatened Secretary of State Antony Blinken's now-postponed trip to China, and indicated that the U.S. might shoot it down. People in Montana had noticed the clearly visible balloon in the sky on Wednesday, as well, and it triggered a ground stop at Billings Logan International Airport. Then on the Thursday, the Pentagon confirmed it was a surveillance balloon.
Chinese spy balloons trespassed under Trump, too
A senior Defense Department official told reporters on Saturday afternoon that similar Chinese spy balloons have flown over the continental U.S. at least four other times, but none for as long as this one.
Three of the balloon incidents happened during Donald Trump's presidency, and the fourth during Biden's, the official said. The former president was one of many Republicans who publicly criticized Biden on Friday for not shooting down this balloon. "SHOOT DOWN THE BALLOON!" Trump posted on social media, shortly before his campaign sent out a fundraising email regarding the balloon and Biden's response.
Politico notes that the Pentagon may have never informed the Trump White House about the alleged incursions:
DoD tracks "hundreds" of balloons every day, but they are typically not deemed a threat. Their presence close to or over the United States would not be brought to the attention of senior leaders unless their behavior was "completely out of the ordinary, like this one," said one senior Pentagon official.
On Sunday morning, Trump claimed the Pentagon was spreading "fake disinformation":
On Friday, ABC News reported that U.S. officials had confirmed there were two encounters with Chinese balloons near Hawaii and Guam last year:
In February 2022, a balloon appeared to be stationary in international waters northwest of Kauai, Hawaii, the officials said. The Hawaii incident came shortly after a similar incident that year near Guam, according to one of the officials.
The Pentagon said Friday night it had concluded that a second Chinese spy balloon was also flying over Latin America this week.
China says the U.S. overreacted
On Sunday morning, China's Foreign Ministry responded to the downing of the balloon, saying in a statement that the big balloon's destruction was an "excessive reaction" that violated international norms. It also said that China "retains the right to respond further" — though it did not accuse the U.S. of breaking any international laws.
The country's Ministry of National Defense echoed that rhetoric in its own statement as well: "We solemnly protest the U.S. action, and retain the right to use the necessary means to deal with similar circumstances."
U.S. officials are reportedly watching for any possible retaliation from China, but so far there has been none.
Video captures closer view of the moment the missile hit
Complete with a soundtrack:
Biden says he authorized shooting down the balloon on Wednesday
President Biden, speaking with reporters on Saturday afternoon in Maryland, praised the aviators who shot down the balloon. He also said he had told the Pentagon on Wednesday to shoot down the balloon "as soon as possible," and they said the "safest" time to shoot down the balloon was when it over the ocean so the falling debris wouldn't injure anyone on the ground.
Here's the Defense Secretary Lloyd Austin's statement on the operation:
The Pentagon is also saying that not shooting down the balloon right away was worthwhile:
A recovery operation is underway
The U.S. Navy and Coast Guard are conducting an operation to recover the debris from the downed balloon. The debris is spread across seven miles, about six miles off the coast of South Carolina where the water is about 47 feet deep, according to the Pentagon.
Police in Horry County, South Carolina have also asked residents to report any debris that might have drifted over and landed on the coast:
How and when they finally shot it down
An F-22 fighter jet downed the alleged spy balloon in U.S. airspace off the coast of Myrtle Beach, South Carolina on Saturday afternoon. Pentagon officials said the F-22 struck the balloon with a missile at approximately 2:39 p.m., firing up from an altitude of about 58,000 feet at the balloon, which was at an altitude between 60,000 and 65,000 feet.
Defense One adds:
The F-22 used the call sign "FRANK," according to open-source aircraft spotters, in an apparent nod to Frank Luke Jr. The World War I fighter ace shot down 14 German surveillance balloons and was known as the "Arizona Balloon Buster.". Luke Air Force Base in his home state is named after him.




The Chinese balloon is believed to be the first air-to-air kill for the F-22, a twin-engine stealth fighter that was originally built to battle Russian warplanes.
The event was captured on live television feeds and by onlookers on the ground.
Shortly before, two F-22s circled the balloon above Myrtle Beach:
As the balloon approached the coastline, the FAA, in "support the Department of Defense in a national security effort," ordered a ground stop for all flights at airports in Wilmington, North Carolina and Myrtle Beach and Charleston in South Carolina. The Coast Guard also told mariners to clear the water off the coast of South Carolina in anticipation of the shoot-down.
"We're gonna take care of it," President Biden had told reporters in Syracuse earlier Saturday.
Republican lawmakers and other conservative figures spent much of Friday lambasting the White House for not shooting it down earlier.
Where has the balloon been?
The balloon was spotted hovering over the Carolinas on Saturday:
Midday Friday, the balloon was hovering over the central U.S. and moving eastward at an altitude of about 60,000 feet, according to the Pentagon, which would not confirm the device's exact location. The big white balloon, which at that point was expected to remain in U.S. airspace for a few more days, was visible over northwest Missouri around 12:30 p.m. Friday.
Pentagon officials say they monitored the balloon hovering over Montana on Wednesday, where it had apparently traveled after flying into U.S. airspace in Alaska over the Aleutian Islands. Montana's Billings Logan International Airport was briefly shut down Wednesday after the FAA temporarily closed nearby airspace because of the balloon.
Republican U.S. senator Steve Daines of Montana told the Pentagon in a letter that he was concerned about the balloon's proximity to the heart of America's nuclear-armed intercontinental ballistic missiles, which are scattered across multiple bases in the Great Plains.
There's a second spy balloon flying over Latin America
People in Costa Rica had also seen a similar-looking balloon on Thursday. On Friday night, the Pentagon said it too was a spy balloon.
One Montana resident with an infamous vantage point on UFOs
The New York Times interviewed a bunch on Montanans about how they feel about the sudden inflatable eye in the sky:
"It was a wake-up call for me and probably for a lot of people in Montana," [Independence Day actor Bill] Pullman said Friday. "The state can feel too remote to be in harm's way if there were a war, but in fact it could very likely be the frontline of a nuclear first strike. Fortunately I think most Montanans have a restraint that keeps things like unruly horses and floating hot-air balloons from causing a bad wreck."
What could China be trying to spy on?
Arms-control expert Jeffrey Lewis tells Intelligencer's Matt Stieb that balloons are inexpensive longer-term surveillance alternatives to satellites:
A satellite is going to constantly be in motion. It's going to fall, it's going to peer over the horizon, it's going to pass overhead, and it's going to be gone. A balloon has a more persistent quality to its monitoring and detection.
But Lewis also notes that it wouldn't make much sense for China to be surveilling nuclear-missile sites this way:
Satellites move, but silos don't. The locations of our missile silos and of Chinese missile silos are extremely well known to each party. If you're talking about optical imaging, I don't think there's much of an advantage to a platform like this compared with a satellite. My guess is it could have some other payload on it to collect different kinds of information. I'm just speculating, but maybe a signals-intelligence payload. If you're using a radio and you turn on marine radar, you can collect those signals from space or a drone. You could see if radio towers are transmitting, but again, we're a free country. So you could take an RF detector and drive around Montana and you can get much closer to the silos than a balloon can.
Read the rest of Matt's interview with Lewis here.
Why isn't the U.S. shooting down the balloon?
Although the military allegedly readied fighter jets to shoot it down, Biden reportedly opted not to pop China's balloon after Defense Secretary Lloyd Austin advised him against such a move. Pentagon officials were concerned that "any potential debris field would be significant and potentially cause civilian injuries or deaths or significant property damage."
Nonetheless, the Biden administration is taking a lot of flak for not attempting to capture the balloon or take it out. "SHOOT DOWN THE BALLOON!" Donald Trump wrote in a Truth Social message Friday. A number of top Republicans have said the same:
No, don't shoot at the balloon.
A certain former president's oldest son is among those suggesting that gun-toting, spy-balloon hating Americans take matters into their own hands:
A Montana state representative and U.S. Senate freshman J.D. Vance also tweeted photos suggesting they might take the shot themselves:
Although there have been no reports of any Americans actually shooting at the balloon, that would not be a good idea, nor could the world's best marksman even hit a moving target 60,000 feet away:
The Pentagon apparently isn't impressed.
The Defense Department has maintained that it does not view the balloon as a threat. According to unnamed Defense officials who spoke with the New York Times, the DoD seems to be more annoyed than concerned:
The official said that while it was not the first time China had sent spy balloons to the United States, this one has appeared to remain over the country for longer. Still, a senior administration official who spoke on the condition of anonymity said the balloon did not pose a military or physical threat and added that it had limited value in collecting intelligence. Another defense official said the Pentagon did not think that the balloon added much value over what China could glean through satellite imagery.
China swears it's a wayward weather balloon.
China's foreign ministry acknowledged Friday that the balloon had come from China but claimed it was an airship conducting meteorological research that had "deviated far from its planned course" thanks to wind. The foreign ministry said China was "regretful":
The Associated Press reports it's possible wind could have taken over the balloon's flight plan:
Weather experts said China's claim that the balloon had gone off course was not unfeasible. China's account of wind patterns known as the Westerlies carrying a balloon to the western United States was "absolutely possible — not possible, likely," said Dan Jaffe, a professor of atmospheric chemistry at the University of Washington.
White House postpones Blinken's trip to China.
The violation of U.S. airspace has prompted the Biden administration to hold off on the secretary of State's upcoming trip to Beijing, which was scheduled for next week and would have been the first trip to China by a U.S. secretary of State in five years. Bloomberg reports that the balloon incident "led officials to decide that going now would send the wrong signal."
Yes, there have been jokes.
And conspiracy theories.
And war-balloon-history lessons.
This post has been updated throughout.