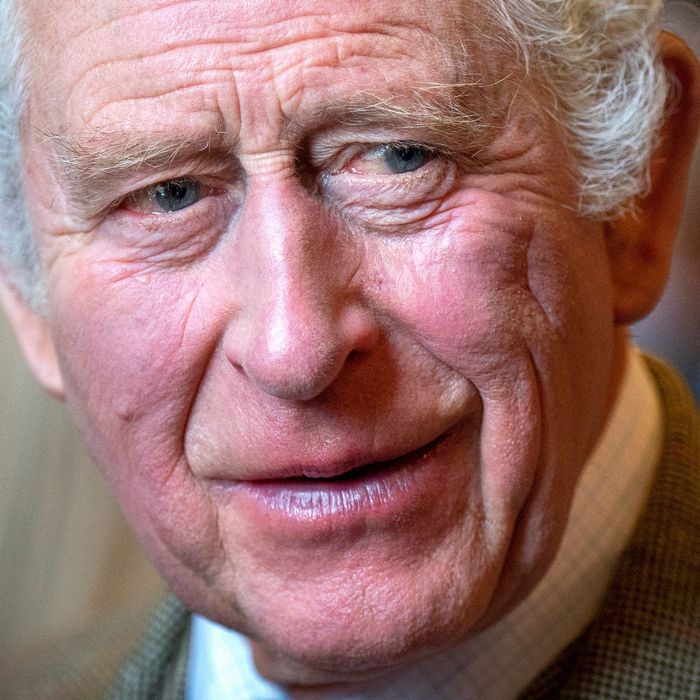 Photo: JANE BARLOW/POOL/AFP via Getty Images
When we last checked in on King Charles III (or simply "Pa," for you Spare readers), he was maintaining what The Mirror called a "dignified silence" as Prince Harry's memoir threatened to tear down the monarchy. Some outlets said he was plotting his own tell-all interview to get revenge on his son. Others said he desperately wanted his "darling boy" to attend his May 6 coronation. It was all very confusing.
But now King Charles has finally broken his silence … and this Yank is still very confused.
Here are the facts. When King Charles was interacting with a crowd during his visit to the University of East London this week, an onlooker said, "Bring back Harry, please." When the king didn't answer, the heckler added, "Can you bring him back, sir?"
"Who?" Charles asked.
"Harry, your son," the person answered.
Charles laughed and kept moving, saying something only partly intelligible — maybe "Oh, that would be nice" or "It would be nice."
While I am new to royals coverage, I've watched enough of The Crown to know that Charles uttering a word about the scandal du jour was a big deal. But what, exactly, did Pa's "Who?" reveal? Harry recently told Anderson Cooper that the royals like to communicate with the public via "leaking and planting" stories in the press, so I decided to consult some news outlets that may have a better idea of what's on Pa's mind.
Some suggested this was Charles's version of "I don't know her." The Mirror said the monarch had delivered a "devastating four-word reply." Similarly, Sky News Australia reported that "members of the public were left stunned" by the king's "savage response," characterizing it as a "swipe at his son." And the Daily Mail headline "King Charles pretends to forget who Prince Harry is" raised the possibility that he was playing dumb just to burn his wayward son.
Other outlets were more open to the idea that the 74-year-old king just misheard the heckler and is unbothered by the whole Harry situation. Another piece in The Mirror said the exchange was merely "awkward" and Charles "laughed off" the whole thing. The Sun said the king wasn't the only one who was chuckling, reporting that he "gave fans a laugh" when he "hilariously fired back" at his subject's impudent request.
But OK! Magazine had an entirely different interpretation, describing Charles's response as "heartbreaking."
Maybe the only conclusion we can draw from all of this is that overanalyzing the royals is like a Rorschach test. Your reaction to minor details like Kate Middleton wearing a red pantsuit, Harry pursing his lips in an interview, or Charles uttering "Who?" reveals more about your psyche than the royals'. But, for what it's worth, when I watch that Charles video, I see a butterfly.