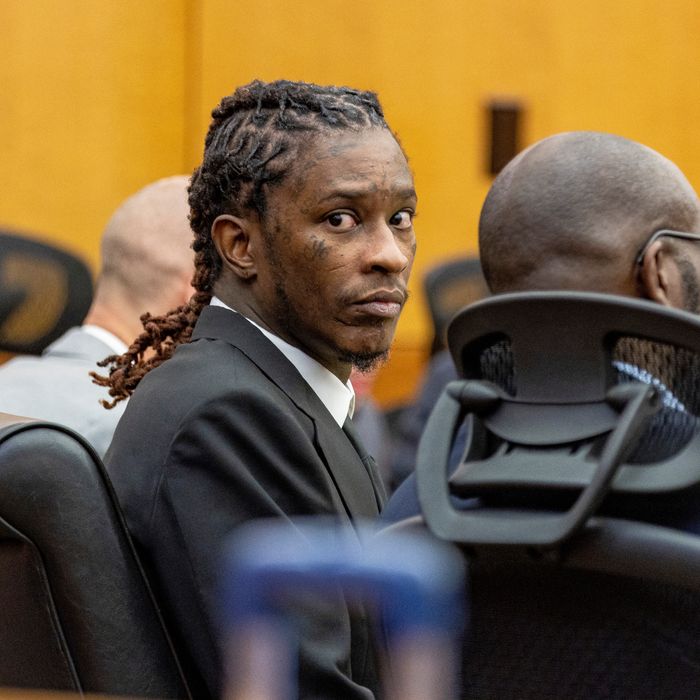 Jeffery Williams was born in 1991, the year after Atlanta won its bid to host the 1996 Olympic Games. He grew up in the Jonesboro South projects in a desolate corner of the city, "a forgotten place among a series of forgotten places on the south side," King Williams, a documentary filmmaker, told me. Jeffery's childhood experiences were as grim as they were indelible: He was the second-youngest of 11 children and watched his elder brother Bennie get murdered in front of him over a gambling dispute. He has rapped about how his dad shot his mom and her lover when he caught her cheating, and he sold drugs to make ends meet.
Jonesboro South and its adjacent stretch of Cleveland Avenue were where Williams found music. As a kid growing up in the 1990s and early aughts, he saw Atlanta's rise to rap dominance firsthand, an explosion sparked by OutKast's triumph at the 1995 Source Awards. "The South got something to say," declared André 3000 from the stage, a rebuke to the bicoastal sniping that had consumed rap in the Death Row–versus–Bad Boy era. The flamboyant André became a stylistic forebear for Williams, who, as a budding rapper himself, would adopt the handle Young Thug. For the cover of his 2016 mixtape, Jeffery, which charted at No. 8 on "The Billboard 200" and made several end-of-year lists, he posed in a ruffled dress that drew plaudits from music journalists and ridicule from peers.
But if his fashion sense was as outré as rap's other oddballs', his methods of self-defense were more suited to the trap subgenre that he helped popularize and that later took over Atlanta's music scene. "I wore this long-ass dress because I had a motherfucking AK-47 up under it," Williams said in 2019. Trap music's spiritual home is a place where drugs are manufactured and sold, but that is also a psychic snare. If it could be captured by a sound, it might be Young Thug's voice: a shrill warble that careers among dazed murmurs, haunting melodies, and primal barks. This may be his greatest strength as an artist — his ability to channel the trap's malaise, its anguish, its thrill.
The backdrop of Williams's boyhood was upheaval. After generations of white flight and a hollowing out of the inner city, Atlanta was on the cusp of transformation. For the city's Black leaders, earning the Olympics didn't just mean staving off the nagging idea that they were running a minor-league city at best and a provincial backwater at worst. It meant convincing the world that its experiment in Black rule, personified by an uninterrupted line of Black mayors starting in 1974, had not degenerated into crime and ruin.
The Games called for updated infrastructure, new venues, and housing for athletes. Much of Atlanta was seen as a blank slate for redevelopment, and it was just a matter of time before its project dwellers became casualties. Twenty years later, all of the city's public-housing developments had been flattened to dust. In 2008, the home that had constituted Williams's entire world was deemed a blight and slated for demolition. His family was still living there until the day the development closed its doors. "Anything you see wrong with me came from my projects, Jonesboro South," he told The Fader in 2013. When I drove there in February, the street corner where many of the old apartments stood was muddy and overgrown. Some of the only indications that people used to live there were a sheet of bare concrete and a toilet lying on its side.
This was the cost of progress, of revitalizing what Atlanta's boosters have called the Black Mecca — a place ruled by Black elites, an incubator for Black wealth, a sanctuary of commerce and order and respectability. It is also the most unequal city in America, its Black leaders tasked with managing the unruly potential of its Black underclass. In addressing this tension, they have butted up against the rap industry, the other great Atlanta institution of the past three decades, whose practitioners often come out of projects like Jonesboro South and are versed in economies that are underground and in societies where the law is settled by the gun. The prosecution of Young Thug — who faces conspiracy charges that could send him to prison for 25 years in a trial expected to begin this spring — is not just about law enforcement criminalizing rap music. It is about how Atlanta eats its own to keep the sunny vision of the Black Mecca alive.
Williams was not the kind of person whose run-ins with the law surprised anyone. Before he became a platinum-selling rap artist and the owner of a $3 million mansion in Buckhead, he was a troubled middle-schooler who got into a fight with one of his teachers, broke the teacher's arm, and got sent to a juvenile-detention facility for four years. When he was released, he had a gambling problem and a steady drug habit, both of which followed him into adulthood. Between 2015 and 2017, he was arrested multiple times for accusations involving guns, terroristic threats, and narcotics: meth, cocaine, hydrocodone, and codeine, among others. Even his moments of triumph were haunted by the police. He was handcuffed by cops in West Hollywood, California, in 2019 but got released in time for the Grammy Awards that night, where he performed and won Song of the Year.
There were also rumors and insinuations shrouding him in suspicion: the 2015 drive-by shooting of a man named Donovan Thomas, the nonfatal shooting that same year of fellow rapper Lil Wayne's tour bus. Both involved Williams circumstantially: The Thomas shooting was carried out using an Infiniti Q50 sedan that he had allegedly rented, and the guy who shot up Wayne's bus called Williams's cell phone afterward.
But lately there were signs that he was staying away from trouble. "I'm pretty old now," Williams explained during a 2021 interview with "The Breakfast Club," which was notable because he used to have beef with the show's co-host Charlamagne tha God, one rival in a long list that included Wayne and local artist YFN Lucci. Williams declared that he and Wayne were good and even collaborating on music.
So if the fact of his arrest on May 9, 2022, wasn't shocking, the pageantry was more befitting the old Thug. There was none of the prim discretion that wealthy accused people typically get. It was a glorified perp walk: A fleet of squad cars blocked his sun-dappled section of Allison Drive, the blue lights glinting off the cameras there to document his capture. The charges he faced were even more dramatic, a sprawling racketeering indictment brought by Fulton County district attorney Fani Willis. Taken individually, the allegations looked like Williams's usual — drugs, guns, verbal threats — but the difference now was narrative: Instead of discrete crimes, they were being woven together as part of an organized criminal scheme with him at its center.
Whether this story clicks with a jury remains to be seen. The indictment includes 56 counts and involves 28 total defendants — a docket so bloated that, since January, the court hasn't found a single juror willing to give up nine months of work for it.
Gang indictments have been ensnaring Greater Atlanta rappers, like YFN Lucci and members of Migos, for more than half a decade now. The genre straddles the city's Black divide like few other forms; it's a conduit for class mobility and an indictment of the Black Mecca wrapped into one. Willis's case has prompted even more controversy by citing Young Thug's lyrics as evidence. Bars including "red just like Elmo" and "I'm a general" have been offered as evidence of affiliation with the Bloods and an admission of gang leadership. The fact that rap's global influence and local dominance had not yet caused any serious confrontations with the city's respectable elite is remarkable. But if there was going to be an inflection point, it makes sense that it would involve Atlanta's most extravagant native son, who made good but refused to abandon the streets.
Williams's record label, Young Stoner Life, or YSL, was not built in the usual way, through talent scouts, demos, and focus-group testing. The artists on its roster are mostly Williams's friends and family from the old neighborhood. Two of his sisters, one brother, his nephew, and his ex-girlfriend Karlae are on it, plus a parade of local characters whose distinguishing feature is knowing Williams. He gets that a Young Thug collaboration can transform everyday people into millionaires, and he wields that power generously. Rather than turn his massive backlog of recorded music into dozens of solo albums, he has put out a series of mixtapes and compilations that highlight his friends — 2021's Slime Language 2 features no fewer than 13 YSL artists.
This inclination makes him uniquely vulnerable to racketeering and conspiracy charges under Georgia's version of the Racketeer Influenced and Corrupt Organizations Act, which in its essence punishes the very notion of community that Williams abides by. His old friends turned labelmates are now many of his co-defendants in Fulton County's effort to prove that YSL is not a music label but a criminal street gang responsible for drug trafficking, theft, and murder. "It happens to a lot of individuals who come up in urban communities where they feel a need to remain connected," says A. R. Shaw, an Atlanta-based journalist and trap-music historian. "Unfortunately, you see what can happen when you're still connected with individuals who are still in crime."
RICO started as federal legislation in 1970 before being adopted by states. "Let's get at the mob" was the original goal, says Jessica Brand, a former public defender and founder of the Wren Collective, a strategic-advising firm focused on the criminal legal system. "But there's no mob prosecutions anymore." Instead, it is mostly used today to recast loose affiliations of poor Black and brown people as gangs and threaten them with decades in prison. In 2016, it was used in what officials at the time bragged was "the largest gang takedown in New York City history" — the raid of a Bronx housing project that resulted in 78 arrests and 120 indictments. Prosecutors ended up alleging that only half of the detainees were actually gang members or involved in violent crimes. The most incriminating thing about a majority of them was that they knew one another. "It's just an easy way for prosecutors to prove cases they can't otherwise prove," says Brand.
RICO's main prosecutorial benefit may be its ability to pressure people into accepting plea bargains, which often include promises to testify against co-defendants. Big showy arrests and press conferences full of tough talk are the closest most DAs get to being celebrities. When it comes to resolving actual cases, though, it's faster, easier, and cheaper to get people to confess guilt and move on. Prosecutors in the YSL case have already coaxed eight defendants, including Young Thug's protégé Gunna, into pleading out using the threat of inordinate and capricious prison sentences to sow panic and pit friends and family against one another.
When Willis made the grandiose claim the day after Williams's arrest that gangs were "committing conservatively 75 to 80 percent of all of the violent crime" in Fulton County, there was cause to be skeptical. But racketeering indictments are effective ways to sweep lots of people off the streets instantaneously and get them under state supervision, which in turn appears to show that there are lots of people on the streets who need sweeping. The result in this case was the broad impression that Willis had delivered a decisive blow against the single deadliest cause of violence in Atlanta.
"She has an affinity for big cases," says Devin Franklin, the movement policy counsel at the Southern Center for Human Rights. Willis and Williams are tailor-made foils in that she matches his lavishness with her own brand of excess — a zealot's taste for retribution and a showman's knack for turning it into spectacle. Willis was elected in 2020 after ousting her old boss and mentor, Paul Howard, who had been DA for 23 years but was embroiled in multiple workplace sexual-harassment scandals and accusations of corruption. Her father was a former Black Panther turned defense attorney, and she defended clients herself before becoming a prosecutor with a reputation as a good-faith negotiating partner, so people in the defense community lent their cautious support to her campaign. It was a mistake. "She said she wasn't going to pursue the death penalty," says Franklin. "Within her first few months, she elected to go forward with the death penalty."
Before she became DA, Willis prosecuted another RICO case: the 2014 trial of Atlanta public-school employees who had helped students cheat on standardized tests by changing their answers. Willis successfully recast them as an organized-crime syndicate and landed nine of them in prison. Once elected to office, she went after former president Donald Trump, which, combined with the Young Thug case, helped her establish a reputation as a scofflaw's worst nightmare. It didn't matter who you were — a president trying to steal an election or a rapper with a seven-bedroom house in Buckhead — you were on notice either way. The Trump case has won her status as a liberal crusader, replete with reverent profiles in The New York Times Magazine and Time.
In response to a recent spike in murders, tough-on-crime politics are back in vogue in Atlanta, which has made for a huge reinvestment in policing and prosecution of the poor, dramatized by the fight over a proposed $90 million cop-training facility called Cop City. Willis has also succeeded in making Jeffery Williams the face of the city's ongoing fears about street crime.
In the years after Jonesboro South fell, Williams became a parent to six children. His beanpole physique had started to develop a fatherly paunch, accentuated on the day of his arrest by a formfitting tank top. The perils of his upbringing still clung to his insides like parasites on a host. He gambled against his mother's desperate objections and in 2021 said he lost $800,000 during a trip to Las Vegas. He flirted regularly with death by downing a concoction known colloquially as "lean" — a mix of cough syrup, hard candy, and soda — in such volumes that it landed him in the hospital with kidney and liver failure at age 26.
He's turning 32 this year, and a lot of what made him an appealing poster boy for Atlanta's ills has faded. The cocksure impresario was replaced by a sheepish-looking dad slouched in front of a cop car, then later by a blurry silhouette shown in periodic broadcasts from the Fulton County jail. If Williams really is the kingpin of Allison Drive prosecutors are alleging him to be, he is clearly a man buckling under the weight of his past and an environment imposed on him by a city that never meant for him to transcend it. It's not a dilemma that decades in prison can fix, but it would be a darkly apt fate — a son of South Atlanta felled by what he refused to forget. The Black Mecca was always a project that required discipline and rarely had time for mercy.