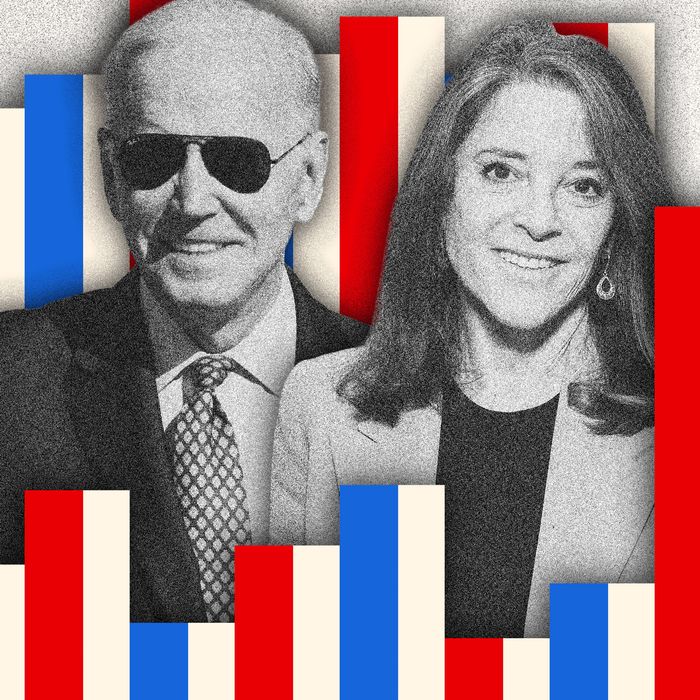 Photo-Illustration: Intelligencer; Photos: Getty Images
While some 2024 election polls show majorities of Democrats don't want Joe Biden to run for a second term, other surveys show the opposite. All we've learned is that abstract polls matching the president of the United States against nobody in particular aren't very informative.
So perhaps the most relevant recent poll is one that matches Biden against his only announced opponent for the 2024 Democratic presidential nomination: best-selling self-help author and ethereal progressive Marianne Williamson, who's making her second bid for the White House. According to Morning Consult, given this choice, 77 percent of potential Democratic primary voters prefer the incumbent, while 4 percent would go with Williamson. In the sole intra-Democratic contest that matters unless someone else runs (which doesn't seem likely at present), Biden has a 73-point lead.
You could argue that Williamson is not a "serious" challenger. But sometimes that's not easy to tell initially. The most serious recent challenge to a sitting president's renomination was Pat Buchanan's race against George H.W. Bush in 1992; at the time (and later), Buchanan was a cranky extremist who had never run and would never win public office. He didn't beat Poppy in any primaries, but his candidacy was widely and accurately taken as a sign that the 41st president would be in trouble in the general election. If Biden is in similar trouble, it should show up at least to some extent in the support gained by whoever is running against him.
Just as important, Biden's ability to dissuade "more serious" rivals than Williamson is a testament to his strength. With the exception of Donald Trump, every incumbent president since Herbert Hoover who won renomination after avoiding a major intraparty challenge has won reelection. And some presidents have made potentially significant challengers seem inconsequential. In 1972, two sitting Republican members of Congress ran against Richard Nixon representing disgruntled conservatives (Ohio's John Ashbrook) and antiwar Republicans (California's Pete McCloskey). McCloskey trailed Nixon in New Hampshire by 47 points, and neither he nor Ashbrook got remotely that close afterward.
Presidents are hard to beat in their own party, and that's particularly true of a president like Biden who is positioned so squarely at the center of his party's center of gravity and is running no worse than even with his two most likely general-election opponents in the early polls.
If Williamson begins defying gravity or gets some company as a challenger, then we can talk about Democratic disenchantment with Biden. Until then, he's really the overwhelming front-runner for the nomination.