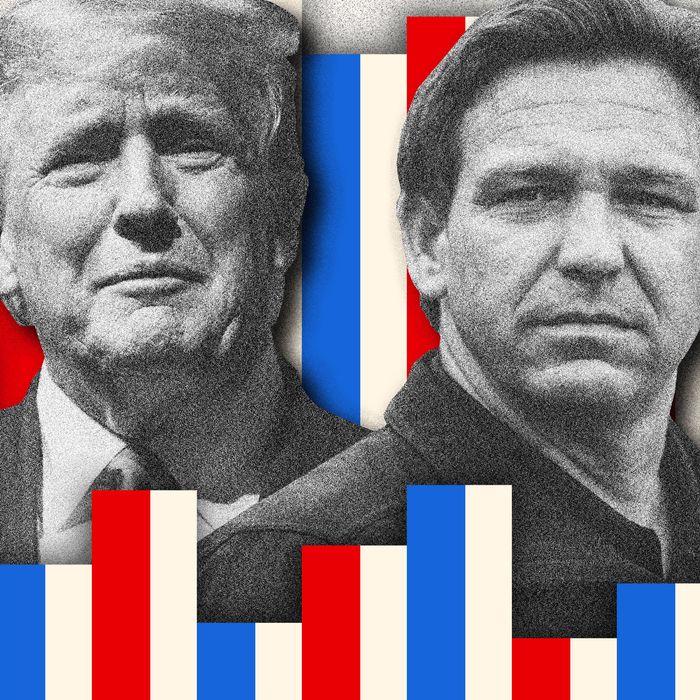 The big two.
Photo-Illustration: Intelligencer; Photos: Getty Images
The big story of the first phase of the so-called "invisible primary" for the 2024 Republican presidential nomination was the emergence of probable candidate Ron DeSantis as the only viable challenger to actual candidate Donald Trump. In recent months, the Florida governor showed some signs of consolidating anti-Trump support among Republican elites and voters alike, and became a clear front-runner.
Now the vibe has shifted somewhat. After some initial lassitude after announcing his candidacy in November 2022, Trump is reportedly putting together both an organization and a strategy for the 2024 caucuses and primaries. Other candidates have come forward, unintentionally splitting the anti-Trump vote; Nikki Haley and anti-woke author Vivek Ramaswamy have already announced, and Mike Pence, Mike Pompeo, and Tim Scott (among others) are acting very much like 2024 aspirants. Most importantly, Trump has started going after DeSantis with a tire iron, calling him a "RINO" and drawing attention to his previous support for dangerously unpopular cuts in retirement benefits. DeSantis, seemingly frozen by a decision to delay his campaign announcement until after his state's legislative session ends in May, is so far not retaliating.
Meanwhile, polls of the 2024 GOP contest show a fairly stable Trump lead over the field. If DeSantis looked initially like an irresistible force, Trump is now looking more like an immovable object. The RealClearPolitics average of polls on various GOP candidates currently place Trump at 45 percent, with DeSantis at 29 percent, Pence at 7 percent, Haley at 5 percent, and assorted other politicians in the low single digits. Because 2024 polling is a bit scattered at this early stage of the cycle, it's most instructive to compare apples-to-apples findings from the same pollsters over time. Economist/YouGov had Trump leading DeSantis (in a multi-candidate poll) 44-32 in January and 42-32 in February. Similarly, Harvard-Harris showed Trump leading DeSantis 48-25 in December, 48-28 in January, and 46-23 in February. Emerson showed Trump up 55-25 in November, 55-29 in January and 55-25 in February. There's just not a lot of recent movement.
Confusing the picture somewhat are occasional one-on-one tests of Trump versus DeSantis. These rely on the dubious assumption that Trump only won in 2016 because of divided opposition, which DeSantis may be able to avoid (actually, Trump got stronger in 2016 as the field shrank). Even in these highly hypothetical cage matches, the recent trends aren't showing much if any DeSantis momentum. Indeed, one polling outlet has shown the arrows pointing in the other direction:
A new Yahoo News/YouGov poll shows that after trailing for the last three months, former President Donald Trump has suddenly surged to a substantial lead over Florida Gov. Ron DeSantis in a two-man matchup for the 2024 GOP presidential nomination.




Previously, DeSantis led Trump 45% to 41% among Republican voters. Now Trump leads DeSantis 47% to 39% — a net swing of 12 percentage points in Trump's direction since early February.
What's unmistakably true is that DeSantis is doing a lot better in early polls than many winning candidates in the past, without doing a whole lot other than governing his state in a savage manner that is being hyped incessantly by Fox News and other conservative opinion-leaders. As the New York Times' Nate Cohn recently calculated, DeSantis is performing better in early national presidential primary polls than Ronald Reagan in 1980, Joe Biden in 2020, John McCain or Barack Obama in 2008, or Mitt Romney in 2012. The trouble is Trump is doing even better than all these nominees and others (e.g, Carter 1980, Mondale 1984, and Ford 1976).
All in all, both of these men are in a relatively strong position that guarantees a real collision at some point, since they are competing for a lot of the same voters and endorsers. It may come down to whose base is the most durable. And it's there that Trump will be especially hard to displace, as Politico recently observed:
Despite his difficulties since he left office, about a third of Republicans and Republican-leaning voters still consider themselves supporters more of Trump than the Republican Party, according to a recent NBC News poll. Many of them aren't going anywhere. Fully 28 percent of Republican primary voters are so devoted to the former president that they said they'd support him even if he ran as an independent, according to a national survey last month from The Bulwark and longtime Republican pollster Whit Ayres. 
These voters aren't going to follow some stampede to Ron DeSantis, particularly if Trump is attacking him every other day as an Establishment Republican who wants to push retirees in wheelchairs off the nearest cliff by cutting Social Security and Medicare. The fight between Trump and DeSantis is going to stay lit, and that may convince other candidates to enter or stay in the race to see if the two can damage each other enough to produce an opening for someone else.