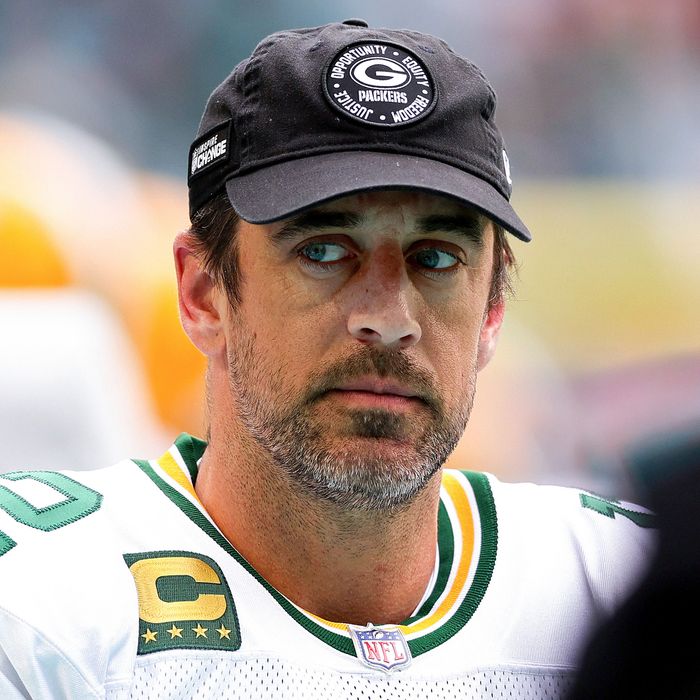 Photo: Megan Briggs/Getty Images
For the vast majority of their history, the New York Jets have employed bad starting quarterbacks. (Joe Namath was one of the few exceptions.) Sam Darnold, a first-round flop the team couldn't get away from fast enough, nonetheless threw for the eighth-most yards in franchise history. Human beings named Falk, Siemian, Petty, Streveler, and Johnson have lined up behind center for the Jets the last five years, and I'm pretty sure none of you could tell me their first names if I spotted you the first four letters. The Jets' most famous quarterback play of the last 40 years involved a player dropping the ball after running into a lineman's rear end, a sequence so infamous that the words "butt fumble" will forever be connected to the franchise. More than 15 years ago, when Brett Favre signed on for his one (bad) season with the Jets, I wrote a piece for this magazine running down the 15 different people who had played the position for the team during Favre's tenure with the Packers. They were all bad.
So even if Aaron Rodgers, who announced Wednesday afternoon on sleeve-phobic podcaster Pat McAfee's show that he plans to play for the Jets in 2023, is the worst possible version of himself, he will be a massive improvement for this team. And it is very likely that Rodgers will be the worst possible version of himself. The 2022 season was unquestionably the nadir of his career — here is your reminder that he hasn't reached a Super Bowl in 13 seasons — and it became increasingly clear that most of Green Bay (not to mention much of the world) had gotten a little sick of his act. No matter how much time Rodgers spent in his silent yurt, he's at the tail end of his playing days, and there's a decent chance he's about to fall off the cliff entirely, much as Russell Wilson did for the Broncos last year.
Yet even that may be enough for the Jets, who have a stacked roster, and are talented enough to compete with the Bills in the AFC East — except for that familiar hole at quarterback. If Rodgers is looking to get back to the Super Bowl — which, having just been to the latest edition in Arizona, I can confirm no longer has a vaccine requirement — the Jets are perhaps his best opportunity. But considering the way he played last year, you can make the argument he's just as fortunate to have them as they are to have him.
That's before all the other baggage that comes with Rodgers, who has gone, with shocking speed, from brainy potential Jeopardy! host to dorm-stoner-idiot bro. Last month, he legitimately tried to argue that all those UFO sightings were an attempt to distract Americans from the Epstein files. (Seriously.) Jets fans don't have to agree with Rodgers, or even like him, to want him to help their team. But you can't blame them if they hoped he might, you know, stay as silent outside of his "darkness retreat" as he (allegedly) was inside it.
This isn't a done deal yet: Just because Rodgers has proclaimed himself ready to be a Jet does not mean he actually is one. The Jets still have to trade for him, after all. (Though maybe all the trade talk is just a distraction from the fake 2020 election? We may have to wait for another Rodgers appearance on Joe Rogan's show to find out.) But if it does turn out that Rodgers is a Jet, and all signs point to him becoming one, Jets fans will undeniably be grateful. It's not dissimilar from how they felt when Favre joined the team 15 years ago. And that worked out so well. History repeats itself. But it's usually even dumber the second time.