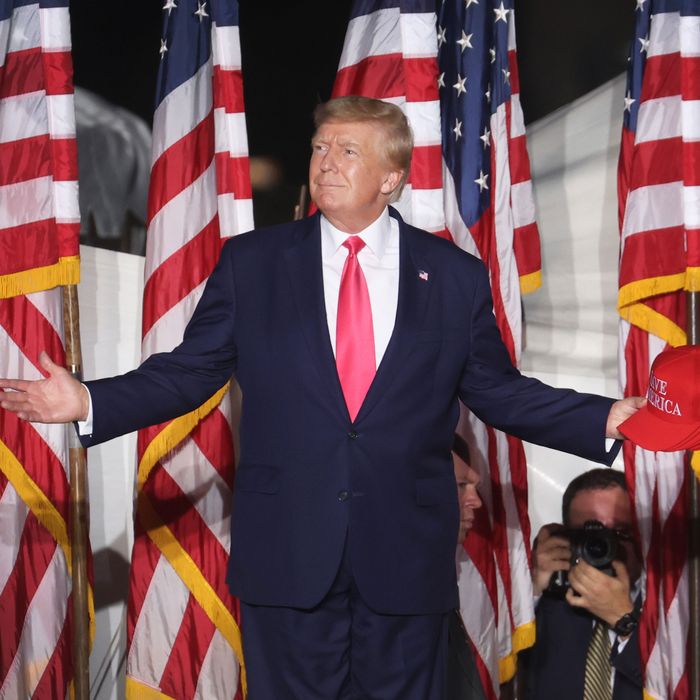 Miss me yet?
Photo: Scott Olson/Getty Images
This week, Donald Trump faced indictment and Ron DeSantis faced Piers Morgan, and it's clear DeSantis is the one hurting. It's not just that spending time with the bombastic Briton could be considered worse than going to prison. Instead, according to a half-dozen Republican operatives across the party who were granted anonymity to discuss the race frankly, there is a sense that the momentum in the early days of the 2024 presidential primary has shifted back to Trump after months of flailing.
The former president had long looked vulnerable ever since a disappointing Republican performance in the midterms as Trump-backed MAGA candidates blew winnable race after winnable race. He followed the debacle by immediately announcing his presidential campaign in a low-energy speech at Mar-a-Lago. Florida's governor, meanwhile, romped to reelection and, buoyed by glossy coverage by the Murdoch media empire, raced up the 2024 polls as he continued to use the Florida legislature as a venue to rack up political victories in the culture wars.
The dynamic has changed in recent weeks as both men began to actively campaign — Trump holding campaign events in Iowa and South Carolina while DeSantis has visited early states as part of a campaign thinly veiled as a book tour. Trump has savaged DeSantis, who chose not to fight back. Then Trump managed to consume almost all of the media's attention by announcing his imminent "arrest," kicking off a frenzy over his potential indictment by a Manhattan grand jury.
For one Trump ally who supports his campaign, the events of the week made clear how difficult it will be for DeSantis to balance appealing to both the party's pro-Trump voters and those who are more skeptical of a third White House bid. First, DeSantis responded to a questionnaire by Tucker Carlson about U.S. support for Ukraine by calling Russia's illegal invasion a "territorial dispute" and saying Ukraine is not a "vital national interest" to criticism from a number of Republican elected officials. Then he hedged with Morgan, saying that he was mischaracterized and that Putin was "a war criminal." The same thing happened with the pending Trump indictment, after he initially failed to join Republicans to condemn Manhattan district attorney Alvin Bragg, only to eventually criticize him as a "Soros-backed" prosecutor — albeit with a shot at Trump, saying he doesn't know what goes into paying off porn stars. "He's trying out too broad of a coalition; he's trying to have this coalition of Gateway Pundit readers and National Review readers under the same tent," the Trump ally said.
In the meantime, DeSantis was already taking a beating. Trump unleashed a barrage of press releases and social-media posts on "Ron DeSanctimonious" as he watched the governor face a massive backlash when he dared take a mild jab at Trump over his liaison with Stormy Daniels. "Everyone says you don't learn about someone until they get punched in the jaw," said a senior Capitol Hill aide, "but, running against Trump, it's getting kicked in the nuts every single day in new ways." One veteran of Republican and MAGA politics made the case that DeSantis seems frozen by his desire to avoid a formal announcement until after the Florida legislative session finishes in May and that waiting so long is political malpractice. They were perplexed that DeSantis only chose to finally criticize Trump at the moment that Republicans were rallying around the former president ahead of his expected indictment.
Not everyone agrees, though. One national GOP operative argued that it wasn't what DeSantis was doing that hurts him in the short term, but a change in how observers are viewing the race. "I think there was a narrative inside Washington and in corporate boardrooms that Trump was dead and had no chance," they said. "The narrative was created because that's what people wanted to believe." DeSantis is "a fine candidate," but Trump is starting his campaign with the support of roughly 35 percent of Republican primary voters, which makes him very formidable.
As one veteran campaign strategist cautioned, though, it's still early. At this time in 2015, Scott Walker was still the favorite in public polling, they were quick to point out, and the strategist said that everyone should have a sense of humility in trying to predict how the race would turn out after the 2016 primary. The coming months will have "more peaks and valleys than in Austria," they said, as candidates would rise and fall in attempts to stop Trump. Before votes are cast, the key metric is not national polls where Trump has been surging ahead in recent weeks, but in early states — specifically Iowa, which not only goes first in the nation but is also where Trump lost to Ted Cruz in 2016.
One plugged-in Iowa Republican said DeSantis is poised to win in a state that holds a caucus, not a primary, and where the electorate tends to be far more Evangelical and socially conservative than other early-primary states. They thought DeSantis would get a strong showing of support once he finally announces his candidacy, although a lot of potential endorsers in the state might be hesitant to back the Florida governor because of the potential backlash. "If you're not with [Trump], you're an enemy of the state," they said. "It's not a good place to be."
The question is whether that status quo holds for the next year, especially as the candidates begin to debate in August. Trump's fortunes have ebbed and flowed since leaving office, and other potential indictments besides the Manhattan one could be far more politically dangerous for Trump. After all, the aftermath of January 6 caused his standing with Republicans to drop, whereas the most significant consequence of the Stormy Daniels allegation when it was first aired a half-decade ago was the rise and fall of her attorney, Michael Avenatti. And while it's one thing to get repeatedly attacked by Trump, it's still preferable to being indicted by a federal special counsel.