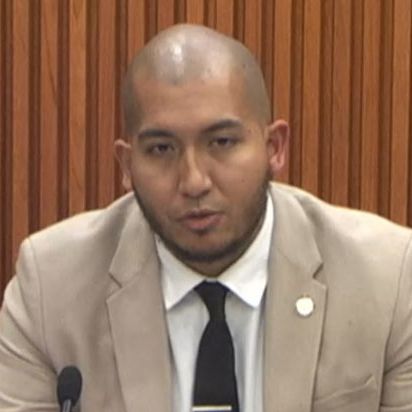 Photo: Assembly District 37
Governor Kathy Hochul is now joining the chorus of local elected officials calling for Queens assemblymember Juan Ardila, a fellow Democrat, to resign after two women came forward this week to accuse him of sexual misconduct years before he was elected to office.
"I condemn all forms of sexual assault. It is intolerable and unacceptable what he did. I support the survivors in their call for accountability and yes, he should resign," Hochul said Thursday during an unrelated press conference.
The women shared their accounts with the Queens Chronicle, which first reported the allegations on Monday, and the Queens Daily Eagle. The women say they were both at a party in 2015, where one said Ardila "got handsy" as they sat together on a couch and later tried to lead her to another room before her friend stepped in. The other woman said Ardila pulled her into a nearby bathroom and started kissing her without her consent, took his pants off, and began to touch himself when she pulled away and left the room.
When first asked about the allegations, Ardila told the Chronicle, "I don't even know what this is." After the initial article ran, he released a full statement, saying he takes "responsibility for my actions" and that he's "deeply apologetic."
"I make no excuse for my past behavior and have spent a great deal of time carefully reflecting on this," he wrote. "My obligation right now is to listen and respect those who came forward, not to debate the facts."
Ardila was elected in 2022 to represent Queens's 37th District in Albany — a year after an unsuccessful primary challenge against Robert Holden for City Council. During that campaign, Ardila came under fire for old social-media posts in which he used racist and homophobic language that were reported by the New York Post. He later apologized and the posts were deleted.
Since the accusations went public, local elected officials and even the New York Working Families Party have called for Ardila to step down, with Hochul weighing in most recently. Holden released a statement saying Ardila, his former primary rival, should step down.
"Juan Ardila's record of racism, xenophobia, homophobia, antisemitism, reckless driving, and now sexual assault has disqualified him from office," Holden wrote on Twitter. "His actions are reprehensible and unacceptable, and they should be disavowed at all costs. Sexual assault must never be tolerated."
Representatives Grace Meng and Alexandria Ocasio-Cortez as well as Comptroller Brad Lander also believe Ardila should step down.
Several Queens politicians — including State Senators Kristen Gonzalez, Julia Salazar, and Michael Gianaris as well as Assemblymember Zohran Mamdani and City Councilmember Julie Won — issued a joint statement calling for Ardila to resign.
Their statement reads, in part, "As elected officials representing western Queens, we call on Assembly Member Juan Ardila to resign. The accounts from the women who experienced sexual assault are harrowing and reveal indefensible actions — to which he has admitted."