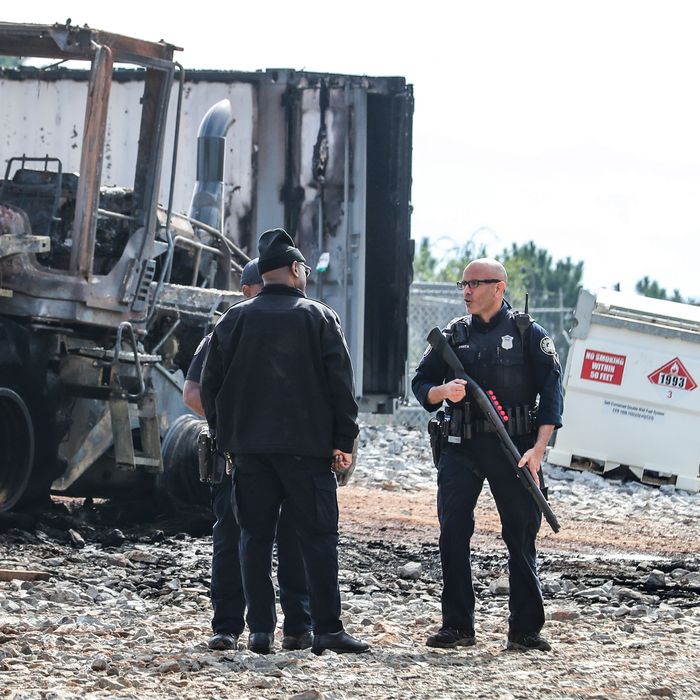 Georgia law-enforcement officers in front of a charred construction vehicle in the South River Forest.
Photo: John Spink/AP
On Sunday evening, Georgia law-enforcement officials gave residents a preview of the tactics they hope to refine at "Cop City," a $90 million training facility that Atlanta's leaders are trying to build in a local forest. Officers with the Atlanta Police Department and other agencies converged on a music festival organized by protesters and trapped dozens inside a ring of cops, a strategy known as kettling. Thirty-five people were arrested in a hail of flash-bang grenades and tear gas with some accused of launching Molotov cocktails and fireworks at dormant construction equipment and of throwing rocks at officers. Twenty-three were charged with domestic terrorism, and all remain in jail except one, a legal observer with the Southern Poverty Law Center who was released on bond earlier this week.
The charges of domestic terrorism — a serious escalation against environmental activists protesting the razing of land that was once considered for preservation — has reshaped a conflict that was already outlined in blood. Its gory nadir was the January 18 police slaying of Manuel "Tortuguita" Terán, a protester whom officials accused of shooting a cop, though body-camera footage showed an officer suggesting it may have been friendly fire. Ever since, an atmosphere of danger has pervaded the Weelaunee Forest, which has been the site of a series of increasingly violent clashes.
In some ways, this is new territory for Atlanta, which now has the dubious distinction of being the first place in America where cops have killed an environmental activist. But, in others, it is a familiar consequence of the region's deadly investment in cops to manage its inequality — an investment that implicates all the most powerful players in the Atlanta area.
In 2020, Atlanta, the most unequal city in the country, seemed to reach a turning point on policing. As unrest gripped the region after the killing of George Floyd, then-Mayor Keisha Lance Bottoms invoked the city's history of Black leadership to suggest that rioters were not just destroying property but their own proud inheritance. "If you care about this city, then go home," she said. But when a white Atlanta cop killed Rayshard Brooks a few weeks later, the visibly worn-down mayor admitted that trying to "train our way" into a more racially enlightened police force had been futile.
Rather than rein in the police, Bottoms proposed reforms that had already been tried and failed — including more training. She then rewarded Atlanta Police Department officers with raises after dozens staged a "sick out" protest against the firing of Brooks's killer.
Violent crime in Atlanta rose despite Bottoms's show of faith in the police. She chose not to run for reelection, likely because she thought her failure to stop crime would be used against her.
Two accomplishments competed to define her legacy: Cop City, a project she'd endorsed and secured the location for, which included an entire mock city where cops could practice raids and riot control, and a "diversion center" for people with behavioral problems that she'd opened at the mostly empty Atlanta city jail as part of an effort to keep people accused of minor offenses from being locked up. She had a soft spot for the latter — her father had spent much of her childhood in prison, and she'd supported activist efforts to close the jail permanently — and she rebuffed repeated offers from Fulton County to rent the unused beds to manage its own jail-overflow problems.
But her successor had other ideas. Last year, the current mayor, Andre Dickens, changed course and agreed to start leasing Atlanta's jail beds after all, guaranteeing plenty of new cells for zealous cops and prosecutors to fill. He has since been a dogged cheerleader for Cop City and dismissive of dissent. In one emblematic incident, the mayor seemed to fall asleep during a forum about Cop City at Morehouse College.
In January, he offered what he framed as a compromise: adding some sidewalks around the development, planting more trees to replace the ones that are getting cut down, and moving a planned firing range "further away from the residential area" that stands nearby.
Critics have nevertheless blasted the city's plan as an environmental disaster and a tactless doubling down on policing. But it's also simple politics. Atlanta's image rests on the idea that, no matter what social forces might threaten to rend it, the city will stay open for business. This is a source of rare accord between local and state leadership. Bottoms sparred openly with Republican governor Brian Kemp over COVID-19 restrictions, but both gave glowing remarks at the 2019 opening of the new Midtown headquarters for Norfolk Southern. In January, after years of rail-industry deregulation that Norfolk Southern accelerated and then took full advantage of, a train overseen from the company's Atlanta control room derailed, blanketing East Palestine, Ohio, in poisonous fumes.
Cop City has the same DNA: a perilous project backed by Atlanta mayors and the governor's mansion alike, a testament to the overriding demands of capital. Building a bigger police state is how Atlanta appeases both its corporate tenants — Delta, Home Depot, and Coca-Cola are among the project's donors — and its wealthiest tax base, including the residents of the city's Buckhead neighborhood.
The fallout is felt mostly at the bottom. Atlanta cops are scored by department leaders using a points system that rewards higher arrest numbers, which a federal judge last year said leads to "perverse incentives." As tough-on-crime politics come back into fashion, officers brag openly about the rising numbers of traffic stops they're initiating. One unit composed of six cops stopped more than 2,300 vehicles in the first two months of 2021. This month, the Republican-controlled legislature is on track to pass two bills that would make it easier for state lawmakers to remove locally elected district attorneys from office.
The push has the support of Donald Trump, who could be facing charges of election interference in Fulton County, and it has been criticized by the county's DA, Fani Willis, as political and racist. (Most Georgia DAs are non-white.) But the bills' more workaday purpose is to punish prosecutors for leniency. In an environment in which crime is one of the main cudgels that Republicans use to hammer Democrats, DAs will be incentivized to prosecute more harshly if they wish to keep their jobs.
The consequences will be dire for poor and working-class people and, increasingly, for dissidents, but it explains the outrageous designation of the Cop City protesters as "domestic terrorists." They are a growing threat to the fastidiously cultivated order the Atlanta area is trying to maintain, potentially even an existential one. "Cop City will never be built" has become their chosen rallying cry, and it's hard to envision the violent events of this week ending their impasse with the city. More likely than not, this is just the beginning, and cops will have plenty more opportunities to make early use of their rehearsal space.