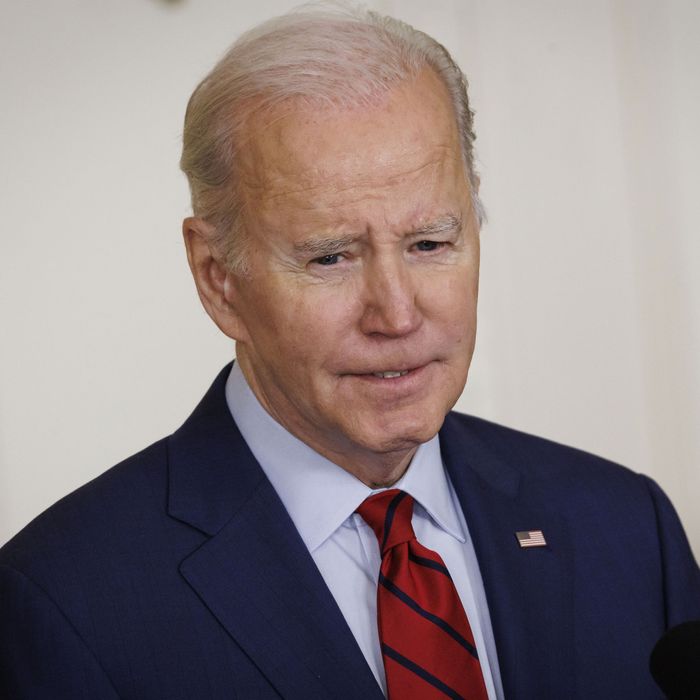 Photo: Ting Shen/Bloomberg via Getty Images
President Joe Biden changed course on Thursday, informing Democrats that he will not veto a Republican-sponsored resolution overturning a new Washington, D.C., criminal-sentencing law. It's a decision that annoyed many D.C. statehood and home-rule advocates, as well as their House Democratic allies, while relieving electorally vulnerable House and Senate Democrats. The new law, which overhauled penalties for long-imprisoned inmates to reduce over-incarceration, was enacted over a veto from D.C. mayor Muriel Bowser. Congressional Republicans eagerly seized on D.C. to show their crime-fighting zeal and put Democrats who oppose federal interference with home rule in a bind.
The latter goal seems to have been reached, as House Democrats voting against the resolution lashed out at the White House for blindsiding them, The Hill reported:
"The White House f***** this up royally," one House Democrat told The Hill via text message, noting the White House issued a Statement of Administration Policy opposing the resolution and backing D.C., and that House Democratic leadership told lawmakers that Biden was prepared to veto the measure.
The GOP resolution gained 31 House Democratic votes, mostly from members in vulnerable seats, and its Senate passage was guaranteed when Democratic senators Joe Manchin, Jon Tester, and Bob Casey publicly supported it. The White House clearly calculated that giving ammunition to the Republican claim that Democrats were "soft of crime" was too high a price to pay for upholding the abstract principle of home rule. Per Forbes:
White House Press Secretary Karine Jean-Pierre defended the president's decision on Friday, telling reporters that vetoing the bill "won't make D.C. a state," referring to Biden's pledge that he would back a D.C. statehood bill, while also noting that the D.C. crime reforms reduce maximum sentences "for offenses like murders and other homicides, armed-home invasion, burglaries, armed carjackings … armed robberies, unlawful gun and some sexual assault offenses."
Lowering penalties for carjackings appears to have been a particular flash point for the White House. There have been 41 carjackings in D.C. already this year, according to the Metropolitan Police Department. The timing of the decision forced on Biden was significant as well — just a few days after Chicago mayor Lori Lightfoot finished a poor third in her bid for reelection, in no small part because of public concerns about crime.
D.C. congresswoman Eleanor Holmes Norton hit the nail on the head in her statement calling the development "a sad day for D.C. home rule and D.C. residents' right to self-governance":
We had hoped that with more Senate support, we would have been able to ensure that neither disapproval resolution pending before the Senate would reach the president's desk, but with the nationwide increase in crime, most senators do not want to be seen as supporting criminal justice reform.
To be cynical about it, criminal-justice reform is a 2018 issue. For 2024, it's all about being tough on crime.