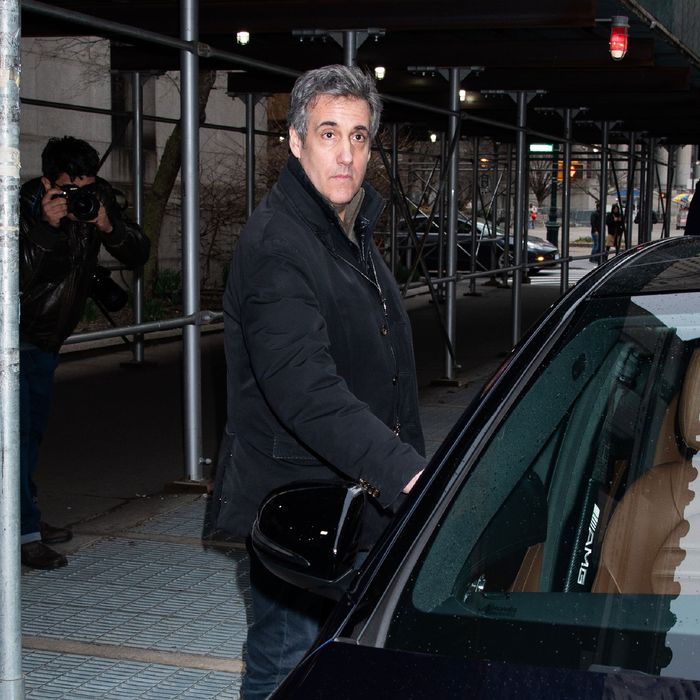 The Manhattan district attorney's office investigation into hush-money payments made on Donald Trump's behalf is continuing to heat up. Michael Cohen, Trump's former lawyer and fixer, testified before the grand jury Monday, according to the Associated Press, and returned Wednesday for more.
Lanny Davis, his attorney, called Cohen's nearly three-hour testimony on Tuesday a "productive afternoon," saying Cohen answered all questions. "This is about accountability and this is about facts and the truth," Davis said, according to the New York Daily News.
Cohen, who has already spoken to prosecutors several times on this matter, has previously admitted to arranging a payment of $130,000 to adult-film star Stormy Daniels in exchange for her silence about a affair she alleges between her and Trump in the early 2000s. Trump has consistently denied the affair ever took place and, in the closing weeks of the 2016 presidential campaign, Cohen has said he arranged a payment from the Trump Organization to Daniels in exchange for her silence. The former attorney, who was convicted on federal charges in 2018, has said that Trump later reimbursed him for the money.
Prosecutors are reportedly looking into whether the payment was properly classified and if business records were falsified in an effort to hide it. The New York Times reports that the grand jury has already heard testimony from Kellyanne Conway, Trump's former campaign manager, as well as David Pecker, the former publisher of the National Enquirer, and Keith Davidson, who once served as Daniels's attorney.
Last week, Trump was invited to testify before the grand jury, the clearest sign that District Attorney Alvin Bragg and his office are seriously considering the unprecedented move of indicting a former president.
Joe Tacopina, who is representing Trump, addressed the invite during an interview with George Stephanopoulos Monday on Good Morning America, saying Trump doesn't intend to testify. "We have no plans on participating in that proceeding," he said. "It's a decision that needs to be made still. There's been no deadline set, so we'll wait and see."
Tacopina called the case "outrageous" and painted Bragg and his office as trying to intentionally target Trump, saying, "Clearly this prosecutor and this prosecutor's office has made an agenda of trying to get him."
When asked by Stephanopoulos if he thinks Trump is likely to be indicted, Tacopina seemed confident.
"I expect justice to prevail, and, if that's the case, George, there shouldn't be an indictment," he said.