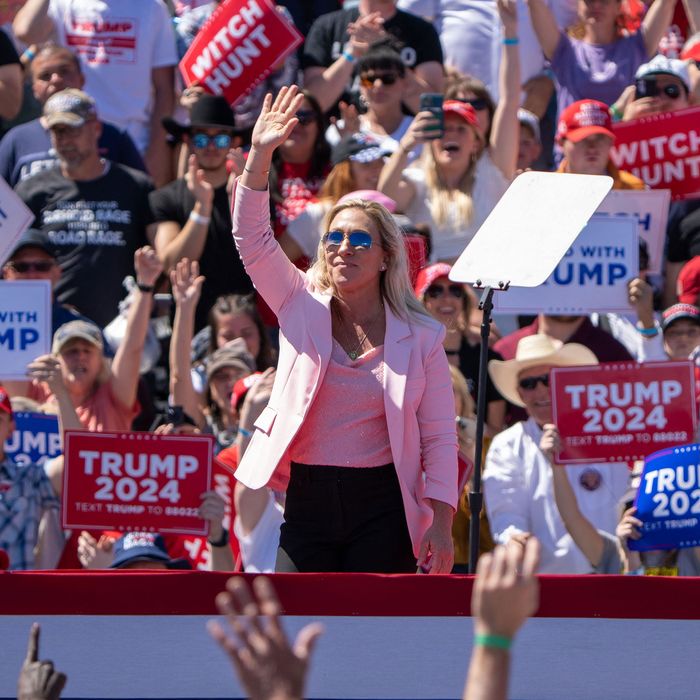 In Waco, where she got a big shout-out from the Boss.
Photo: Suzanne Cordeiro/AFP via Getty Images
Among the many alarming things former president Donald Trump had to say in his Waco, Texas, rally last weekend was his threat to put Georgia congresswoman Marjorie Taylor Greene in the Senate. Per The Hill:
Former President Trump suggested on Saturday that he would "fight like hell" for Rep. Marjorie Taylor Greene (R-Ga.) if she were to run for Senate.




"Would you like to run for the Senate?" Trump said at his first campaign rally of the 2024 cycle in Waco, Texas. "I would fight like hell for you." …




"People do not realize how brilliant she is," the former president said. "She is just a badass."
MTG's political career is certainly rising rapidly. Four years ago, she was a largely anonymous crank who posted a lot of pathological right-wing content on Facebook (some of which came back to haunt her). In June 2019, she was a first-time congressional candidate in a suburban Atlanta primary she was almost definitely going to lose. But in December 2019, she got her big break when a deep-red northwest Georgia district unexpectedly became open; she bought a house in the district and soon overwhelmed her Republican rivals with family money and sheer attention-grabbing effrontery. It was hard to catch her without her signature AR-15, gesticulating menacingly toward the godless anarchists and socialists she improbably claimed were threatening to invade her bucolic mountain surroundings. She became such a ubiquitous symbol of ultra-MAGA extremism that even before she won her first race, Georgia senator Kelly Loeffler, who was locked in a tough special primary, boasted of a Greene endorsement as though she had won the lottery.
In the last election cycle, there was some chatter about Greene running for the Senate herself against Democratic incumbent Raphael Warnock, until football legend Herschel Walker was brought in by Trump to clear the field. Greene busied herself with picking fights in the House and running around the country setting off political fires. Then MTG parleyed Kevin McCarthy's extremely fragile post-midterm bid for the Speakership into major leverage for herself. She was one of the big winners of the McCarthy saga, not just winning back the committee assignments Democrats had denied her in the previous Congress, but becoming a key ally and adviser to the new Speaker, despite her lack of seniority or even respectability.
So where does this meteor go now? If Greene does indeed want to become a United States senator, the earliest opportunity will be in 2026, when freshman Democrat Jon Ossoff is up for reelection. This will likely be a competitive race that Republicans will make a priority; the identity of the president at that point may have a significant effect on the dynamics. Greene is, of course, nobody's idea of a swing-voter magnet. And it's possible some truly formidable GOP candidate like second-term governor Brian Kemp decides he wants to be a senator. Barring that scenario, it's likely Greene could command a statewide MAGA following, but less clear that she would win in her first contest outside northwest Georgia. Luckily for her, she doesn't have to decide anytime soon.
Another avenue to promotion would be to ride a successful 2024 Republican presidential performance into a Cabinet position. Talk of Greene becoming Trump's (or even less likely, DeSantis's) actual running mate is probably not worth thinking deeply about; there are plenty of more experienced and less inflammatory veep options in the Republican Party. But you could definitely see her landing a Cabinet gig as a consolation prize.
For now, MTG is probably best served by doing what she's doing: acting as a mediator between McCarthy and members of the House Freedom Caucus, making herself more "respectable" by behaving like a member of Congress now and then, and enjoying the fruits of institutional power that being known as McCarthy's ideological bodyguard can win her. And whenever Greene is feeling blue, she can always hop on a plane to attend Trump's latest rally and hear herself described by the "stable genius" as "brilliant" and "a badass."