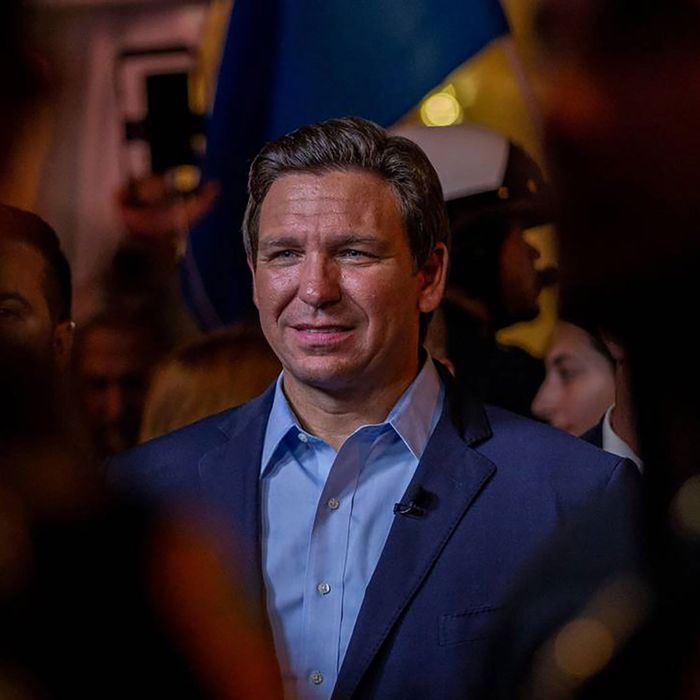 Photo: Pedro Portal/El Nuevo Herald/Tribune News Service via Getty Images
While the 2024 Republican presidential primary already looks like a two-man race between Donald Trump and Ron DeSantis, a lot of longtime DeSantis followers have been murmuring that the American public may not be so keen on the Florida governor once they get to know him. The Daily Beast recently reported that DeSantis "struggles with basic social skills"; former staffers have said he dislikes small talk (understandable), everything he does is scripted (probably not great for a politician), and he once ate pudding with his fingers (unforgivable). These shortcomings are a particular problem for a guy running against Trump, as the former president is both extremely charismatic and a ruthless bully. Mark Leibovich noted in The Atlantic that DeSantis "can be awkward and plodding. And Trump tends to eviscerate guys like that."
DeSantis has been mostly ignoring Trump's attacks, and he isn't expected to announce his presidential run until May, but in an interview with Fox Nation's Piers Morgan Uncensored, which airs in full on Thursday, DeSantis took some preliminary shots at Trump. And he offered a first look at how he'll respond to one of the more ridiculous indignities of running against him: the goofy yet effective nicknames.
Trump has tested out at least eight nasty DeSantis nicknames, and Morgan quizzed DeSantis on which one he prefers. "What is your favorite nickname that Trump's given you so far? Is it 'Ron DeSanctimonious' or 'Meatball Ron'?" Morgan asked.
"I don't know how to spell 'DeSanctimonious.' I don't really know what it means, but I kind of like it. It's long, it's got a lot of vowels. I mean, we'll go with that, that's fine," DeSantis answered, chuckling.
This answer is absurd, but fine. Questions have been raised about whether Trump, a man who routinely manages to misspell the word stolen, actually came up with the "sanctimonious" jab on his own. DeSantis, however, graduated from Yale University and Harvard Law School. He knows exactly what sanctimonious means and how to spell it, but he certainly isn't the first Ivy League politician to pretend he doesn't understand those highfalutin elites for political gain.
The problem came when DeSantis kept talking.
"You can call me whatever you want," he continued. "I mean, just as long as you also call me a winner because that's what we've been able to do in Florida is put a lot of points on the board and really take this state to the next level."
It's good that DeSantis debuted this canned "call me a winner" line in an interview with a Rupert Murdoch–owned outlet; if he had tried it in front of a debate audience, he would definitely have gotten an audible groan.
It would be surprising if DeSantis had a really good answer for this question, as no one has figured out how to shut down a Trump nickname for good. But even Jeb "Low Energy" Bush came up with a better retort than DeSantis did. When asked at a debate what he would choose for his Secret Service nickname, Bush said, "Eveready." Even Trump laughed and gave Bush a low five. If DeSantis really wants to be a "winner," he should take some notes.