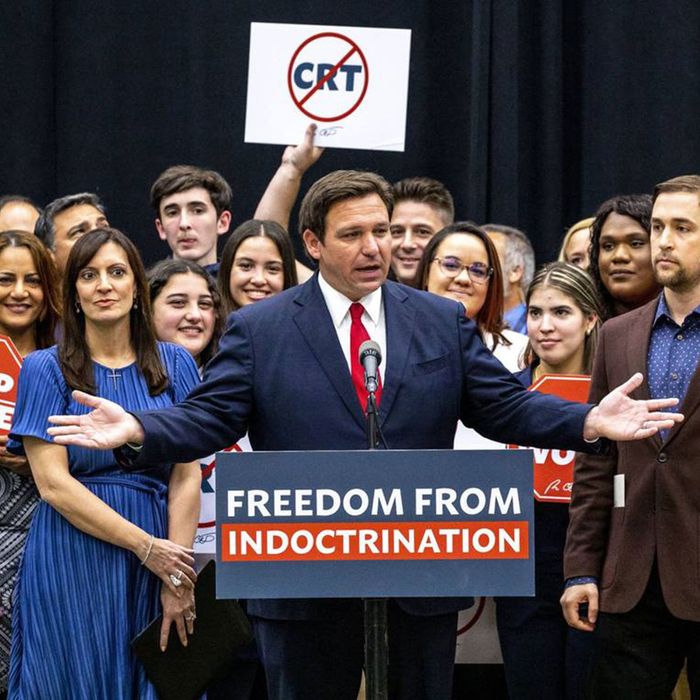 Photo: Gardens, Florida, on Friday, April 22, 2022. (Daniel A. Varela/Miami Herald/Tribune News Service via Getty Images
The long-awaited Donald Trump–Ron DeSantis battle for the 2024 Republican presidential nomination is about to go live. In an interview on Fox Nation's Piers Morgan Uncensored, which airs in full on Thursday, the Florida governor will begin lobbing direct criticisms at the 45th president, who has been going after DeSantis for months. This signals that DeSantis is moving to a more active 2024 posture and giving us a clearer glimpse of his strategy.
Teasers from the Morgan interview make it clear that DeSantis is determined to challenge Trump's command of the MAGA movement — rather than just assembling a disparate coalition of Republicans who have grown tired of Trump. When asked about specific differences between him and Trump, DeSantis pointed to the COVID-19 response.
"I would've fired somebody like Fauci. I think he got way too big for his britches, and I think he did a lot of damage," DeSantis said. "I also think, just in terms of my approach to leadership, I get personnel in the government who have the agenda of the people and share our agenda. You bring your own agenda in — you're gone. We're just not gonna have that."
Trump's determination to take credit for COVID vaccines, which are extremely unpopular among many of his supporters, and his refusal to fire right-wing devil figure Dr. Anthony Fauci have long been vulnerabilities on Trump's right flank.
DeSantis also attacked Trump's management style, without saying the former president's name, suggesting that Trump is too chaotic, undisciplined, and self-obsessed to effectively lead the MAGA movement into a new era. "The way we run the government, I think, is no daily drama, focus on the big picture, and put points on the board," he said.
With Trump, you get drama, distractions, and unpredictability. With the calm and focused DeSantis, you get daily "wins" and the libs get owned 24/7. DeSantis did not say explicitly that he's more electable than Trump, but the way he describes himself and the former president certainly suggest what's coming. DeSantis is presenting himself as a strong and steady politician who won't step on his own message with wild shenanigans or pointless disputes over past elections. This is an anti-Trump message for the thinking Trumpite.
The medium DeSantis chose to deliver this message is significant too. Fox News and various other Rupert Murdoch–owned outlets have already played a huge role in elevating DeSantis to a national political figure even as they backed away from Trump — for the most part. Trump has definitely taken notice, as The Hill recently reported:
Former President Trump renewed his attacks on Fox News this week, accusing the network of underplaying a new poll showing him with a double-digit lead on Florida Gov. Ron DeSantis in a potential 2024 Republican presidential primary match-up.




Trump, in reference to the Fox News poll published Sunday that showed him leading DeSantis by 15 points in a hypothetical match-up, knocked the media giant for "promoting" DeSantis "so hard and so much that there's not much time left for Real News."
It's still unclear exactly when DeSantis will announce his candidacy. He reportedly wanted to complete this year's state legislative session, which ends in early May, before going fully national in order to score some more of those anti-liberal "points" he loves to brag about. The Morgan interview suggests he's ready to abandon the pretense that he's undecided on a 2024 bid and start knocking a few points off Trump's polling numbers.
Judging from Trump's response on Truth Social, he isn't too happy about this development: "While I am fighting against Radical Left Lunatics, Persecutors, and unfair Prosecutors who want to destroy us all, Ron DeSanctimonious is not working for the people of Florida as he should be, he is too busy chatting with a Ratings Challenged TV Host from England, desperately trying to rescue his failing Campaign—But it's my fault, I put him there!"