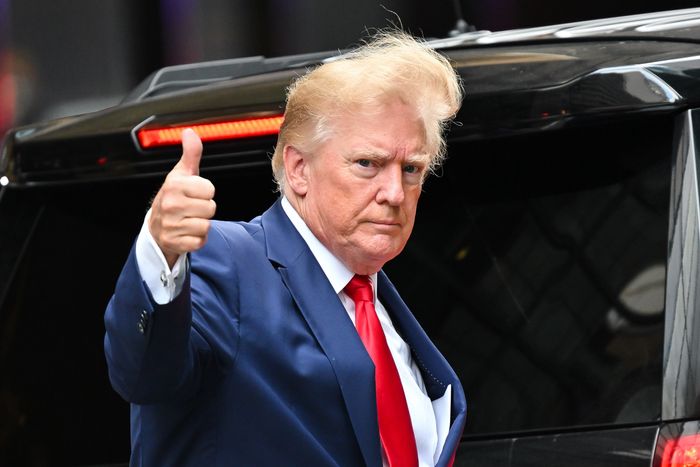 Donald Trump said in a Truth Social post on Saturday that he expects to be arrested early next week on charges related to the Manhattan district attorney's office investigation regarding hush-money payments during his 2016 campaign. Trump called for his supporters to protest in response and to "take our nation back" — an echo of the calls he made following the 2020 election that inspired a mob to attack the U.S. Capitol.
Law-enforcement officials in New York were already preparing for additional security in the event of his indictment, the AP reported on Friday night. Trump's attorney, Joe Tacopina, said if the former president is indicted, "we will follow the normal procedures." He told the New York Daily News Trump would not refuse to surrender: "There won't be a standoff at Mar-a-Lago with Secret Service and the Manhattan DA's office."
Trump said in his Truth Social post that his prediction was based on "illegal leaks" out of the DA's office. A Trump spokesperson later added in a statement that "there has been no notification" of a pending arrest from the DA's office or Justice Department, suggesting Trump was simply responding to media reports about a looming indictment. One person "close to Trump" who spoke with the New York Times "said that Mr. Trump's advisers' best guess was that it could happen around Tuesday, and that someone may have relayed that to him, but that they also had made clear to one another that they didn't know a specific time frame."
CNN reports that Trump's legal team "has been anticipating that it will happen soon and has been preparing behind the scenes for the next steps," and that Trump "is expected to present himself in Manhattan following the formal charges and has expressed interest in making a speech after, though whether he ultimately does remains to be seen." CNN also reports that some Trump advisers had been privately urging him not to call for protests.
District attorney Alvin Bragg's office did not respond to requests for comment by reporters on Saturday, and it is still not clear if it has decided to move forward with seeking an indictment. Following Trump's comments, Bragg reportedly sent an email to office employees on Saturday, writing that "we do not tolerate attempts to intimidate our office or threaten the rule of law in New York," and assuring employees that "our law enforcement partners will ensure that any specific or credible threats against the office will be fully investigated and that the proper safeguards are in place so all 1,600 of us have a secure work environment."
The DA office's investigation culminated last week inside a Manhattan courtroom where a grand jury has for months been considering evidence regarding a scheme in 2016 to pay Stormy Daniels $130,000 in exchange for her silence about an affair she alleges Trump had with her years prior. Daniels met with prosecutors on Wednesday, the same day that Michael Cohen finished two consecutive days of testimony before the grand jury. Trump's former fixer has said that he arranged Daniels to be paid off on Trump's direction in order to keep her damaging claims from surfacing in the final weeks of the presidential election. In 2018, Cohen pleaded guilty to violating federal campaign-finance law for carrying out the scheme.
Prosecutors are reportedly eyeing whether Trump did, in fact, direct Cohen to make the payments, though he did reimburse him. (Federal prosecutors in Manhattan did not charge Trump following Cohen's guilty plea.) They are also considering whether business records of the Trump Organization were falsified as a means of hiding what may have amounted to an illegal campaign contribution — both elements of which would have to be proven to convict Trump of a potential felony.
This post has been updated throughout.