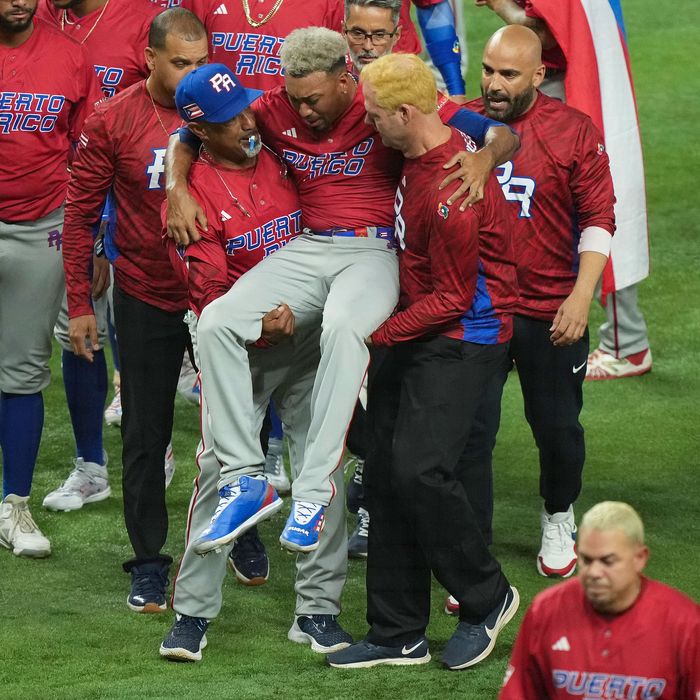 Not a sight you want to see in March, or any month.
Photo: Eric Espada/Getty Images
The New York Mets may have a free-spending owner, a roster stocked with young talent, and a fan base eager to exorcise the ghosts of the past. And yet the strange brand of misfortune that has long defined this team persists.
On Wednesday night, star closer Edwin Diaz injured himself while celebrating a victory for Puerto Rico over the Dominican Republic in the World Baseball Classic, a spirited, once-every-few-years global competition. After throwing strike three to close out the game, which sent Puerto Rico into the quarterfinals, Diaz began jumping up and down with his teammates when disaster struck somewhere in the scrum:
Diaz's injury looked bad from the start — he had to be carted off the field in a wheelchair. On Thursday, the extent of the damage became clear.
The timing for the Mets could scarcely be worse, considering they just handed Diaz — who became a phenomenon last year thanks both to his dominance and the insanely catchy Timmy Trumpet theme song that accompanied his ninth-inning appearances — a five-year, $102 million contract. (One could easily argue that was too much money for a closer in the first place.)
To be fair, Diaz is hardly the first athlete to suffer a major injury in the throes of postgame passion. Infamous examples of the phenomenon include former Arizona Cardinals kicker Bill Gramatica and former Anaheim Angels first baseman Kendrys Morales.
But Diaz's case is unusual: He managed to hurt himself this way before the regular season, in a game that had nothing to do with the team that's paying him millions. The incident will rekindle debates about whether Major League Baseball teams should allow their players to compete in an international tournament. (The players are unlikely to go along with restrictions.) It will also serve as a reminder that, coming off a year of tremendous potential and eventual disappointment, the Mets have a long way to go to transcend their reputation as a benighted franchise.
The only way this could have been more embarrassing? If Diaz had hurt himself pretending to win the World Series.