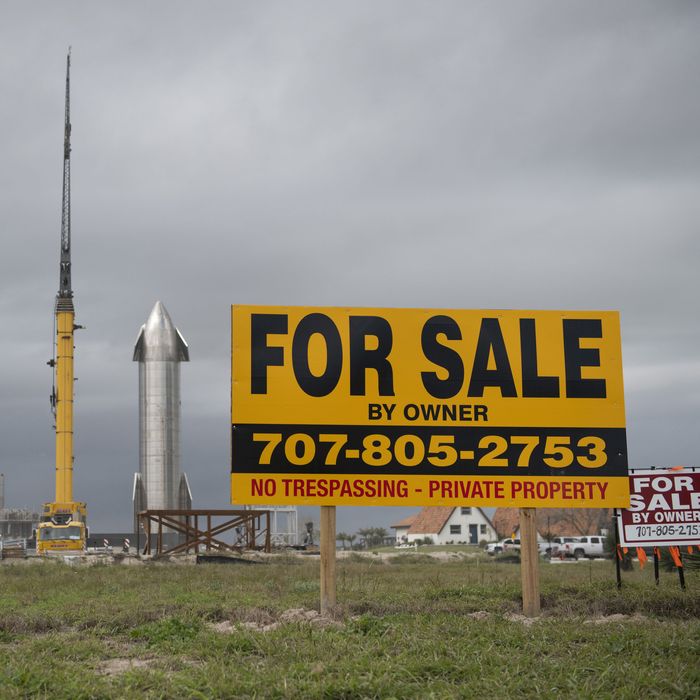 The SpaceX Starbase facility under construction in Brownsville, Texas.
Photo: Bloomberg/Bloomberg via Getty Images
Elon Musk has always wanted near total control of the unfortunate souls who work long hours at his various companies, so the personal appeal of his new venture makes sense. The Wall Street Journal reports that the Twitter CEO wants to build his own town outside of Austin, Texas, near where his Boring Company and SpaceX facilities are already under construction. The working name isn't Muskville but Snailbrook, the mascot of the Boring Company.
In meetings with landowners and real-estate agents, Musk has reportedly described his idea for the estate — which he envisions building on thousands of acres of property he purchased on the Colorado River — as a utopia, so that his employees can live, work, and play without ever leaving. (That pitch sounds awfully familiar.) He has tasked his engineers at the Boring Company to research how to incorporate the town within Bastrop County, which would allow him to set local regulations and speed up his building plans. Advisers on the project include Musk's ex-girlfriend Grimes as well as Hitler-liker Ye, who toured the site with his personal architectural designer last year. Two years ago, Musk also reportedly discussed the idea of building a town with his brother, Kimball, to figure out how to set up an off-the-grid settlement.
A lot of grand Musk projects never end up actually happening. And he isn't known for transparency, so it's not surprising that many of the basics of the company-town idea — like how big a town this might be — remain unknown. As it stands, Bastrop County, which surrounds Musk's land, has not received an application from him or any of his associated companies. But over the past three years, Musk and his LLCs have purchased at least 3,500 acres of land in the area. Steve Davis, Boring Company's president, also reportedly told employees last year that the settlement would need to hold elections for mayor — a tough race to win for an opponent if Musk enters the race. According to state law, a town needs at least 201 residents before it can apply to incorporate.
Texas isn't a bad place for a billionaire trying to build a town from scratch, what with its lax zoning laws and environmental requirements (and lack of corporate income tax or state income tax). Succeeding at building a functioning company town is a tall order, considering everything else on Musk's plate. But, hey, it's not like a carmaker's quest for a utopian society has ever failed spectacularly before, right?