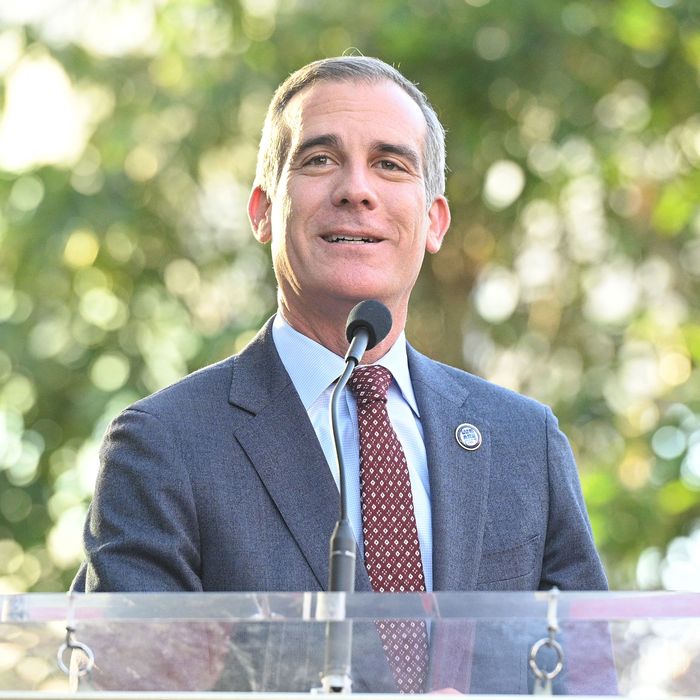 Photo: Gilbert Flores/Variety via Getty Images
Eric Garcetti won a yearslong battle to be confirmed as the U.S. ambassador to India following accusations that the former mayor of Los Angeles covered up sexual harassment by his former top aide in City Hall. Garcetti's nomination appeared doomed thanks to opposition within his own party, until several Republicans crossed party lines at the last minute and rescued him on Wednesday.
The post in New Delhi essentially saves Garcetti's political legacy from a potential ruin of his own making. The 52-year-old has long harbored a desire to hold office beyond mayor and worked to build a global profile, with a rumored 2020 presidential run that made national headlines. But the effort was nearly undone by the same longtime strategist who aggressively worked to boost him: Rick Jacobs, his closest adviser and chief fundraiser. Jacobs was accused by at least a dozen people, including city employees, of forcible kissing and touching, and making crude remarks and gestures. Several of the people said Garcetti knew of the allegations and witnessed some incidents, but he ignored it due to Jacobs's political value. Both men denied any wrongdoing.
President Biden first picked Garcetti to be ambassador to India in 2021, but the nomination was withering due to bipartisan concerns about Garcetti's handling of the accusations against Jacobs. Republicans have broadly opposed Biden's nominees, leaving them almost entirely dependent on the unanimous support of Democrats who narrowly control the Senate. Garcetti's fate was uncertain on the eve of the vote, with Senate Majority Whip Richard Durbin, whose job as whip is to count Democratic votes, saying he wasn't sure on Tuesday if there was enough support. Several Democrats who might have voted for Garcetti were not present either, including his most vocal public supporter, California's Dianne Feinstein, who was absent due to health problems.
By Wednesday, it looked like Garcetti might be done in by members of his own party when three Democrats stepped forward to say they would oppose him. Arizona's Mark Kelly said on Tuesday he had "significant concerns" and the following morning said he would vote no. Hawaii's Mazie Hirono, who had also expressed concerns, first said she would vote yes, then said Wednesday morning she had "received additional information that, when taken in its totality with the information already available," led her to vote no. Ohio's Sherrod Brown said he would also vote no on Wednesday morning, saying, "Let's just say I think we can find somebody that will do the job better."
Seven Republicans threw their support behind Garcetti, though, first during a test vote and then during the final vote to confirm him as ambassador. "We have to balance concerns people might have about the nominee against the real risk of waiting another year," said Republican Todd Young, alluding to the absence of an American representative in the world's largest democracy.
The trouble for Garcetti began in July 2020, months after he had been named as Biden's presidential campaign co-chair, when LAPD officer Matthew Garza sued the city, claiming that he had been sexually harassed for years by Jacobs. Garza alleged that the unwanted touching and sexual remarks had occurred while serving as Garcetti's bodyguard, and that Garcetti was present on about half the occasions, witnessing and sometimes laughing at the alleged abuse. During a deposition in the lawsuit, Garcetti was shown a photo where Jacobs's hand is hovering over the crotch of a man standing next to Garcetti, who is giving a thumbs-up. Garcetti said he didn't see Jacobs make the gesture. He was also asked about an incident in an elevator in a D.C. Senate office building where Jacobs was thrusting his groin against Garcetti's chief counsel and Garcetti told him to "cut it out." Garcetti said he didn't recall it, but didn't deny it either, saying it was "consistent with how he would handle any situation where he witnesses someone behaving unprofessionally."
Other city employees came forward to accuse Garcetti and Jacobs, including the mayor's former communications director, Naomi Seligman. In 2021, she sent a letter to the Senate Foreign Relations Committee accusing Garcetti of orchestrating a "cover-up." Months later, Garcetti's office responded by sending the committee the results of an independent investigation into the allegations, which cleared both Jacobs and Garcetti of wrongdoing — but notably did not include depositions from key accusers of Jacobs. The investigation also included acknowledgements from mayoral staff that Jacobs often kissed city employees on the mouth, and Garza's allegations (also made under oath) that Cory Booker, a Democratic member of the committee, had been present on one occasion when Jacobs was accused of harassing Garza. "There's been an independent investigation that came up with no improprieties on his part. I trust the independent investigators," Booker told Bloomberg News before voting to advance Garcetti's nomination. In May 2022, Republican senator Charles Grassley's office released its own report concluding Garcetti "likely knew" about Jacobs sexually harassing city employees. Two more accusers of Jacobs came forward in November, and in the months leading up to the confirmation vote, a total of 19 people who claimed Garcetti knew about the harassment spoke directly to senators.
Even among a historic backlog of federal nominees, the 614 days that elapsed between Garcetti's nomination and confirmation vote left India without an ambassador for over two years, the longest period in history. Garcetti — who called the delay "a gift" — ended up finishing out his second term as mayor, which was plagued by mounting City Hall scandals, including a former deputy mayor who is currently on trial for federal corruption charges. Since leaving office in December, he has kept a low profile aside from a public appearance in January to unveil his official mayoral portrait, painted by Shepard Fairey to depict his accomplishments.
During the 21-month wait, Garcetti's backers deployed unusual and sometimes aggressive tactics in attempting to bolster his nomination. Last April, Garcetti's parents hired McGuireWoods Consulting for "Outreach Related to Confirmation for Ambassadorship Nomination," paying them $90,000 over the past year to lobby on their son's behalf. (In depositions, Jacobs testified that Garcetti's father, Gil, the former L.A. district attorney, tipped him about Garza's harassment lawsuit before it was filed, and sent a text message expressing the couple's support when the lawsuit was first made public.) Last June, Politico reported that some senators, including Kelly, said they were being pressured by Garcetti operatives to advance the nomination, with Kelly telling his staffers he was "infuriated" about being strong-armed by donors who suggested he would lose access to them. That plan clearly backfired.
Seligman said in a statement following Garcetti's confirmation: "It's heartbreaking not just for me and the other whistleblowers and victims in this case, but also for those who are living through sexual harassment and abuse right now and look to our political leaders to protect them if they come forward with credible evidence. To see this behavior rewarded at the highest level makes a mockery of purported bipartisan support of the #metoo movement. Senators cannot subject their values to political expediency. Remember, predators persist in their abuse only if enablers in position of power allow them to."