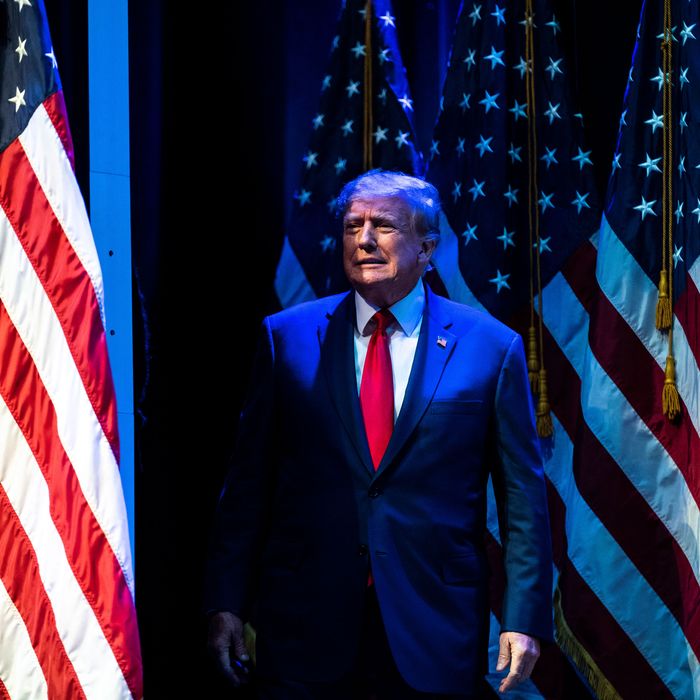 Photo: Jabin Botsford/The Washington Post via Getty Images
At this very strange moment, Donald Trump has claimed that he will be indicted Tuesday by prosecutors in Manhattan for alleged hush-money payments to Stormy Daniels — and is trying to rile up his (apparently ambivalent) supporters to demonstrate if he becomes the first-ever former president to face criminal prosecution. But he and his supporters should save some of their attention for the case in Georgia.
On Monday, CNN reported that the Fulton County district attorney's office investigating the Trump campaign's efforts to overturn the 2020 election in Georgia is considering racketeering and conspiracy charges.
District Attorney Fani Willis is a prosecutor well known for using the Racketeer Influenced and Corrupt Organizations Act in high-profile cases: She is currently prosecuting Young Thug for allegedly violating the RICO Act and leading a criminal street gang. "The reason that I am a fan of RICO is I think jurors are very, very intelligent," Willis said at a news conference last year related to the Young Thug indictment. "They want to know what happened. They want to make an accurate decision about someone's life. And so RICO is a tool that allows a prosecutor's office and law enforcement to tell the whole story."
Last month, a special grand jury recommended that several witnesses who appeared under oath should be charged with perjury. In an unusual move, the lead juror in the special grand jury also appeared on television, telling reporters that the number of people they recommended indictments for is "not a short list" and that there is "not going to be some giant plot twist. You probably have a fair idea of what may be in there. I'm trying very hard to say that delicately."
According to state law experts, Trump's actions — like phone calls pressuring Georgia's secretary of state to "find" more votes — could fall under the broad legal statute barring the extortion of victims. "Among the things that are considered racketeering activity in the state of Georgia is knowingly and willfully making a false, fictitious or fraudulent statement or representation in any matter within the jurisdiction of any department or agency of state government," a Georgia State law professor told the Guardian. "If you do that, you've committed a racketeering activity. If you attempt to do that, if you solicit someone else to do it or you coerce someone else to do it — it's all considered racketeering under Georgia law."
With the special grand jury wrapped up, Willis is now bringing charging recommendations to regularly seated grand juries — two of which were seated in March and two more to be seated in May — which would then determine if Trump or his allies will be indicted. In the interim, Trump's attorneys, who have denied any wrongdoing on his part, filed a motion to block the results of the special grand-jury investigation from being used in the next regularly seated grand jury, claiming it was unconstitutional.