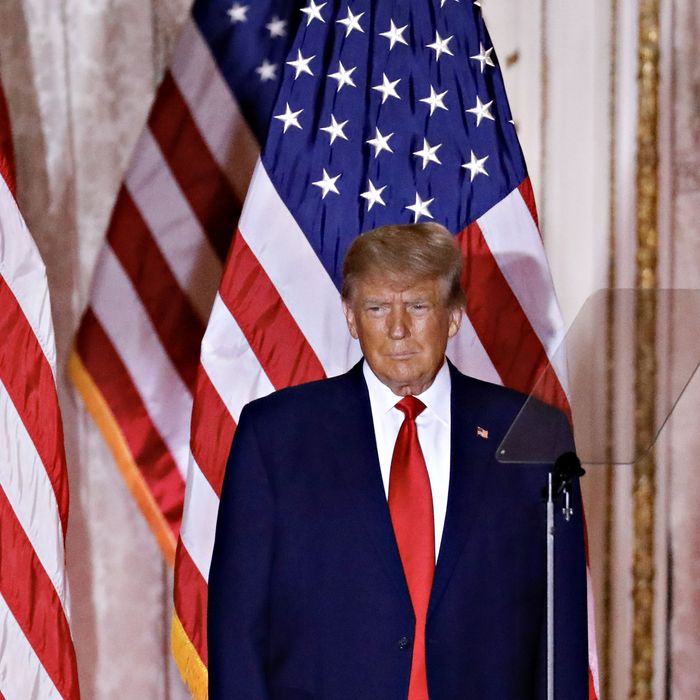 Photo: Eva Marie Uzcategui/Bloomberg via Getty Images
After a number of Trump-endorsed Republicans lost key elections in the midterms, the many wings of Rupert Murdoch's media empire began to urge the party to move past the former president. Now that dynamic may be escalating in a way that could hurt his shot at the GOP nomination in 2024.
According to four Trump aides who spoke with Semafor, the former president is now facing an unofficial ban at Fox News, with the network refusing to book him or even talk much about him in the context of the Republican presidential primary. "It's certainly — however you want to say, quiet ban, soft ban, whatever it is — indicative of how the Murdochs feel about Trump in this particular moment," said one aide. Another said they've heard directly from people at Fox News that the policy exists.
While the network did not respond to a request for comment, the approach is playing out on television: Trump hasn't been on Fox News since September, when its hosts rallied around him in the wake of the Mar-a-Lago raid and he told Sean Hannity that he could declassify documents by "thinking about it." They even skipped his trip last week to East Palestine, Ohio — a major talking point in the debate over the environmental disaster. Meanwhile, future 2024 also-ran Vivek Ramaswamy has been on the network four times in the ten days since he announced his run. By the metric of showing up on TV, Florida governor Ron DeSantis appears to be the favorite, appearing on Fox shows four times in three days this week.
A soft ban also tracks with the recently revealed opinions of Rupert Murdoch himself. In a deposition from the ongoing defamation suit from Dominion Voting Systems, he said that after the Capitol riot, the network was "very busy pivoting" away from Trump in the hope of making him "a non-person." The deposition also revealed that Murdoch knew that the stolen-election claims perpetuated by Fox News hosts were bogus.
It should be obvious that the informal ban could present a huge problem for Trump: If the Republican party's most influential organ refuses to acknowledge his campaign, will he be able to win over its viewers as they're presented with a strongman alternative? But if it backfires, it could be a huge problem for Fox News as well. How does a network that loves to talk about the outrage of banning Trump on social media not book the incumbent polling in first place when its core audience still appears to love the man?