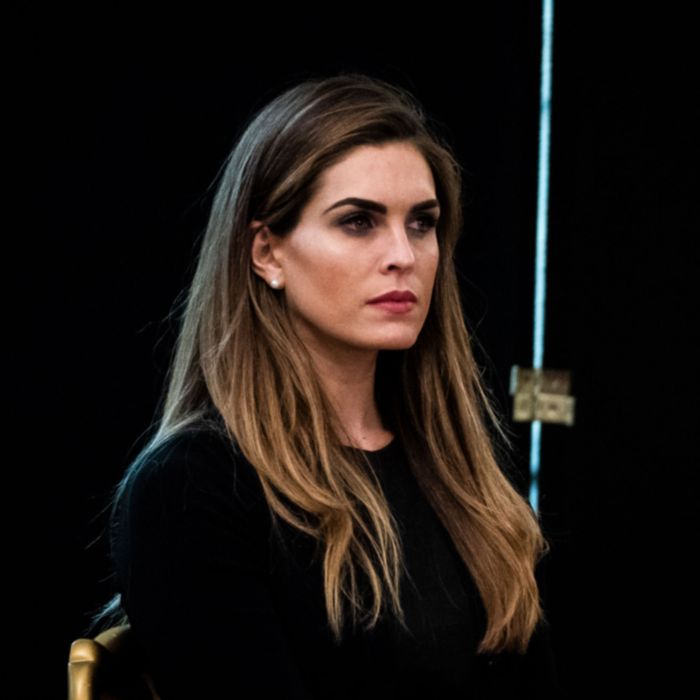 Photo: Jabin Botsford/The Washington Post via Getty Images
Hope Hicks, the former White House communications director and top adviser to Donald Trump, met with Manhattan prosecutors on Monday, a new development in the district attorney's office's escalating investigation into the former president.
The New York Daily News reports that Hicks was seen leaving the office with her lawyer close to 5 p.m. She didn't answer questions from the News about why she was there.
In late January, District Attorney Alvin Bragg convened a Manhattan grand jury to examine evidence related to hush-money payments made on behalf of Trump to adult-film star Stormy Daniels in 2016. Daniels has long alleged that an affair took place between her and the former president, something that Trump has consistently denied. But in 2018, The Wall Street Journal reported that Michael Cohen, Trump's lawyer, made a $130,000 payment to Daniels prior to the 2016 election in order to ensure her silence about the affair. Cohen said Trump later reimbursed him. Bragg's investigation is reportedly looking into whether Trump's campaign falsified records to hide evidence of that payment.
According to the New York Times, federal-court documents show that Hicks took part in a phone conversation between Cohen and Trump on the day Daniels asked for money in exchange for her story and that she was on another call with Cohen the day after he sent the money.
Hicks is not the only person from Trump's orbit who has spoken with prosecutors as part of the investigation. Former Trump counselor Kellyanne Conway met with them just last week, according to ABC News, while Cohen has spoken with investigators several times. Prosecutors have also received testimony from David Pecker, the former publisher of the National Enquirer, and Daniels's former lawyer.