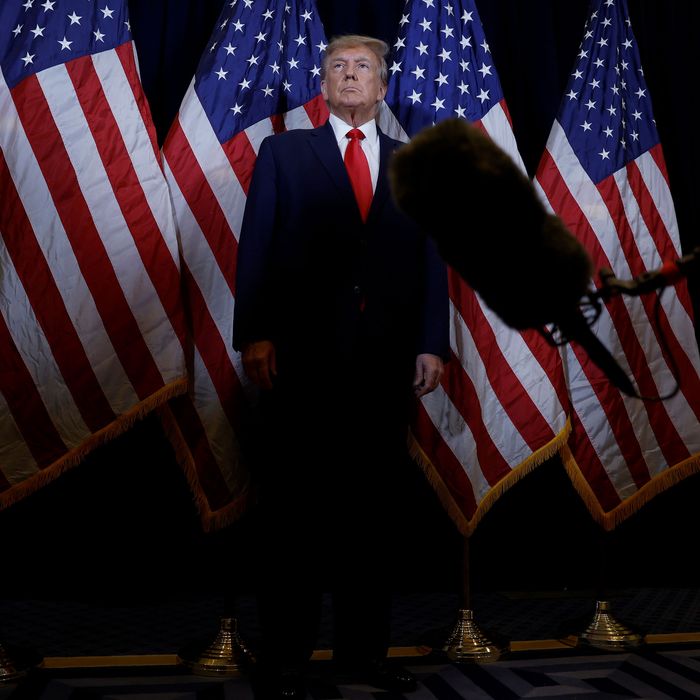 He's not standing alone.
Photo: Anna Moneymaker/Getty Images
On Thursday, a Manhattan grand jury voted to indict Donald Trump, making him the first ex-president to face criminal charges. Trump has been raging about potential charges for months, and he quickly issued a characteristically blistering statement and complained on Truth Social about being "indicated." Many of his allies in Congress (and in his family) also reacted with defiance and anger. Here's a running list of the most notable responses so far:
Trump's Potential 2024 Rivals
So far, none of Trump's prominent potential Republican rivals for the 2024 nomination have tried to capitalize on the former president's first indictment.
Former vice president Mike Pence:
It's always a little awkward to hear Mike Pence defend his old boss given the Capitol riot, but he called the indictment an "outrage" on CNN. "It appears to millions of Americans to be nothing more than a political prosecution," he said. Pence, who is floating a run for president, balked at answering a question whether Trump should be the Republican nominee if he is convicted.
Florida governor Ron DeSantis:
Former South Carolina governor Nikki Haley:
Entrepreneur and conservative activist Vivek Ramaswamy:
Former secretary of state Mike Pompeo:
South Carolina senator Tim Scott:
This pro-criminal New York DA has failed to uphold the law for violent criminals, yet weaponized the law against political enemies. This is a travesty and it should not be happening in the greatest country on Earth.
Virginia governor Glenn Youngkin:
Other GOP lawmakers
House Speaker Kevin McCarthy:
House Judiciary chair Jim Jordan:
Congresswoman Marjorie Taylor Greene:
Third-ranking House Republican Elise Stefanik:
Senator Ted Cruz:
Arkansas governor (and ex–Trump administration press secretary) Sarah Huckabee Sanders:
Senator J.D. Vance:
Congresswoman Lauren Boebert:
Congressman Ronny Jackson:
Trumpworld and media figures
Former Trump lawyer Rudy Giuliani:
Donald Trump Jr:
And via Trump Jr.'s podcast:
Eric Trump:
GOP operative Roger Stone:
Former Trump-administration official Michael Caputo:
Fox News host Jesse Watters:
Trump political strategist Dan Scavino: