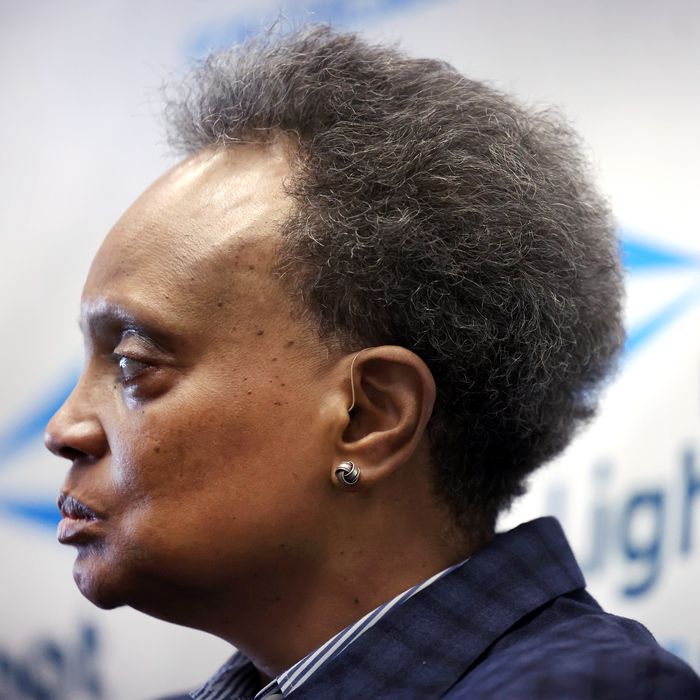 Chicago mayor Lori Lightfoot waits to be introduced at a campaign rally on the final weekend of campaigning.
Photo: Getty Images
Lori Lightfoot became the first Chicago mayor in more than three decades to lose a reelection bid, failing to reach the runoff in a volatile race that became a referendum on her handling of crime — an enormous issue beguiling big-city mayors everywhere.
Lightfoot, a first-term Democrat and the first openly gay person and Black woman to serve as mayor, came in third behind Paul Vallas, a former Chicago-schools executive, and Brandon Johnson, a Cook County commissioner. Besieged on all sides, Lightfoot fell behind one candidate who ran decidedly to her right (Vallas) and another who campaigned far to her left (Johnson). To most political observers, this wasn't much of a surprise — polls consistently showed that Lightfoot's future was in doubt — but the outcome still served as a shock to a city that, for a 30-year stretch, only had two mayors.
The nonpartisan race attracted national attention, because it offered the rarest of political tableaux: an incumbent mayor struggling for survival. After a commanding election victory four years ago on a platform of political and police reform, Lightfoot was forced to govern through crises that would break any executive — a deadly pandemic and a long summer of social unrest. Homicide rates spiked in Chicago as residents, overwhelmingly, began to worry about crime more than any other pressing issue. And Lightfoot, a former prosecutor who had never held elected office before, stumbled repeatedly as she strained to hold together the coalitions that had made her mayor in the first place.
Lightfoot alienated just about every ideological faction in Chicago. The city's second Black mayor, Lightfoot battled Johnson, a proud progressive, for support in Chicago's pivotal African American neighborhoods. Left-leaning organizations and local leaders viewed Lightfoot with increasing skepticism, portraying her as a pro-police neoliberal like her predecessor, Rahm Emanuel. She managed to feud, almost equally, with two influential unions that hold starkly different political views: the Chicago Teachers Union, which is left-wing and backed Johnson, and the city's police union, the Fraternal Order of Police, which is headed by a proud Donald Trump supporter.
The Fraternal Order of Police enthusiastically backed Vallas, who ran on a tough-on-crime platform that propelled him into the runoff. A former Chicago-schools chief, he courted moderates and conservatives in a bid to rally voters disenchanted with Lightfoot over her failure to dramatically curb violent crime. His strategy paid off. After prior campaigns for mayor fizzled, Vallas is now well-positioned for the April 4 runoff — a candidate with an ideological profile not much different from that of Emanuel or his predecessor, Richard M. Daley.
At the same time, progressives are optimistic that they can, at last, vault one of their own into city hall. Johnson will hope to consolidate the city's Black voters and marshal an anti-Vallas coalition heading into the April 4 runoff. Vallas finished well ahead of the rest of the field, but Johnson has a chance to win over supporters of both Lightfoot and Jesús "Chuy" García, a progressive congressman who finished fourth. Businessman Willie Wilson's supporters could very well be in play for both candidates.
Chicagoans will decide between two candidates with remarkably different visions for the city. Vallas is a booster of police and big business who has clashed with the constellation of advocacy groups and unions that make up Chicago's large left flank. Lightfoot, to little avail, savaged him as a Republican in Democrat's clothing, but his message clearly resonated with a segment of an electorate weary of homicide rates not seen since the 1990s.
Johnson, meanwhile, stumped on reopening mental-health clinics, offering alternatives to traditional policing, and hiking taxes on corporations. If elected, he would join the growing ranks of big-city progressive mayors, including Michelle Wu of Boston and Karen Bass of Los Angeles, and potentially serve as a foil to the moderate in New York, Eric Adams. Bass's own victory may offer Johnson's supporters some hope. Last year, despite an aggressive, well-funded challenge from former Republican Rick Caruso, Bass triumphed, convincing a largely Democratic city to stick with a candidate who hugged the left lane. Johnson, of course, is not Bass — he has never served in Congress, and he isn't nearly as well-known — and Vallas is not Caruso, the extraordinarily wealthy developer of the Grove. In a city that has seen enormous upheaval in the last few years, the Chicago mayoral runoff promises, at minimum, to be an incredibly charged affair.