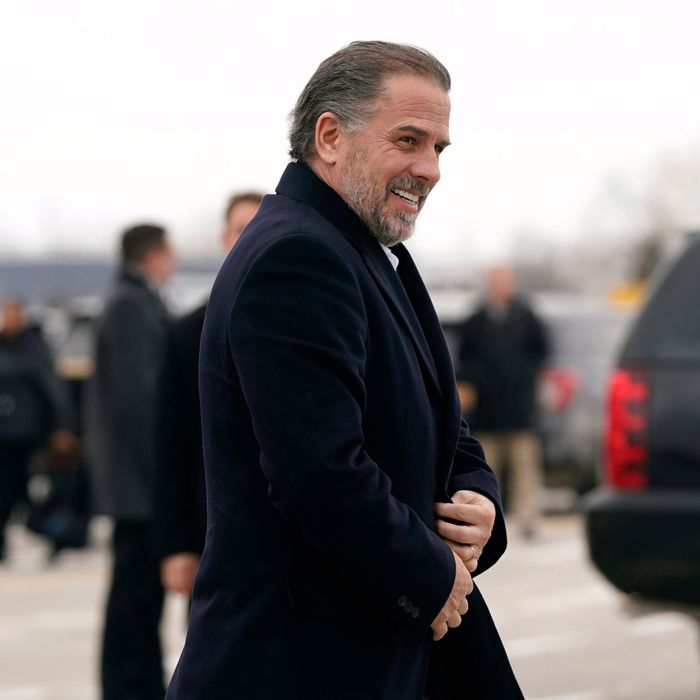 Photo: Patrick Semansky/AP/Shutterstock
Close to three years after the entire contents of his life were made public, Hunter Biden is suing the computer repairman responsible for leaking the private and sometimes embarrassing information on his laptop to Trump acolytes, who then sent it to sympathetic reporters. In a filing in Delaware made Friday, attorneys for the president's son claimed that John Paul Mac Isaac did not have a legal right to copy and send out Biden's data. For distributing his financial documents and many, many nudes, Biden's attorneys accuse Mac Isaac of six counts of invasion of privacy.
The action on Friday is the first in Biden's promised legal counteroffensive over the laptop saga. Biden is countersuing Mac Isaac, who first sued him for defamation last year over the allegation that Mac Isaac illegally obtained his laptop. Mac Isaac, who also sued Adam Schiff, Politico, and Joe Biden's campaign, says that Biden left the laptop at his repair shop in Wilmington in April 2019; after Biden failed to pick it up after 90 days, Delaware law states that the hardware became Mac Isaac's property.
But Biden's attorneys pushed back on those claims, noting that Mac Isaac said in his own book that he began accessing the data in Biden's laptop "long before" the 90-day period was up. They also claim that the law only entitles Isaac to the hard drive, not the files it contains. Biden's lawyers are seeking a jury trial to determine compensatory or punitive damages, and to order the return of the data and any copies to Biden. On Friday, his lead attorney, Abbe Lowell, also filed a separate letter stating that they wish to begin discovery in the lawsuit in order to depose Mac Isaac "as soon as feasible" and to seek testimony from those involved in the laptop's dissemination, including Steve Bannon and Rudy Giuliani.
As Biden faces a Republican-led House Oversight investigation into his finances, his lawyers are striking back. His attorneys have written to Fox News and Tucker Carlson threatening a defamation suit (as if the network doesn't have enough on its plate already) for promoting what they say are debunked allegations. His lawyers also wrote to state and federal prosecutors in February encouraging them to open criminal investigations into the people who distributed his laptop, including Bannon and Giuliani.