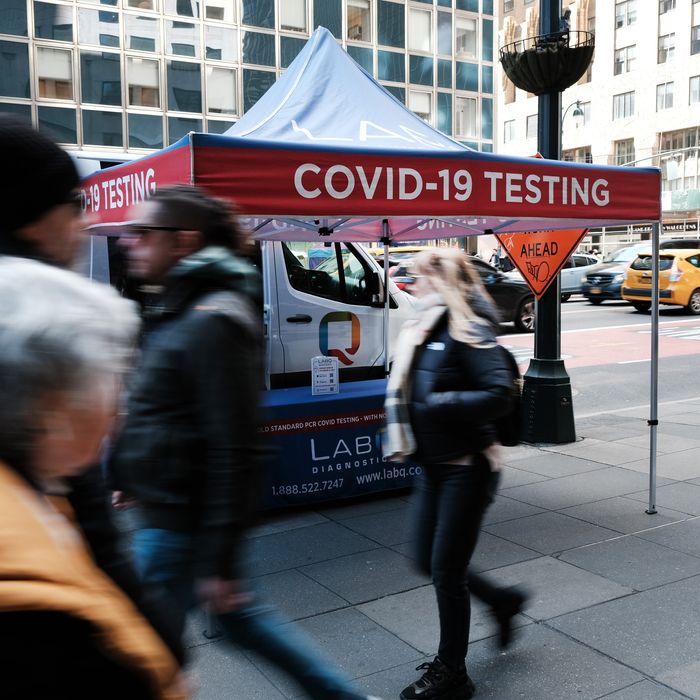 A COVID-19 testing tent in Manhattan.
Photo: Spencer Platt/Getty Images
A little more than six weeks from now, on May 11, the U.S. will end its national and public-health emergency declarations over COVID-19, marking an official end to the country's sweeping pandemic response. The Washington Post reported Wednesday that as part of that transition, the White House will also be disbanding what's left of its COVID-response team, and national COVID coordinator Ashish Jha will most likely be leaving the administration. There are other signposts marking the end of the pandemic in America, too. The New York Times announced Thursday that it was shutting down its COVID data-gathering operation, which has for years given one of the most reliable by-the-numbers overviews of COVID's toll. And two weeks ago, the venerable Johns Hopkins University COVID data tracker went dark, as well.
For the past three years, the U.S. COVID response has been a long, at times impressive and at times deeply frustrating affair — getting a lot right and plenty wrong. But there's no question COVID now has markedly less influence on our day-to-day lives and has receded from most people's attention spans. Virtually all Americans now have some degree of immunity to COVID-19, and that collective wall of immunity has proved resilient, even as the willingness to keep getting COVID boosters has not. COVID is also still killing hundreds of Americans every day, and many of those deaths, which remain highly concentrated among seniors, are preventable.
The end of the public-health emergency will lead to some big changes in the U.S. health-care system, including shifting the financial burden of COVID care back onto individuals and their insurance companies. There are also very valid concerns about the government's ability to track the spread and evolution of the virus, as well as its willingness to fund updated or next-generation vaccines, let alone make sure people who need them get them.
But is the pandemic really over? Has the threat of COVID receded enough to move on and treat it like just another endemic disease?
Most of the available signs, at this point, look good. There was no significant winter surge of COVID cases, and the disease's burden on the health-care system has remained both predictable and manageable. Though several new variants of the coronavirus have emerged and become dominant in the U.S. over the past year, none has had a public-health impact even close to the scale of the last major evolution of the virus, which was the original Omicron BA.1 strain. There are currently no worrisome variants on the horizon, either.
As Scripps' Eric Topol pointed out earlier this month, we've been on a nice break from COVID waves, and "it's getting harder to think how further mutations added on to Omicron will pose a major threat, given how the population immunity wall that has been progressively built over 3 years — from infections, vaccination, boosters, and their combinations — seems capable of fending off major waves vs this family of the SARS-CoV-2 virus."
It's anybody's guess how many people are still catching COVID every day, but while people with waning immunity in higher-risk groups — like seniors and the immunocompromised — remain vulnerable to severe outcomes, the COVID hospitalization picture hasn't been alarming, either.
The White House has said it remains committed to fighting the virus. Another authorization of boosters for those who need them is apparently in the works, though it seems unlikely the government will be any more effective at generating demand for them than it ever has. It's also possible the White House will relaunch a new COVID team after the public-health emergency is over. But there's no question the pandemic is reaching a kind of symbolic end on May 11, at least in the U.S., and the World Health Organization may declare an end to the official global pandemic sometime later this year. There's still a need for vigilance at the government level; as Topol also warned earlier this month, another "Omicron event" is absolutely still possible sometime in the next few years, and something the world needs to watch out for. But in the meantime, for the rest of us, yes, it's definitely okay to relax.
This post has been updated.