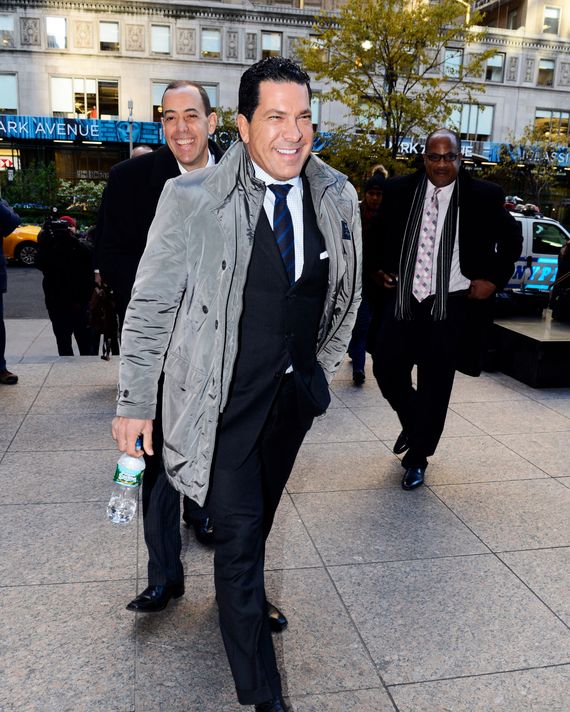 Photo: Rashid Umar Abbasi
In January, trial attorney Joe Tacopina flew from his Connecticut home to Florida to meet with Donald Trump, who was in need of more lawyers to represent him in a year of astonishing legal exposure. At first, Trump and his advisers wanted to scatter his attention across multiple fronts. "I said, 'Guys, I'm not going to be involved in ten cases,'" Tacopina explained. "When we get involved with someone, we do a deep dive." He did some triage and decided the most pressing case was the one brought by E. Jean Carroll. After a couple of meals with Trump at Mar-a-Lago, he hurried home to start working on the defense. "I'm from Brooklyn," he said. "I don't golf."
After more than two dozen women accused Trump of sexual misconduct, he will soon go on trial to face claims by Carroll, first made in New York, that he had raped her in a Bergdorf Goodman dressing room in the 1990s. (With the criminal statute of limitations long past, Carroll is suing Trump in civil court under a new law that opens a yearlong window for accusers to sue, regardless of when the alleged abuse took place.) In addition to battery, she is suing Trump for defamation following his notorious denial that he did not force himself on her because, he said, she is "not my type." Trump is expected to be called to give testimony when the trial starts in Manhattan on April 25. Tacopina declined to speak directly about the case but vouched for his client's innocence. "There's no losing this case," he said of the high stakes. (Carroll's attorney, the star lawyer Roberta Kaplan, declined to comment.)
Thankfully for Trump, his new attorney is not in the business of losing very often. For almost 30 years, Tacopina has been winning cases for celebrities, cops, and other denizens of "Page Six," earning him a reputation as one of the city's most high-profile defense attorneys thanks to one skill in particular. "I've been told by many that I'm the best cross-examiner in the country," he said. When he was 20 years younger, he described his tactics simply: "I will do it slowly and methodically. And I will make sure the jury sees your innards coming out of you." He certainly cut an intimidating figure in his Madison Avenue office during a recent interview. On his right forearm, above the fat silver chain he often wears on his wrist, is a "Carpe diem" tattoo in all-caps cursive. He still holds the Skidmore College men's hockey record for penalty minutes. "Having Joe be the person who is going to try the case changes the perspective of the other side because now they're like, Oh shit," says John Goldman, a settlement negotiator who has worked with Tacopina.
After four years as a prosecutor in Brooklyn, where he says he won 39 of 40 cases that went to trial, Tacopina began his career as a defense attorney in 1995. In his early days, his most prominent trials involved NYPD officers accused of terrible crimes — like the cop who allegedly penetrated the anus of the detained Abner Louima with a broomstick in 1997 and whose obstruction conviction Tacopina got overturned on appeal. Over the years, he has retained clients higher in the NYPD's ranks. When Bernie Kerik was charged with accepting favors from contractors with mob ties as police commissioner, Tacopina helped work out a generous plea deal. Despite Kerik's admission of receiving over $200,000 in what amounted to bribes while in office, Tacopina helped get the charges reduced to two misdemeanors, and his client paid only fines. (Kerik later pleaded guilty to federal charges related to the same allegation under different legal representation.)
Then came the celebrities — which sometimes pissed off the cops. In 2008, Tacopina was hired by an actor named Lillo Brancato, a Yonkers kid who starred in A Bronx Tale alongside Robert De Niro and played a Jersey hood in the second season of The Sopranos. Addicted to heroin, he and an accomplice broke into a Pelham Bay home to score in December 2005; when the neighbor, an off-duty police officer, stopped Brancato, his accomplice shot the cop to death. To the fury of the Patrolmen's Benevolent Association, Tacopina defended Brancato in court.
The state's murder case relied on convincing the jury that Brancato knew his accomplice had been armed that night, a claim that depended on the testimony of a drug dealer who said Brancato knew this when he visited the dealer before the fatal break-in. In an interview, Brancato recalled that Tacopina tore the dealer's credibility apart under cross-examination, asking him if he had ever sold firearms. The dealer said no, but Tacopina produced paperwork showing a shotgun sale in the Bronx.
"I'll never forget the way that guy's demeanor changed," Brancato says. "It was like, 'How the hell did you know that? I didn't think anybody knew that.' But Joe did. And that's all that mattered." Brancato was acquitted of murder and released after serving eight years for attempted burglary.
Since then, the tabloid cases have piled up: Alex Rodriguez's steroid-suspension appeal in 2013, the defense in the Schoharie limousine crash that killed 20 upstate in 2018, and, currently, representing A$AP Rocky in a felony firearm charge for allegedly pointing a gun at a former friend and firing in his direction. That last one netted him an invite to the Super Bowl, where the rapper's wife, Rihanna, played the halftime show. "The best part about that was I had dinner with three people the night before the Super Bowl," Tacopina said. "Rocky, Rihanna, and Rocky's mom at their house. And the baby."
His most nationally prominent case before Trump was the public campaign in 2017 to overturn rapper Meek Mill's years-long prison sentence for violating parole for a decade-old misdemeanor. On TV, Tacopina condemned both an unjust probation system for putting his client in prison and the judge in the case, who had allegedly wanted Mill to mention her name in a song. After four months in prison, Mill was released, and the judge has since been reassigned to civil court.
"I've dealt with a lot of attorneys over the last four decades, and he has a distinct kind of bulldoggedness about him," says the Reverend Al Sharpton, whom Tacopina recruited into the effort to free Mill. "There's no doubt in my mind Meek Mill would have got a lot more time if it wasn't for Joe." Tacopina remembers the case fondly: On his desk is a picture of him and Mill speaking with Sharpton on MSNBC as well as a National Action Network award given to him by the reverend. "Meek's a friend," Tacopina said.
As he dives into the Trump case, Tacopina faces a significant challenge: picking up a defense weeks before trial for a client who trails chaos in his wake and isn't exactly known as a sympathetic figure for a Manhattan jury. "This is not a little case," Tacopina said. The defense would likely consist of two elements. First, Carroll's allegation, while corroborated in conversations she had with two friends at the time, was made over 20 years after the alleged assault took place. Second, Carroll has stated there were no witnesses to the attack. "It is almost easier to accept the fact that I was attacked than the fact that, for a very brief period, there was no sales attendant in the lingerie department," she wrote.
Working against Tacopina is that Trump is being tried in civil court, where there is a lower burden of proof for a jury to find him liable: a standard of a "preponderance of evidence" compared with the much higher reasonable-doubt standard in criminal cases. And if Trump does testify — marking the first time he would take the stand since being elected president — pleading the Fifth Amendment would go only so far. In civil court, jurors are allowed to make what is known as an "adverse inference" if parties plead the Fifth, taking it as a sign that they engaged in the act they don't wish to talk about. "The plaintiff or defendant can hold it against you," says Gene Rossi, a former federal prosecutor. And Trump, who once said the "mob takes the Fifth," likes to use it: In an unrelated deposition last year, he invoked his right against self-incrimination 440 times in one day.
For Tacopina, much of the challenge — apart from separating jurors' notions of Trump from the facts at hand — may rest with his favorite tactic of cross-examination. Thanks to what he called an "intense resistance-training workout," Tacopina is as large as many of the professional athletes he has represented. In court, he will be speaking on behalf of the world's most famous bully, trying to destroy the credibility of a 79-year-old woman. It's a delicate task, Rossi says, likening the cross-examination to a "bazooka" that could backfire.
Seven weeks out from the trial, Tacopina said he knows when to "be aggressive" and when to ease out of "fifth gear." He was trying to stay focused on the case when a new distraction appeared: The Manhattan district office's investigation of hush money paid to Stormy Daniels. After a quick trip to Italy in early March — to fire the coach of the pro soccer team he owns outside of Bologna — Tacopina started appearing on television taking on D.A. Alvin Bragg. In either case, he's not worried about his choice of client tarnishing the reputation he has built. "I've represented people a lot more notorious than Donald Trump," he said, noting that it is an honor to represent the former president. "Tell me one top criminal defense attorney in the history of this country who hasn't represented unpopular people. That's what we do."
This post has been updated.