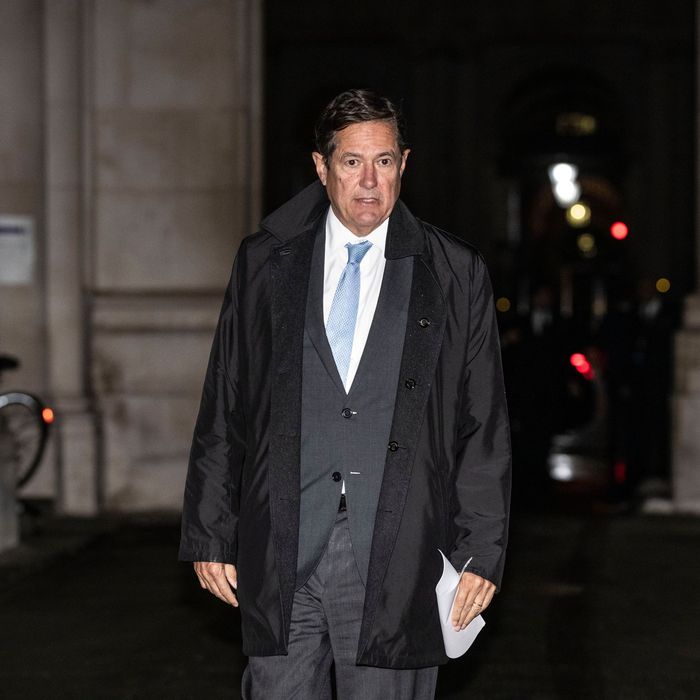 Photo: Jeff Gilbert/Shutterstock
Since Jeffrey Epstein's death in 2019, JPMorgan Chase, the largest bank in the United States, has been defending former investment executive Jes Staley for his many connections to the alleged sex trafficker. There were the business connections, like allowing Epstein to remain as a client for years after his first arrest because the bank was profiting off his high-society contacts. There were personal connections too, like the emails between Staley and Epstein in which the banker thanked his friend for sending him pictures of young women and hooking him up with one named "Snow White."
JPMorgan Chase always defended Staley, who left in 2013 — which was coincidentally the last year Epstein was allowed to bank there. In February, when a group of victims sued JPMorgan for allegedly aiding Epstein's sex ring by allowing him to bank there, its lawyers wrote that allegations that Staley "personally observed" Epstein's abuse were "unsupported" and "conclusory." But in a filing late on Wednesday in federal court in Manhattan, the bank is now trying to use Staley as a shield to protect it from any association with the convicted sex criminal. JPMorgan sued Staley for damages, alleging that he hid his "inappropriate relationship" with Epstein and claiming that using Epstein to help win his friends as clients was an act of "disloyalty." For his support of Epstein, JPMC seeks to recoup his compensation from 2006 until 2013, worth at least $80 million. If a court finds him liable, it would be another major blow to Staley, who resigned from his position as Barclays CEO after an investigation into his friendship with Epstein.
It's an obvious move, trying to separate the already disgraced banker from the reputation of the largest bank in the world by market capitalization. JPMorgan Chase is currently on the wrong end of a lawsuit filed by the Virgin Islands attorney general, alleging that the bank benefited for years from its connection to Epstein. By throwing Staley under the bus, JPMC's attorneys can try to claim that it was just a single, powerful employee who allowed Epstein to bank with JPMC for roughly five years after he pleaded guilty to soliciting prostitution from a minor. (The bank has denied wrongdoing.)
Whether or not that claim sticks is another story. The Virgin Islands lawsuit includes internal JPMorgan emails stating that keeping Epstein's accounts after his plea deal was a high-level decision "pending Dimon review," referring to CEO Jamie Dimon. On Thursday, a federal judge ordered that the bank must submit documents pertaining to Jamie Dimon to the Virgin Islands AG as part of the discovery process in the lawsuit.