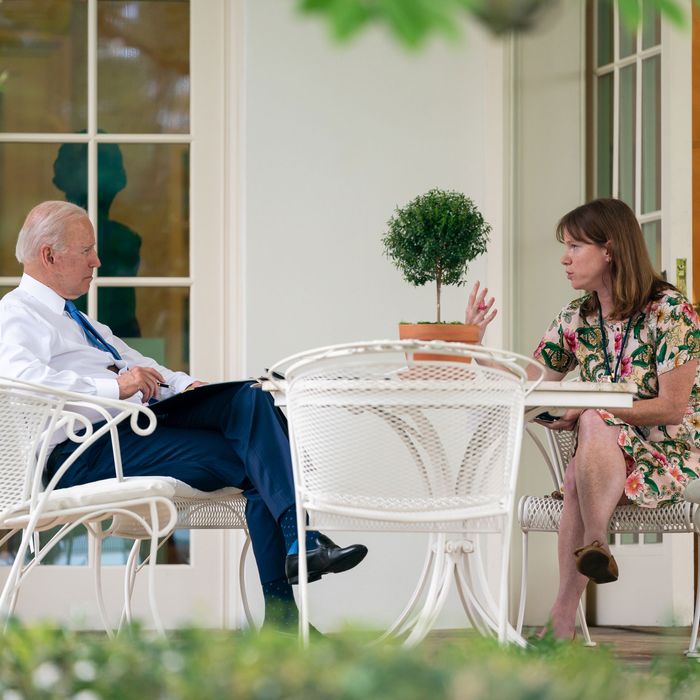 Biden and Bedingfield on the colonnade of the White House in 2021.
Photo: Official White House Photo by Adam Schultz
Kate Bedingfield, the White House communications director, first tried to leave in July. She had started working for Joe Biden in 2015 and was looking forward to spending more time with her husband and two young kids. A press release went out, a search for her replacement began, and Biden's dreadful summer dragged on. He had signed a bipartisan gun-control bill, but his approval rating was still dipping to embarrassing lows as his own party was unimpressed with his initial response to the repeal of Roe v. Wade. His legislative agenda looked somewhere between hobbled and hopeless. The midterms looked like doom for Democrats. As the weeks ticked by after the announcement of her exit, Bedingfield became less and less sure of her choice. When Biden and then–White House chief of staff Ron Klain heard of Bedingfield's waffling, they urged her directly to stay: There was much to be done, and the coming stretch would be crucial for the administration. Within three weeks, she was back. And in the ensuing months, Biden signed the Inflation Reduction Act and a bipartisan chip-manufacturing bill, rolled out his student-debt cancellation plan, ordered a strike that killed Al Qaeda leader Ayman al-Zawahiri, saw Ukraine turn the tide on invading Russian forces, and watched Democrats defy history and overperform in the election.
More than any recent president, Biden privately relies especially heavily on a small core of aides who've been by his side for years and in some cases decades. It's not uncommon to hear casual talk from both the Washington savvy and the wannabes about the "Big Five" advisers, though there's no consensus about whether the real number is actually six or seven or eight. Some of these staffers are relatively well known to the MSNBC-and-Twitter crowd (Klain and Anita Dunn), while others are so unfamiliar they could be reading this over your shoulder right now and you might not know it (Steve Ricchetti, Mike Donilon, Jen O'Malley Dillon, Bruce Reed).
One point of agreement among those who know what they're talking about is that Bedingfield, who departs her West Wing office (for real) on Wednesday, long ago worked her way into these ranks whether or not the outside world realized it. What's more, she holds a unique position as someone who has occasionally emerged and then receded from the public eye when necessary while maintaining her position of influence internally in a building with no shortage of turf wars. "Every single one of us in the White House senior staff have relied daily on her instincts and insights," wrote national security adviser Jake Sullivan in an email. "She has played a huge role in everything the President has achieved — from his second term as Vice President, through the campaign, and since coming to the White House," wrote Klain in his own.
Formally, Bedingfield has been in charge of the White House's messaging strategy and plans. It's a big-picture role that puts her in the Oval Office with Biden multiple times per day but also one where she offers minute-to-minute guidance even as others — if not Biden, then usually the press secretary — deliver the message. (Multiple senior administration aides wanted to make sure I gave her credit for coining "Putin's price hike," the phrase Biden used to try to redirect blame for punishing global inflation, when I spoke with them over the past week.) She is relentlessly on-message and has been one of the biggest reasons Biden's White House has seen leaks as anathema. She has not necessarily played an enforcer role but instituted an ethos with no patience for the sieve-style lunacy of the previous administration or the occasional inside-the-Beltway gamesmanship of its predecessor. In practice, however, this role has meant Bedingfield's been in the room for many of Biden's most consequential decisions since she joined his staff in 2015 — back when he was a grieving father and overlooked vice-president considering whether to challenge Hillary Clinton for the presidency against his boss Barack Obama's wishes.
"Over time, she earned his trust," said Donilon, Biden's seldom-quoted chief strategist. "Earning his trust takes going through the fire and handling it pretty well. There's been no shortage of difficult moments, especially as we moved toward the campaign, and especially the early parts of the campaign. There was a long stretch of time where Kate was, if not the only voice, one of the few that was handling everything that was coming at Biden." The result is that she helps explain the obsessions of the voracious press to a president who still reads print newspapers and translates his concerns and wishes to much of the White House staff that hasn't known him as long.
Bedingfield's exit comes as the intense public scrutiny of her boss is increasingly being fed through a 2024-election filter. In just the past few weeks, his administration has faced significant criticism for its handling of the toxic train derailment in East Palestine, Ohio, where Donald Trump managed to overshadow the official response. (Federal officials were dispatched quickly and Transportation Secretary Pete Buttigieg eventually visited.) Bedingfield cautioned that though Biden has yet to formally declare his plans, "if he decides to run for reelection, the case for him is going to be the progress that we've made over these years in office." Even as Trump draws headlines, she insisted Biden will not "be pulled off of that by one candidate or another, one campaign news cycle or another."
Perhaps the most persistent overarching concern among voters is his age. "There's an inherent desire right out of the gate for people — for the press in particular — to go to age as a problem. And as he's said many times, like: 'Fair question!'" Bedingfield said. He was dogged by the same questions during the primaries in 2019, but she said his eventual win proved "people also really want somebody who brings wisdom and experience to the job." It's undeniable that Biden has visibly slowed down physically since he left the vice-presidency, but Bedingfield said he hasn't fundamentally changed. "I think if you have any question about whether he's up to the job, I mean, just look at the State of the Union, where he essentially baited the Republican caucus into agreeing with him on Medicare and Social Security on his feet."
An Atlanta-area native who worked for John Edwards's 2008 presidential campaign, Bedingfield joined the vice-president's office as communications director a year and a half before the end of the Obama administration, when Biden was still considering whether to run for president. (While searching for a spokesperson as the primary between Hillary Clinton and Bernie Sanders unfolded, he often mused privately about the potential space for himself in the race.) Quickly, he revealed to Bedingfield that he was the kind of boss who wouldn't hesitate to call when he needed something. Once, she recalled, she was potty-training her son when Biden rang. As they spoke, her son piped up: "Mommy, I did it!" Biden asked, "Oh, what did he do, Mommy?" She explained what she was doing, only for the then-VP to cut in, "What are you doing taking my call? Hang up the phone. Family first, finish your business, help your son. Call me back later." She got serious for a second: "And he was not kidding. I mean, he was like, 'Hang up. The. Phone."
Biden kept calling even after she formally left his side when Trump won the following year. As he watched the riot in Charlottesville unfold in the summer of 2017, he dialed both Donilon and Bedingfield, riffed on what he was seeing, and told each of them he wanted to speak out. He charged Bedingfield — who had gone to the University of Virginia there — with placing the op-ed that he and Donilon hashed out. After multiple outlets rejected it, she convinced The Atlantic to run "We Are Living Through a Battle for the Soul of This Nation," which became what Donilon now calls "the foundational document for the campaign."
Bedingfield's profile grew after the launch of the 2020 campaign, for which she served as deputy campaign manager. Almost immediately, Biden was tagged as a relic, and she became a frequent defender in post-debate spin rooms and on cable, gaining a reputation within the beleaguered campaign HQ as one of the prime proponents of the "Twitter is not real life" stance that came to define Biden's primary campaign. Internally, she brought the message the Twitter-phobic Biden often shared in small meetings — that they must focus on what actual voters care about, not on fleeting news cycles, no matter how many they lost — "to every written statement that we're putting out from the campaign, every quote that every spokesperson is deploying." She also grew disbelieving of the negative coverage of Biden and occasionally fought back openly. In October 2019, she wrote a scalding letter to New York Times executive editor Dean Baquet excoriating the paper's coverage of Hunter Biden's work in Ukraine just as Trump was on the verge of impeachment for pressuring Volodymyr Zelenskyy to investigate the Bidens. "Are you truly blind to what you got wrong in 2016, or are you deliberately continuing policies that distort reality for the sake of controversy and the clicks that accompany it?" she wrote in the letter, which the campaign leaked to CNN as it was sent.
A few months after Biden took office came what Bedingfield said was the lowest point of her job: the suicide bombing on Abbey Gate at the airport in Kabul as U.S. troops exited Afghanistan, which killed over 180 people including 13 American soldiers. It was a Thursday morning, and the mood in the White House was already grim with pressure mounting on Biden and his deputies as the Taliban rapidly took over the country. "Sitting in the Situation Room with the president when that news came in was, for me certainly, the most difficult thing that I've professionally experienced," she said. The only lesson to be taken from the experience, she continued, was in Biden's insistence on moving forward in a tragic moment that even fellow Democrats decried as shameful and that marked the end of his political honeymoon as president. "I certainly walked out of that room with a sense of resolve that we could not panic, we could not suddenly decide to shift our strategy in the moment because we were feeling anxious and concerned."
Skepticism of Biden only ratcheted up after that, even within his party, but in the domestic political realm, it often peaked when he insisted on the possibility of bipartisan agreement even as he picked specific fights with Republicans, including as recently as his baiting Republicans at the State of the Union. "More than anyone I've ever worked for, he has a very fundamental kind of guiding belief that we cannot just abandon the notion that we can find common ground," Bedingfield said, pointing to his appearance in January with Mitch McConnell in Kentucky to tout work on a bridge that would be completed as a result of the infrastructure law. "His North Star is on playing the long game, in a way, thinking about: 'Down the road, when am I going to want to work with Person X, Y, and Z on this issue? And do I want to say something right now that's going to limit my ability to do that in the future?' He has a longer view of that than anybody I've ever worked for." Even in internal debates, Bedingfield said that Biden is open about his willingness to criticize McConnell and his allies up to a point but always brings up this question. "Standing there a couple of months ago with Mitch McConnell and being able to say, 'We got this done' — that really vindicated his worldview."
Biden is now likely to start a reelection campaign, and he would do so from a White House that's only now starting to see the kind of turnover that's typical after a president's first midterm. It doesn't take a seasoned Biden watcher to wonder what, precisely, the effect of this attrition will be on his day-to-day operations. After all, "there's a core group of folks here who've been through a lot of fights with him, and it provides him some reassurance and confidence that those folks who've been through tough battles with him have stuck with him," said Donilon. And the first time Bedingfield tried to leave, she couldn't. Now, though, "we're at a sort of natural point in the administration, I think, where it makes sense to hand off the baton," she said.
Still, few people ever truly leave Biden's orbit once they're in it. Klain, for his part, started working with Biden in 1986 and hinted that he'd be involved in the coming campaign during his farewell remarks. (He said something similar about Bedingfield: "She will continue to remain a critical player in moving the Biden agenda forward from the outside.") As with any incumbent facing reelection, chatter in D.C. has now started about where the center of political power will be located: within the White House or at the campaign. The recent hire of Ben LaBolt, an alum of Obama's administration but also his 2012 reelection campaign, as Bedingfield's replacement suggested to insiders that both sides will be plenty empowered. Yet when news of her plans to leave broke, speculation started immediately that she'd simply be moving over to the campaign.
Bedingfield denied this — sort of. "Right now, I'm focused on giving my kids my undivided attention," she said, though "I know enough to know to never say never." She was looking forward to some rest. But, yes, "if there's a time in the future where he felt like I could be of service to him, I'm never going to foreclose that possibility."