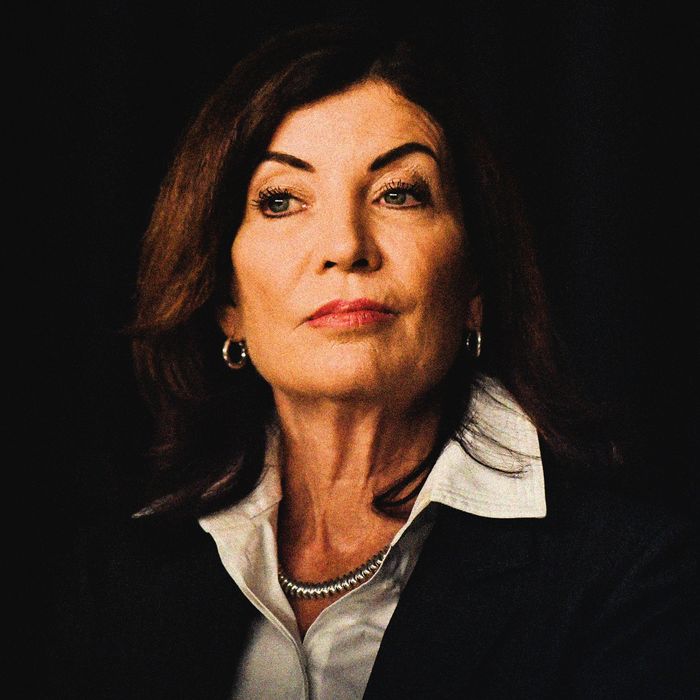 Photo: Stephanie Keith/Bloomberg via Getty Images
It turns out that the continuing battle to name the state's next chief judge may be the least of Governor Kathy Hochul's challenges over the next few months. With only a few weeks to go before this year's budget deadline, Governor Hochul has squared off in a series of conflicts with Democrats and nominal political allies — legislators, public unions, suburban leaders, and Mayor Adams — that will test her ability to govern in a less combative style than her famously pugnacious predecessor, Andrew Cuomo.
"I don't have the luxury of just getting into fights over here but then not doing the business," Hochul told me last month. "The people of the State of New York expect their governor to work in a collaborative fashion. I said when I first was elected, 'I'm going to change the culture in Albany.' It does not have to be combative."
Hochul might not be looking for a battle, but that doesn't mean she won't get one; in fact, several powerful leaders have already announced plans to go to war. Here, three of the most important fights the governor can't avoid — and may not win.
1. The war over charter schools
Hochul supports an expansion of charter schools, proposing rule changes that would allow charter operators in New York City to vie for about 85 charters that haven't been used in other parts of the state and to revive 21 so-called zombie charters of schools that have closed in recent years. "I'm committed to public schools, but why not let people who have a different view of how their children should be educated have that option? I'm not looking at raising the cap. I'm not looking to add more. The legislature agreed to have 460 charter schools in New York State years ago," Hochul told me. "Let's stick with the 460. I'm a common-sense person. I'm doing the math here. I could have said, 'Well, I want 2,000.' I didn't. I said, 'Let's just go with the number you all agreed to.'"
But State Senator John Liu, who chairs the NYC Education Committee in the State Senate, immediately called Hochul's plan "a nonstarter." New York State United Teachers, the statewide union that opposes charters because most employ nonunion labor, swiftly began compiling statements of opposition from legislators, many of whom have received lavish donations from the union in recent years.
"Let's not have battles over things like this. I'm committed 1,000 percent to public education," Hochul said to me. But she may not be able to avoid a clash.
2. The fight over MTA funding
The perennial struggle to raise funding for the MTA has kicked into high gear with Hochul asking Adams to have the city provide the agency with $500 million a year from now on. The mayor says he can't afford it, telling an interviewer, "We are in a financial crisis, and I have to be fiscally prudent to navigate us throughout this turbulent period." Hochul and Adams have been close political allies up to now, but we'll soon see if their friendship can withstand this new demand from the governor that will amount to billions of dollars over the next few years.
Another MTA initiative — Hochul's plan to have the state fund part of the MTA's planned $7 billion Penn Station renovation — has been pronounced "dead" by Queens state senator Leroy Comrie, who chairs the powerful committee on Corporations, Authorities, and Commissions. The overall plan depended on a stream of revenue from Vornado Realty Trust, which had planned to build ten skyscrapers that would bring 18 million square feet of new commercial and residential space near Penn. Vornado, citing weak demand for office space and rising interest rates that make financing more expensive, has hit pause on the project for the next few years.
Hochul says there are other sources of revenue to pay for the Penn Station rebuild, but Comrie remains skeptical. "I hope that we can convince the governor and her team to do this tomorrow and throw this plan out, because everyone knows that it's not going anywhere," he said at a recent hearing.
3. The battle of the burbs
By far the most serious political headache Hochul faces this month springs from two initiatives — a payroll tax hike on high-income earners to pay for MTA operations and changes in local zoning to create more housing throughout the state — that are proving to be politically toxic in the downstate suburbs.
Hochul wants to see 800,000 homes built in the next decade. To get there, she has proposed requiring all cities, towns, and villages to build 3 percent more units over the next few years with the state providing financial incentives. Jurisdictions with MTA rail stations will be required to amend their zoning and density rules to build apartment buildings near them.
That approach is being treated as a declaration of war in the suburbs by many local leaders — Democratic and Republican alike — who have built careers on promises to fight zoning changes that would encourage the construction of new apartment buildings and more affordable housing.
"Those are extinction-level events" is how Fred Thiele, a Democratic assemblyman from Sag Harbor, described the tax hike and rezoning proposals in Newsday. "It's all anyone in my community is talking about," said Assemblywoman Taylor Darling of Hempstead.
"I know from personal experience most municipalities are incredibly wed to their authority with home rule and are very defensive of that, and I've already heard from some municipalities who just conceptually are in opposition," said Democratic state senator Pete Harckham, whose district includes parts of Putnam and Westchester counties.
In Bronxville, where Hochul's proposal would mean creating 75 apartments, the Democratic local assemblywoman, Amy Paulin, said in the Yonkers Times, "Bronxville wouldn't be able to accommodate so many housing units or even a fraction of the amount required. It would change the character and integrity of the community. You would no longer be a suburb of an urban area. You would be a congested urban center without the infrastructure to support it. I will fight to make sure this doesn't happen."
Even as the storm clouds gather, Hochul continues to hit conciliatory notes, insisting she doesn't want any of these conflicts to turn into a war. The next few weeks will show whether this kinder, gentler approach will work with her fellow Democrats, who seem ready and willing to play hardball.