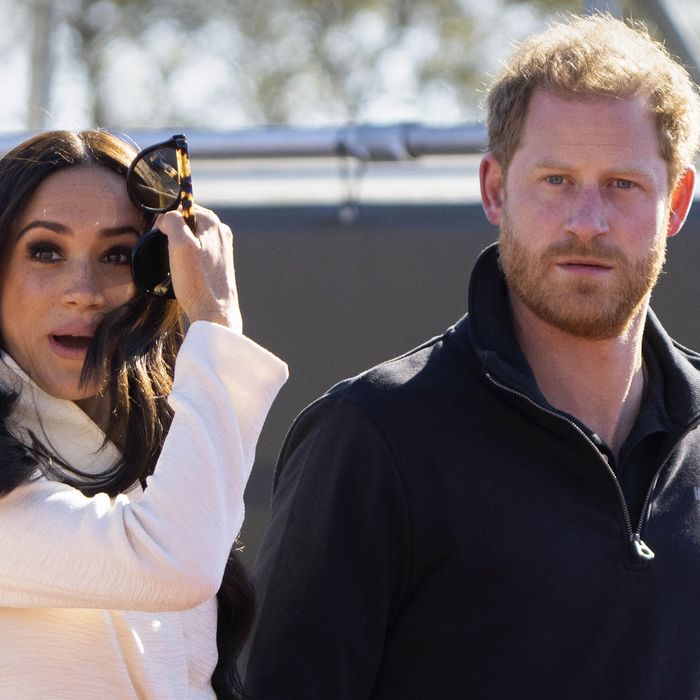 Photo: Peter Dejong/AP/Shutterstock/Peter Dejong/AP/Shutterstock
If you actually read Prince Harry's memoir, Spare, or watch any of the many interviews he has done in the past two years, his stance on the royal family is pretty clear: He's theoretically open to reconciliation, but he's done playing their games. One can debate his true motives for releasing a memoir that paints a fairly damning picture of King Charles, Prince William, and the institution in general. (Did he really need to talk about his dad exercising in his undies? Maybe not.) But Harry seems genuinely disgusted by the Firm's complicity with the nasty coverage of his family by the British press and committed to his new life in California with his wife, Meghan Markle, and their two children.
But if you mainly follow tabloid reports about Prince Harry, a wildly different picture emerges: He's a spoiled and unpredictable hothead who's been terrorizing poor "Pa" and "Willy," demanding that they apologize if they want him at Charles's May 6 coronation.
Well, King Charles (or at least the character invented by the British press) has had enough of this abuse. On Tuesday, the Sun reported that Pa is kicking Harry and Meghan out of Frogmore Cottage, their ten-bedroom home on the royal estate adjoining Windsor Castle. And to make matters worse, Charles has offered the house to his disgraced younger brother. Prince Andrew is reportedly being booted out of a larger nearby mansion because he can't afford the upkeep now that Charles is slashing his annual allowance. (Andrew is said to be resisting, but Charles is determined to "axe the £250,000-a-year royal handout.")
The Sun notes repeatedly that the "eviction" came only after multiple "attacks" and "damning allegations" against the royals by Harry and Meghan. Yet the traitorous couple were somehow shocked by this news, according to Yahoo News UK:
It's news, sources tell me, that has left Harry and Meghan stunned, and at least two members of the Royal Family "appalled."




… "It all feels very final and like a cruel punishment," says a friend of the couple. "It's like [the family] want to cut them out of the picture for good."
Harry and Meghan's shock doesn't make much sense unless you subscribe to the U.K. press narrative that they're outrageously entitled and delusional. They did say in September 2020, shortly after fleeing to Canada and then the U.S., that Frogmore Cottage would remain their U.K. residence. But a lot has changed since then. They lived at Frogmore for only six months — in their Netflix documentary, they were shown packing up the stuff they left at the house — and they've barely used it since relocating to the U.S. and purchasing a $14 million home in Montecito, California. Harry even says in the opening chapter of Spare, which takes place at Frogmore in September 2022, that he no longer considers it "home." He laments, "I wanted to go home, and I realized what a complicated concept home had become." Maybe Meghan and Harry are sad to see the house formally taken away, but at this point, could they really be "stunned" by any royal retaliation?
A cynical Spare reader might say the only reason we're learning about this so-called Frogxit and the Sussexes' reportedly ridiculous reaction is that King Charles wanted to knock some actual Brexit news off the front pages. His meeting with Ursula von der Leyen, the president of the European Commission, immediately after U.K. and E.U. leaders unveiled their Northern Ireland trade agreement this week has caused quite an uproar, as the New York Times reported:
That courtesy call, and the resulting photo of a smiling king appearing to celebrate his guest, prompted angry recrimination from critics, who said the government improperly recruited King Charles to be an ally in one of the most divisive issues in British politics. By tradition, Britain's constitutional monarch steers clear of politics, to say nothing of the noxious crosswinds of Brexit.
Harry has accused Charles and Camilla of repeatedly leaking unflattering stories about him and his family to distract from their own bad PR, and this would certainly fit that pattern. But who are you going to believe — those irrational ingrates Meghan and Harry or the beleaguered king who is just trying to make sound financial decisions for his people?