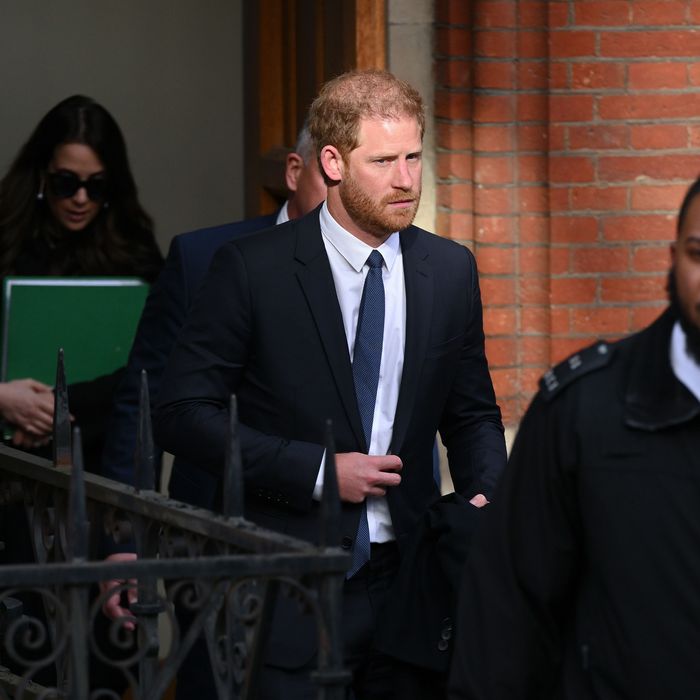 Photo: Karwai Tang/WireImage
King Charles clearly doesn't want to see Prince Harry right now. I think we can all relate: Who hasn't avoided a relative because they did something obnoxious — for instance, writing a best-selling memoir spilling decades of family secrets? What isn't very understandable is King Charles's inability to come up with a good reason as to why he won't be seeing his son during his surprise visit to the U.K. this week. The Telegraph reports that the king is "busy."
Prince Harry relocated to California with his wife, Meghan Markle, in 2020, but he unexpectedly turned up at London's High Court on Monday for a hearing in his lawsuit against Associated Newspapers Limited. The royal is suing the publisher of the Daily Mail and other tabloids for privacy violations; the celebrity plaintiffs in the case also include musician Elton John, filmmaker David Furnish, actresses Elizabeth Hurley and Sadie Frost, Baroness Doreen Lawrence, and politician Sir Simon Hughes.
Hamlins, the law firm representing the celebrities, said they are "the victims of abhorrent criminal activity and gross breaches of privacy" in a press release put out last year. ABC News reports:
In the press release, the law firm alleges that Associated Newspapers Ltd. hired private investigators to "secretly place listening devices inside people's cars and homes," commissioned individuals to "surreptitiously listen into and record people's live, private telephone calls while they were taking place," paid "police officials, with corrupt links to private investigators, for inside, sensitive information," impersonated individuals "to obtain medical information from private hospitals, clinics, and treatment centers by deception," and accessed "bank accounts, credit histories and financial transactions through illicit means and manipulation."
ANL has denied the allegations. Prince Harry, John, and Frost showed up to observe the start of a four-day hearing this week to consider the publisher's request that the suit be dismissed. Harry returned to court on Tuesday. Their presence was a signal of how seriously they're taking their case against the U.K. press.
But, of course, Harry's first return to the U.K. since his grandmother's funeral in September also sparked new chatter about his relationship with the rest of the royal family. The big question looming over King Charles's May 6 coronation is whether Harry will attend; he and Meghan have confirmed they were invited but have yet to RSVP. Charles may want his son at his coronation, but palace sources conveyed to the Telegraph that he isn't ready for him to just pop in unannounced:
Prince Harry flew commercial from California to London especially for the four-day preliminary hearing as he wanted to show his "support," the Telegraph understands.




But he is not expected to see his father during his visit, despite making contact, as he was told he was "busy."
So what exactly is King Charles up to? The Telegraph only says that he is "understood to be at Highgrove," which is just a two-hour drive from London. And his schedule is probably pretty clear, since he was scheduled to be in France this week but had to postpone the trip owing to protests in Paris.
If the palace was trying to take the high ground in its responses to Prince Harry, that would make sense. If it wanted to give him a Succession-y "Fuck off," that would also be reasonable. But post-Spare, it's never clear whether the royals are intentionally snubbing Harry or just being incompetent. When King Charles said "Who?" in response to a heckler's question about Harry, was he genuinely confused? Or was he making a dig at his son? Did palace officials avoid calling Harry's kids prince and princess for months to belittle him? Or because they didn't know the Sussexes' title preferences?
Saying the king is "busy" — with no further details — when we all know he isn't falls into this ambiguous category. Make up a plausible excuse or give us a decent insult. What's the point of employing a whole team of publicists if "busy" is the best they can come up with?
This post has been updated.