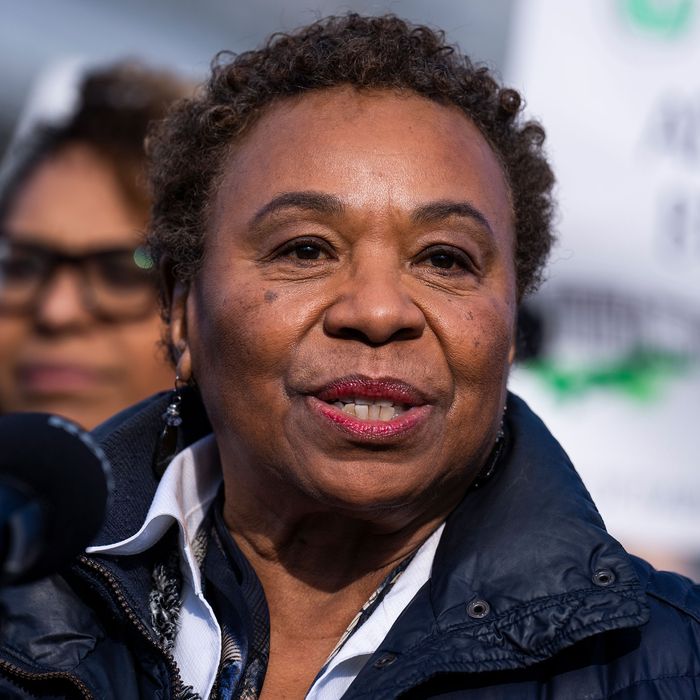 The one and only Barbara Lee.
Photo: Tom Williams/CQ-Roll Call, Inc via Getty Images
There are still about 11 months until California's 2024 primaries, but now we may know all the key players in the highly anticipated Democratic battle to succeed Dianne Feinstein in the Senate. Silicon Valley congressman Ro Khanna, who was seen as a possible Senate candidate, announced on Sunday that he is endorsing his Oakland colleague Barbara Lee and will co-chair her campaign. Barring the emergence of an unexpected major contender, that means three Democratic members of the U.S. House are running to succeed Feinstein: Lee, Katie Porter, and Adam Schiff.
Khanna's decision helps Lee in multiple ways. First, he may be able to bring some fundraising skills to Lee's campaign, which in the early going is struggling to keep up with Porter's and Schiff's fundraising operations. In a state with as many expensive media markets as California's, underfunded statewide candidates lose — period. Second, Khanna's national progressive connections via his highly visible involvement in Bernie Sanders's two presidential campaigns could help consolidate lefty support behind a candidate who is already a legend in those circles (a legend who is gaining fresh attention now that Congress may repeal the 2001 authorization of military force that Lee uniquely opposed). Third, if the Democratic field is now complete, Lee will be the only candidate from north of Los Angeles and the only Democratic candidate of color.
You have to go back to Gray Davis's 1998 gubernatorial campaign to find a Democrat from Southern California who won a statewide primary for governor or senator, and his governorship did not end well. And there has been something of a national demand for a Black woman in the U.S. Senate to replace Vice-President Kamala Harris. Indeed, Governor Gavin Newsom had promised to appoint a Black woman to the seat had Feinstein resigned before completing her term.
Having said all that, Lee has some obstacles other than fundraising. She'll turn 77 before the 2024 general election, which isn't disqualifying but isn't ideal, either. Black voters have been fading as a percentage of the California electorate for years. California's reputation as a majority-minority state mostly depends on Latino and Asian American populations, and the white minority is overrepresented in the voting electorate, as the Public Policy Institute of California recently reported:
Today, white residents make up 55% of likely voters while comprising under 40% of the California population. In contrast, Latino residents are 22% of likely voters and 35% of the population, Asian-American residents are 13% of likely voters and 16% of the population, and Black residents are 5% of likely voters and 6% of the population.
It's unclear how well Lee will do among Latino and Asian American voters.
Another complication for all the candidates is California's primary system, in which the top-two vote-winners, regardless of party, proceed to the general election. The smaller the Democratic field, the less likely it is that a Republican will make the top two (no major Republican is running at this point). In both 2016 and 2018, two Democrats competed in Senate general elections. Running to finish first or second in the primary is a lot easier than running to finish first alone, and an extended two-candidate Democratic competition could make fundraising even more important.
One might normally think of ideology as a key factor with Lee and, to a considerable extent, Porter (a protégé of Senator Elizabeth Warren's), both considered solid progressives, while Schiff has compiled a distinctly more centrist record. But Republican hatred of Schiff, thanks to his leading role in House Democratic investigations and impeachments of Donald Trump, may make it difficult for GOP voters to view him as the lesser of evils.
So the 2024 California Senate races remain a toss-up at this point, though the personalities involved and the Golden State's iconic blue-state image may leave Democrats elsewhere fretting about money and energy going west for what is, after all, a safe Democratic seat. Khanna may play a significant role in this contest, but unlike his colleagues who are in the race, his career won't be on the line.