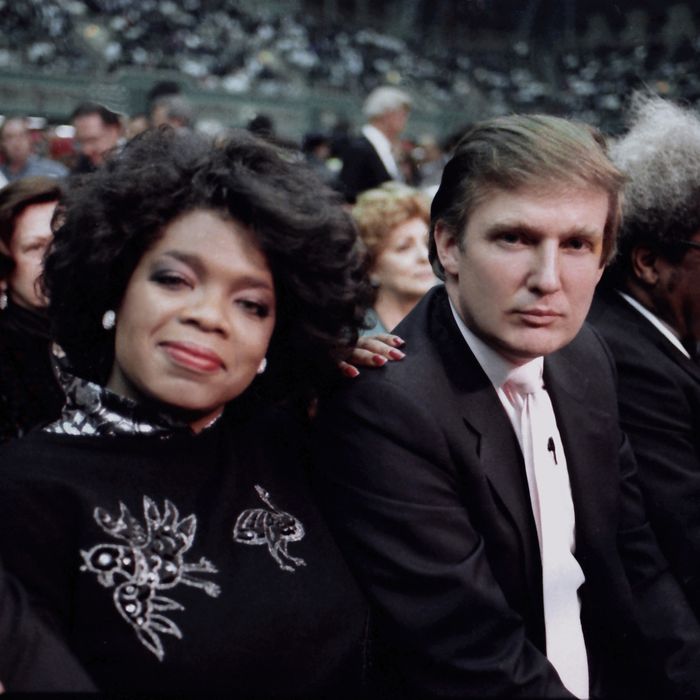 Donald Trump and Oprah Winfrey in Atlantic City, New Jersey, on June 27, 1988.
Photo: Jeffrey Asher/Getty Images
Donald Trump's first post-presidential book, Our Journey Together, contains a shocking amount of catty commentary for what was billed as a collection of White House photos. The Trump-penned captions include shots at many of his political enemies, from Barack Obama to the late John McCain. For some reason, Winning Team Publishing, a venture co-founded by Donald Trump Jr., did not emphasize this in the book's marketing, though it probably should have. While the Trumps have repeatedly boasted that the book sold out its initial print run of 200,000 copies in a matter of weeks, that's actually way less than typical presidential memoirs sell in their first day.
But the folks at Winning Team might have finally learned their lesson. They're explicitly promoting the new coffee-table book Letters to Trump, which is set to be released on April 25, as a chance to see Trump humiliate his famous enemies. In a recent interview with Breitbart, the former president said the collection of letters he's received over the years shows how differently fellow stars treated him prior to his 2016 campaign.
"I think they're going to see a very fascinating life. I knew them all — and every one of them kissed my ass, and now I only have half of them kissing my ass," Trump joked to Breitbart when asked what readers can expect.
Don Jr. hit the exact same points.
"My father has lived an amazing life and has been around some of the most interesting people in the world," Trump Jr. said. "It's amazing how quickly their adoration of him changed when he ran for office as a Republican. Letters to Trump shows you exactly how they felt about him and how phony their newfound disdain truly is."
That's a smart pitch, since this is a book aimed at MAGA types eager to see their favorite president expose the hypocrisy of liberal elites. But in reality, the "gotcha" doesn't really make sense. Take the letter from Oprah Winfrey, which Winning Team put out along with the book announcement. It's a note Oprah sent in 2000 earnestly thanking Trump for flattering comments he made about her in his book The America We Deserve.
Does this really prove Oprah is "two-faced," as Newsmax's Rob Carson put it? I don't think sending a nice note to a colleague in the entertainment business means you have to stick by them when they suggest all Mexicans are rapists 15 years later, lest you be branded a hypocrite.
And Oprah has already deftly shrugged off Trump's big reveal. In an interview with CBS Mornings, Winfrey and her best friend Gayle King agreed the letter just shows she has good manners.
"When I heard that this letter is now going to be a part of a book, I thought, Oh, wasn't that nice of me to write a note … Because I'm always like, Oh, I should write a note. The person did this, or I should write a note," she said.
Is it possible that Letters to Trump includes truly shocking evidence of "ass-kissing" by Princess Diana, Michael Jackson, Richard Nixon, or one of the many other celebrities featured in the book? It's possible, but I think if Trump had anything really good, we're already know about it. This is the man who waved a letter from Obama in front of news cameras and shared a "top secret" letter from Kim Jong-un with journalist Bob Woodward. When it comes to showing off juicy celebrity correspondence, Trump has no self-control.