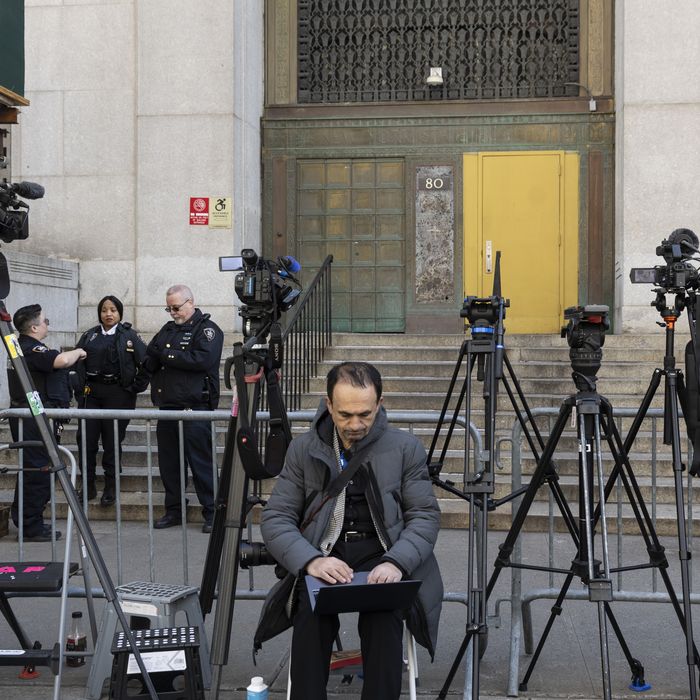 Photo: Angus Mordant/Bloomberg via Getty Images
The wait for substantial news on Donald Trump's legal plight is set to continue late into next month.
Politico reports that the Manhattan grand jury investigating the former president in connection with hush-money payments is set to go on a two-week hiatus in mid-April, a break that was scheduled when the panel was first convened in January. The break is slated to start after April 5, per CNN. The jury can be called back by District Attorney Alvin Bragg if needed.
On Tuesday, WNBC and CNN reported that the grand jury will not meet Wednesday and will not be discussing Trump when they reconvene Thursday. But sources tell Politico that the panel will hear a different case Monday and Wednesday and will have Thursday off in observance of Passover.
The grand jury met Monday and heard additional testimony from David Pecker, the former publisher of the National Enquirer, the New York Times reported. Pecker, who played a significant role in the hush-money deal with Stormy Daniels, originally testified in January.
Speculation about the timing of a potential indictment has been mounting in recent days. The soonest an indictment of the former president could now happen is late April, but recent events have shown that the process is following its own timetable. It's not clear when a decision could come or what the delay means for the strength of Bragg's case.
CNN reported last week that the Manhattan district attorney's office is determining whether to bring back Michael Cohen, Trump's former lawyer, or another witness entirely for more testimony before the panel votes on an indictment.
According to the Times, Bragg has been asking witnesses about the extent of the former president's role in the hush-money payments to Daniels.
Before Pecker's testimony this week, the grand jury last heard testimony related to the Trump case on March 21, when attorney Robert Costello testified against Cohen, his former client and the key witness in the Manhattan district attorney's investigation. In a press conference following his testimony, Costello said he provided hundreds of emails about Cohen to the DA's office but claimed that prosecutors "cherry-picked" from the group of messages and didn't ask about them in full.
NBC News obtained the emails from Costello last Wednesday, reporting that the 321 messages didn't seem to contain any "smoking gun" that would disprove Cohen's narrative that Trump directed he pay Daniels hush money during the 2016 presidential campaign. Many of the emails are reportedly "messages Costello sent to Cohen that went unanswered, as well as messages from Costello and other lawyers complaining that Cohen was not returning their calls or emails." One message from December 2018 featured Costello recalling that Cohen once said to him, "He had nothing on The President."
After wrongly predicting his "arrest" would take place last Tuesday, Trump continued to rail against Bragg on Truth Social.
In one message, Trump called Bragg, who is Black, a "SOROS BACKED ANIMAL WHO JUST DOESN'T CARE ABOUT RIGHT OR WRONG NO MATTER HOW MANY PEOPLE ARE HURT."
"THIS IS NO LEGAL SYSTEM, THIS IS THE GESTAPO, THIS IS RUSSIA AND CHINA, BUT WORSE. DISGRACEFUL!" he wrote.
Bragg has largely remained quiet as Trump and his supporters have increased their verbal attacks on his office, though he said in an email to his office, "We do not tolerate attempts to intimidate our office or threaten the rule of law in New York" following the former president's call for protest.
The district attorney also responded to a request from House Judiciary Committee chairman Jim Jordan asking for testimony and documents related to Trump the investigation and accusing Bragg of "abuse of prosecutorial authority." In a letter, Bragg said the Republicans' investigation is an "unprecedented inquiry into a pending local prosecution."
"The letter's requests are an unlawful incursion into New York's sovereignty," he wrote.