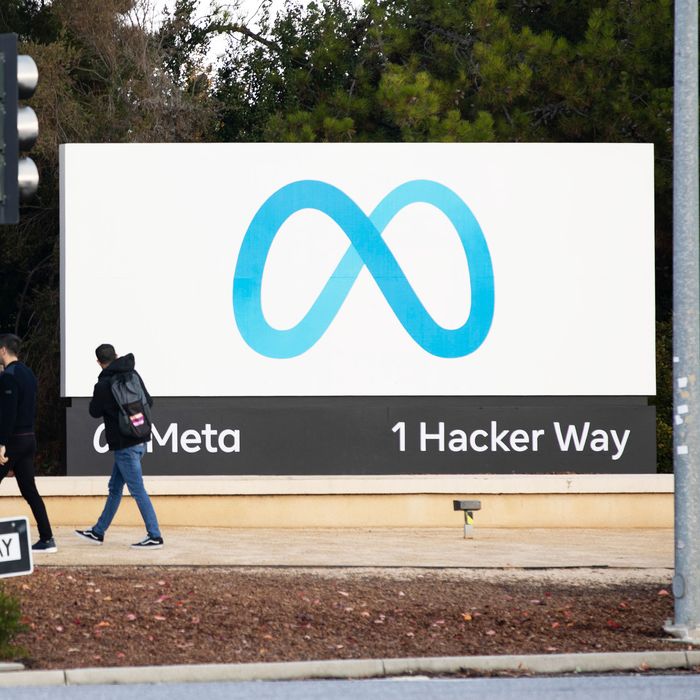 Photo: China News Service/China News Service via Getty Images
In an "update" on the company's "Year of Efficiency," Meta CEO Mark Zuckerberg announced on Tuesday that the best way to become more efficient is to lay off 10,000 employees. Other austerity measures are coming at parent firm of Instagram and Facebook: Zuckerberg announced Meta will eliminate 5,000 openings and kill "lower priority" projects, including those related to NFTs. "This will be tough and there's no way around that," Zuckerberg said.
The cuts represent 13 percent of Meta's workforce and come just four months after the social-media giant laid off another 11,000 employees (also representing 13 percent of the workforce). This round, the recruiting team will be first to be axed, followed by layoffs on the tech side in April and the business team in late May. "In a small number of cases, it may take through the end of the year to complete these changes," Zuckerberg wrote, stressing out the remaining employees.
The announced cuts are a big shift for Meta, which hired at a rapid pace in recent years. Before the November layoffs were announced, the company had more than 87,000 full-time employees and was spending on generous perks like free laundry and dinner for anyone who stayed at work after 6 p.m. But one of the most damaging blows in the past few years — beyond the aging customer base or the competition from TikTok or the whistleblower revelations — came from Zuckerberg's botched pivot into virtual reality. Meta has now spent $36 billion on building out its metaverse feature, where a very small number of users can hold meetings and hang out using cartoon avatars. The metaverse churn isn't over, either, with the company still spending about $1 billion per month. Investors haven't been thrilled by the developments: While 2022 was rough for most companies, Meta's stock lost a staggering 70 percent of its value (equivalent to $700 billion) between October 2021 and October 2022.
Zuckerberg didn't mention much of that in the layoff announcement, though he did anticipate that the current market difficulties "will continue for many years." Elsewhere in the memo, he added, "Leaner is better."