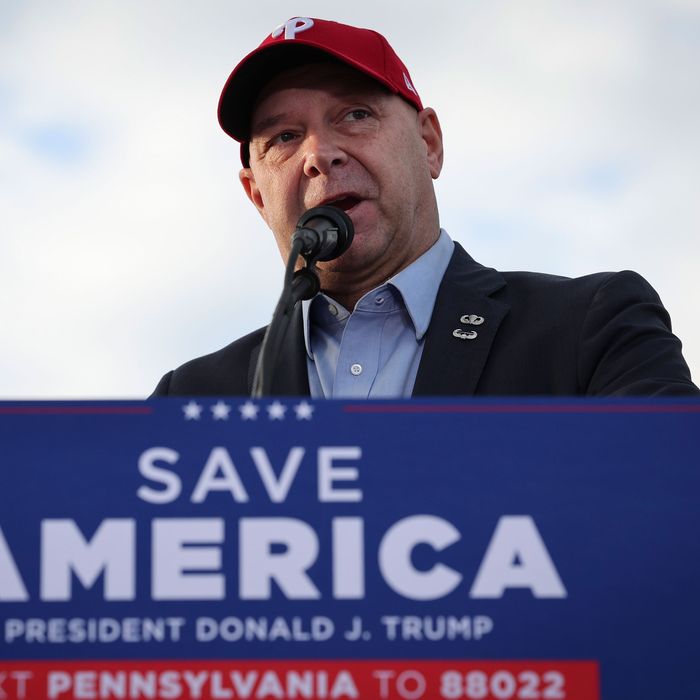 In Pennsylvania, you spell MAGA "Mastriano."
Photo: Win McNamee/Getty Images
Republicans are eager to flip the Senate in 2024, and Pennsylvania could be a key target. Senator Bob Casey has yet to announce whether he'll run again in 2024, but to beat him or his Democratic successor, Republicans will need to be united, well funded, and probably a bit lucky. The state's Republican elites are already uniting around a 2022 Senate candidate: ultrawealthy former hedge-fund baron David McCormick. Many believe McCormick would be in the Senate today rather than John Fetterman if he hadn't narrowly lost the GOP primary to Mehmet Oz. Running McCormick again is a no-brainer, one Pennsylvania Republican leader told Politico:
"I would absolutely encourage Dave to run," said Rob Gleason, former chair of the state's Republican Party, who noted that "he's got 100 percent name ID" and is "going to have the finances" to pay for another campaign. "He would clear the field. There'd be no primary."
That's actually not so clear, since failed 2022 gubernatorial candidate Doug Mastriano is looking at a Senate race too, as Politico noted last week:
In a sit-down interview, Mastriano, who rarely speaks with the mainstream media, made it clear that he is not finished with his quest to win higher office and transform the Republican Party along the way. He said he is "praying" about whether to go forward with a potential Senate run in 2024. After God, his wife, Rebbie, will have the final word he said.
Mastriano, who lost by 15 points to Democrat Josh Shapiro, was widely regarded as one of the worst Republican candidates of the midterms. He was endorsed by Donald Trump (along with Oz), but struggled to raise money or secure national-party help. His campaign mostly succeeded in drawing attention to his extremist policy positions, his unsavory associations with white-nationalist types, and his outspoken 2020 election denialism. But ironically, this last trait may help Mastriano keep some of his most intense supporters, per Politico:
On a cloudy, cold day this past weekend, Jamie Crowe, a conservative activist from northeastern Pennsylvania, put on a Doug Mastriano gemstone pin and got in her car for a 100-mile drive to see the state's most MAGA Republican. …




The fact that Mastriano was defeated in a landslide doesn't weigh on Crowe the way it does for Republican leaders who are desperate to flip the Senate next fall. That's because she doesn't believe it happened.




"Doug Mastriano won that election. It was a false election, and I think the people know that it was a false election," she said as she walked through the parking lot in search of her car following the rally's conclusion, the harsh mid-March wind hitting her face. "People in Pennsylvania know."
Mastriano himself seems to think he can improve on his 2022 performance by embracing the no-excuse-voting-by-mail system he and other MAGA types once deplored. But whatever he and his fans are telling themselves about 2024, he certainly has a following that could upset the plans of Republicans hoping to hold a coronation for McCormick as their Senate nominee. An initial survey of Pennsylvania Republicans by Public Policy Polling shows Mastriano leading McCormick by a 39-21 margin, with conservative activist Kathy Barnette, who finished third in the 2022 Senate primary, at 11 percent. Now that Barnette has disclaimed interest in another Senate run, it's worth noting that PPP shows Mastriano leading McCormick 42-28 in a head-to-head competition.
Perhaps God or Rebbie will tell Mastriano to take a pass in 2024, or maybe McCormick will overwhelm him with money and elite support. But worrying about the return of a 2022 nightmare is not how most Republicans want to spend their precious time in the beginning phases of the 2024 election cycle.